You read that right! It's possible to bounce and play on a trampoline that's complete without coil springs. The range of advanced, Leaf Spring-powered models from Vuly makes backyard trampoline bouncing a lot safer than it used to be because there're no coils to land on!
Do you remember how much you loved your trampoline when you were young? Do you remember the feeling of bouncing high in the sky, but the noise from the constant squeaking of springs ruining the experience? You might also recall the panic that you felt when you landed too close to the frame – just missing the springs or the gap where a spring had broken? Eeeeek!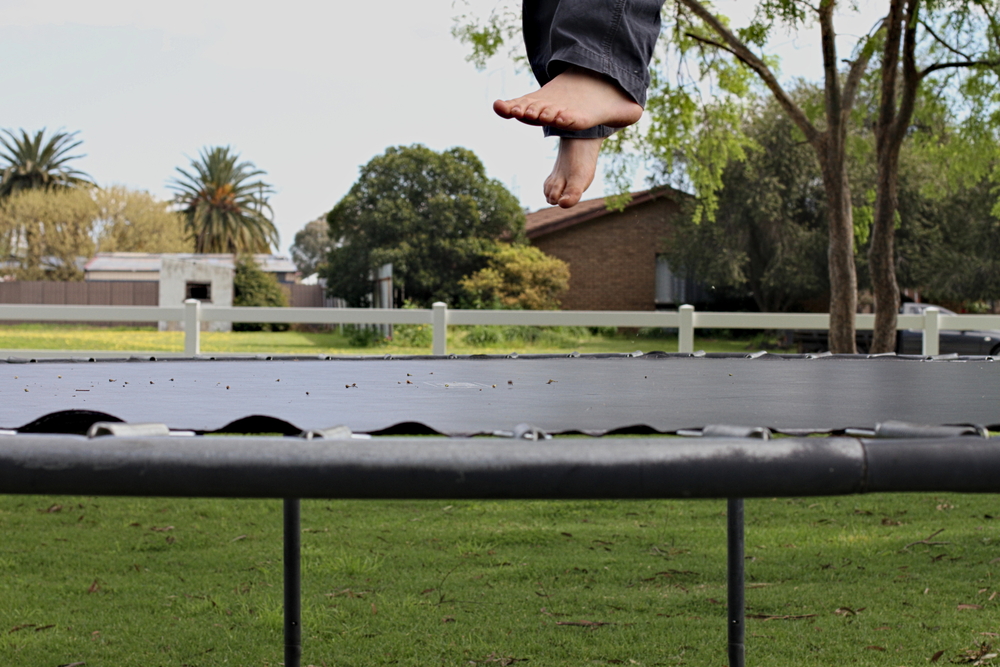 As kids, we loved spending time outdoors with our friends – jumping and springing on our old-school trampolines. Bouncing is naturally fun for everyone, and your kids will love their trampoline time even more than you did – without the fear of getting hurt! Their fun will be a lot less dangerous.
Vuly makes safe and springless trampolines with no hard contact zones, which means no injuries – even if the kids land close to (or on!) the edge of the mat. Vuly put quality and safety at the forefront of their trampoline designs, and that's why it's way ahead of the competition when it comes to the innovations that make trampolines as secure and trustworthy as they can be!
A trampoline without springs? It's called Thunder
Vuly revolutionised the look and safety of trampolines with the original, award-winning Thunder Summer. Released in 2013 – following years of research and development – Vuly implemented in the Thunder Summer trampoline the specially designed Leaf Springs – which continue to power the entire Thunder series today.
Based on hard-wearing and heavy-duty suspension systems, the Vuly Leaf Spring trampoline is one of the safest trampolines that you and the kids will bounce on. It boasts a certified weight capacity of 150 kg! Vuly has been so proud of its no-spring trampoline designs, that it donated the Thunder Summer to organisations like Camp Quality and Civic Disability to use at their centres or to raise money.
The next step in no-spring trampolines? Thunder and Thunder Pro
The heavy-duty Thunder Pro from Vuly is a refinement in every way to the Thunder Summer – designed and built to be the world's strongest trampoline. Using redesigned Leaf Springs, Thunder Pro remains much safer than the rods used on other brands of springless trampolines. The Vuly system gives no opportunity for a 'twist' in the bounce, and there are no compressing parts that can catch little hands.
Along with Thunder – which features compact Leaf Springs in a more traditional trampoline frame – the Thunder series ensures that you and your family have the freedom to bounce anywhere on the jump mat. With the safety enclosure connected directly to the rim of the trampoline, you'll have a safe landing every time for worry-free bouncing!
Although the design may be more advanced than coil spring trampolines, Thunder and Thunder Pro aren't difficult to assemble. You'd be surprised to see just how easy set-up can be.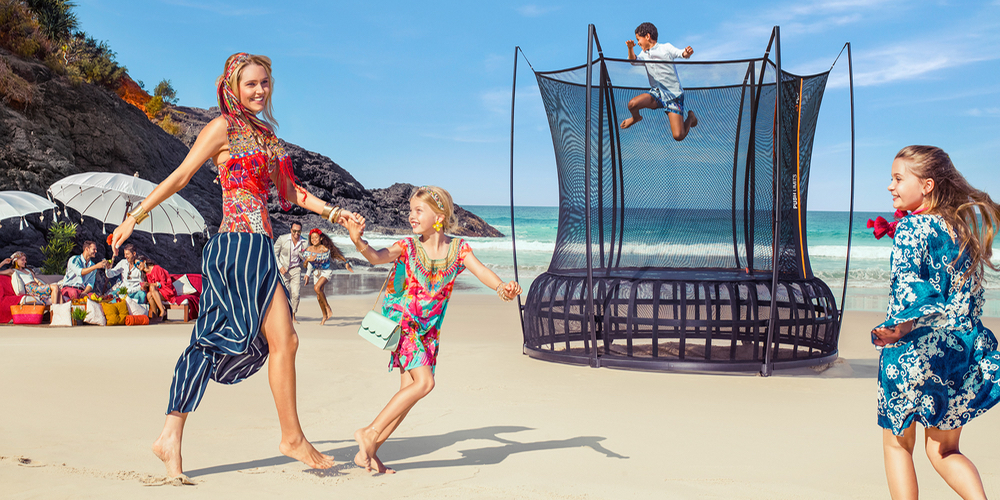 Traditional trampolines, with the best safety? That's Lift and Lift Pro
Trampolines with no exposed coil springs have certainly calmed the angst of most parents. The bad old days of injuries from falling off a trampoline and the nasty 'pinches' on the feet and fingers from the uncovered springs? Gone – and Vuly led the way! Even trampolines that use coil springs have come far.
While they may use coil springs, you can relax knowing that with every trampoline in the Vuly Lift series, those springs are covered, located outside the rebound area, and securely attached. Lift and Lift Pro trampolines are true family champions – affordably priced, durable, and safe. With the same rim-attached enclosure and thick, double-sided safety padding – which provides similar safety to Thunder and Thunder Pro – you can bounce from edge to edge even on a spring trampoline.
With summer just around the corner here in Australia, you and your kids should be able to enjoy your trampoline without suffering through the blazing sun. When you buy any Vuly trampoline, you'll get a FREE Shade Cover, but you'll have to hurry; this offer is only available for a limited time!
Want to extend the trampoline fun? Vuly accessories are the answer
With the thought of injuries and trampoline springs out of the way, you can turn your attention to the benefits for your kids of bouncing and being in the backyard! Outdoor play enhances your child's physical development. Fresh air, lots of space to have fun, and being close to nature is also hugely beneficial.
You can increase the longevity of your trampoline fun – and the boosts to your kids' health that come with it – by adding extra excitement with Vuly accessories – made specifically for Vuly trampolines. Forget the days of building make-shift, and sometimes dangerous, toys to use on the trampoline.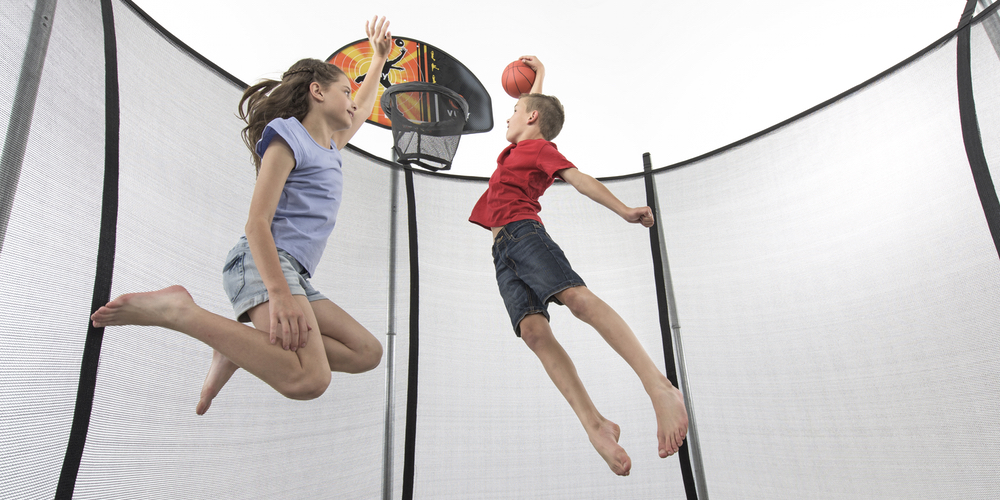 Deck
Your kids can use a real, lightweight skateboard deck to try out new jumps and twists – in the security and comfort of the trampoline enclosure – before heading to the skate park. What peace of mind that gives you!
Mister
As the temperatures rise, let your kids stay cool and have awesome fun on their trampoline, with a Vuly Mister. Attaching to the net pole, Mister spreads a fine mist across the inside of the trampoline enclosure, meaning fewer slips than a sprinkler, cool kids wet, and squeals of joy.
Basketball Set
Nothing brings out the competition in the backyard like basketball. With the made-to-bounce Basketball Set that attached to the top of a net pole, your kids can feel like pros with slam dunks from the sky! Who's the best bounce basketballer in your family?
Not just a trampoline without springs – a game centre too
We know how much fun and fitness a backyard trampoline gives your family, and with a safe, stylish trampoline without springs in your backyard, it'll be the centre of fun in your neighbourhood! Expect plenty of kids lining up to enjoy a bounce on your new trampoline!
Game Mat
Vuly designed the unique HexVex™ Game Mat for the whole family to get involved in the fun. Watch your kids use their imagination to make up games with their friends using the icons that are printed right under their feet.
Vuly creates trampolines without springs that are built to last and priced for every family. To find out more, take a look online, call or visit the showroom.
See our new basketball hoop.