Can you remember your trampoline growing up? I'm sure it's filled with happy memories of bouncing, but perhaps not so much of injuries or safety concerns.
The common rectangle trampoline of the past had the right idea for bouncing fun. However, there were plenty of design flaws, especially concerning safety.
And while the rebound system that the trampoline uses and its build quality contribute more to its safety and performance, the shape does indeed make a difference to frame strength, bounce quality and price.
If you're thinking of buying a rectangle trampoline, here are a few points you'll need to consider.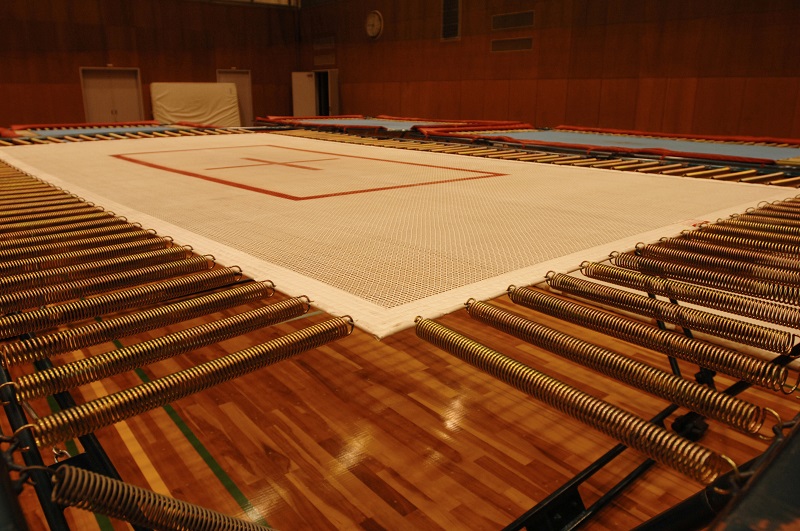 Safety Issues
A lot of the time, rectangle trampolines have not been updated with modern safety features. This is problematic for obvious reasons!
Below are a few safety elements worth considering.
Many rectangle trampolines still have exposed springs. I think we all know why this is a bad idea.
When bouncing, it can take just a moment's lack of notice to end up bouncing to one of the trampoline sides.
This often leads to instant injury as momentum tries to force the bouncer through the springs themselves.
Kids may end up being caught in those exposed springs leading to a very painful experience.
Ok, but what if these springs are covered with padding?
Unfortunately, many times this padding is of low quality and not sufficient to save the bouncer from exposed springs.
While it does hide the springs, it may easily tear when force is applied.
This may give a false sense of safety to the bouncer, believing they will be protected if they accidentally land on any of this 'protective' padding.
It much less common for rectangle trampolines to have safety nettings. It's pretty straight forward to understand why this is important!
This is even more important if the trampoline will be placed on a harder surface.
Again, like low quality padding above, rectangle trampolines may have low quality netting.
As rectangle trampolines require more netting compared to circular trampolines, it's often compromised

Bounce Factor
On a round trampoline, the springs are positioned uniformly around the frame or base.
This creates a more consistent and predictable bounce than on rectangular trampolines.
It also naturally guides the user towards the middle of the mat—no matter where they bounce—making them safer for young children.
This means that bouncers have greater control over their rebound on round trampolines than on rectangular ones, which can be unpredictable for untrained users.

Rectangular trampolines also tend to use intersecting springs, which have both a harder and higher bounce potential than traditional round trampolines.
However, a higher bounce may be a factor in accidents, as wilder bouncing may see the jumper land on exposed springs or weak padding.



Frame Integrity
Because of the uneven weight distribution on rectangle trampoline frames — and because the bouncer will not naturally be jumping on the most robust part of the trampoline — rectangular models require more springs and extra frame reinforcements to safely handle jump force.
Even with these supports, many rectangle trampolines do not match round trampolines in their certified weight capacity.
For a number of rectangle trampolines, the number sits close to 100 kg. Many modern circular shapes carry a limit closer to 150 kg.
The rectangular shape also wears more unevenly,, because the force of impact is directed to the frame edges.

Build
Rectangle trampolines are often made of much heavier steel, so it's more difficult to assemble one and move it around the yard.
Circular trampolines are generally more economical as there is less stell used in the construction of the frame. This also means they are easier to move once built.