This sport basically combines two of our favourite nerdy things: a trampoline and the sport of dodgeball. Put them together and you have one seriously awesome sport, Trampoline Dodgeball.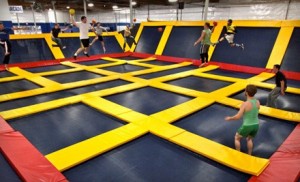 Trampoline Dodgeball!


Basically, it goes like this: the rules are very similar to traditional dodgeball, but it requires much more athleticism and skill. It is often played at a trampoline park, where there are trampolines on the floor and sides of the arena, and the players basically try to annihilate each other in midair. There are trampoline dodgeball leagues popping up all over the world for those who like to plan their fun, and there are also arenas that offer pickup games.

This is great sport for all those competitive people out there. The that you have to possess to be a trampoline dodgeball enthusiast is quite incredible.

We think that whoever invented this sport is a genius!

Alright, ladies and gents, it's your turn to speak. Would you ever be interested in forming a trampoline dodgeball squad? What do you think the best thing about this trampoline sport would be? What do you think the worst thing would be? Find a game of trampoline dodgeball near you!