A cubby house is a private place for your child to play and grow. They can fit in most backyards, and make for the perfect outdoor toy for any child. Cubby houses are highly customisable, and can come in many beautiful and creative designs.
When looking for a cubby house you should consider the size, features, materials used, weather resistance, warranty, and of course cost. We compare all these factors, to create a complete Australia guide for cubby houses.
Features: climbing rope, night light, fly screen, shade cover, sandpit, separately purchasable accessories.
The Vuly Cubby House is a modern interpretation of what a cubby house should be. Simple, durable and safe.
The Vuly Cubby House is a standalone cubby that can also be included as part of Vuly's 360 Pro Swing Set. It comes with a sandpit, a climbing rope, and an elevated cubby fit out with a night light for night camping.
The sandpit goes underneath the cubby house, and provides a space-efficient place for children to play. The climbing rope is a fun way to get into the elevated platform on top.
The cubby itself is made from fabric and has windows covered in fly nets, which makes night camping a real possibility. This feature is complemented by a night light, which can make the cubby an ideal place to read books as well.
If the kids want even more entertainment, the cubby house can be upgraded in an almost infinite number of ways, as it makes up only one part of a Vuly 360 Pro Swing Set, which can add a variety of swing features, basketball hoops and other accessories to the structure.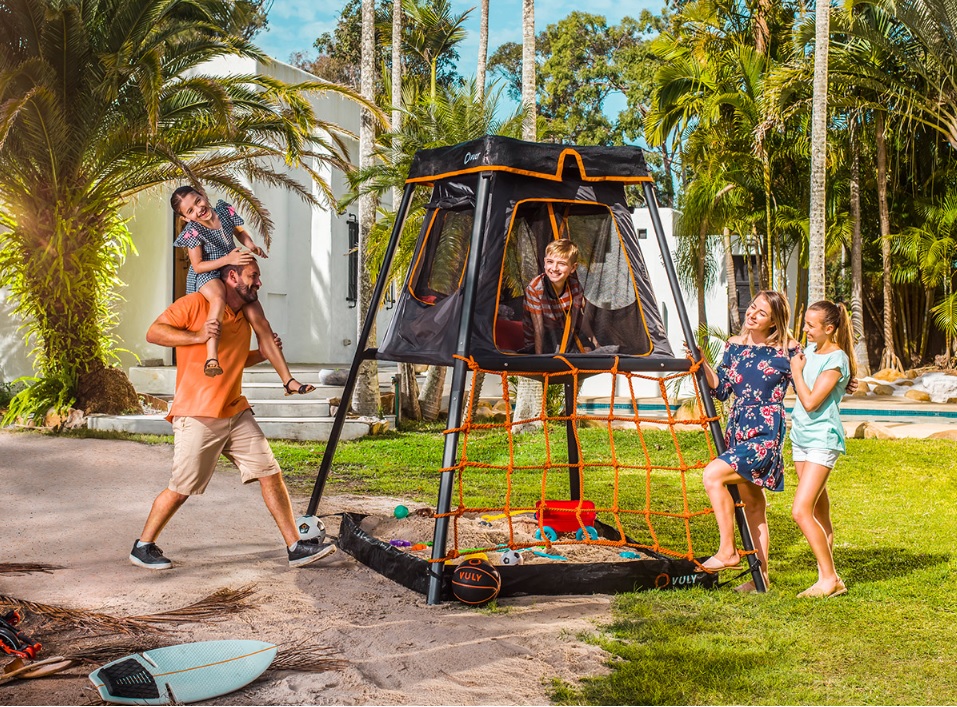 Pretend kitchen, slide, climbing feature, doors and windows, sandpit
The fun shack is a wooden cottage style cubby house made by Kids Shacks. It's definitely on the pricey side, but comes with a lot of cool features. This model is similar to the Vuly Cubby House in that the cubby is elevated on stilts, and a sandpit is placed underneath.
The Fun Shack With Mud Kitchen comes with a door and windows. Inside you can find a pretend play kitchen which includes cupboards, a stove top and a sink with a tap. This setup is great for kids that love to cook or experiment, as it allows them to make a mess outside your home.
To finish the cubby house, Kids Shacks have included a slippery slide, as a safe and easy way for kids to come down from the elevated platform.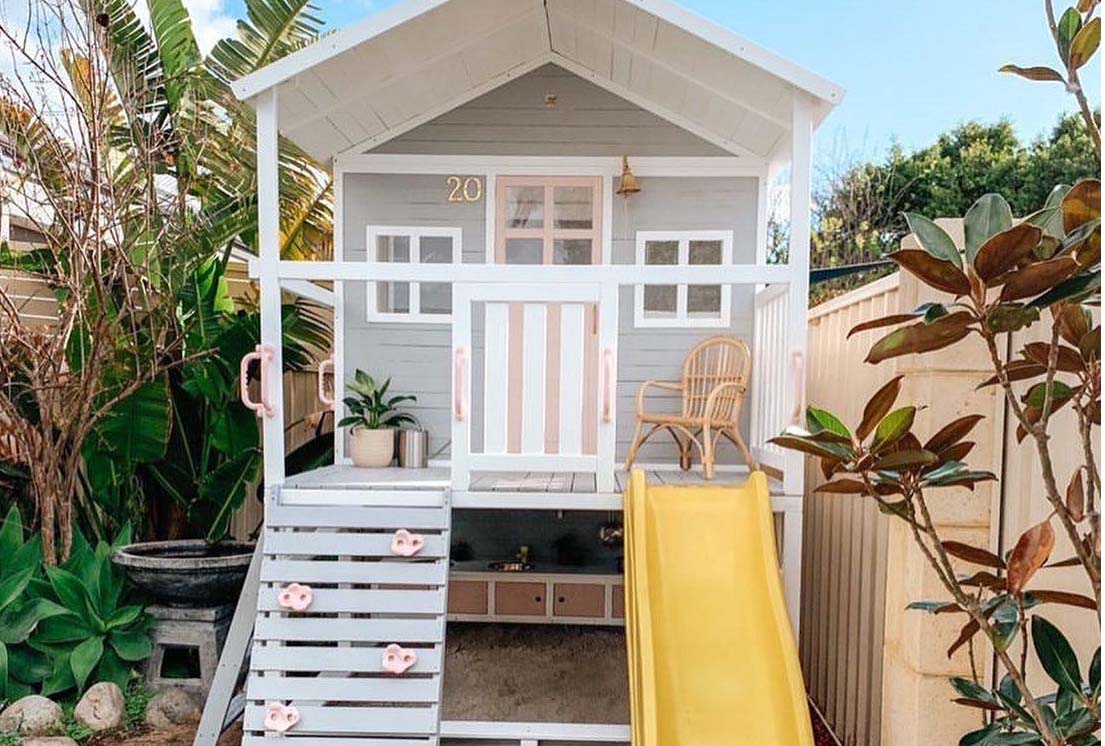 Doors and windows, slippery slide, separately purchasable accessories
This wooden cubby house by Hide And Seek Kids has a unique aesthetic that makes it stand out from the crowd. Also a cottage-style cubby, the Harper Cubby House also comes with a door, floor, bench, and windows. Additional accessories such as a flower bed, bell and mailbox can be purchased separately.
Hide And Seek Kids are very much focused on style and present their cubbies with cute miniature furniture, colour graded to fit various themes.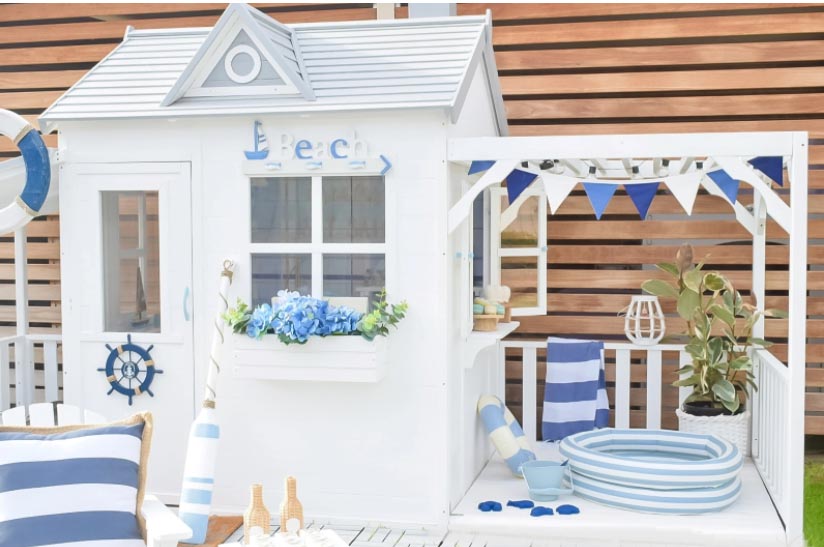 Doors and windows, stylish aesthetics, separately purchasable accessories
The biggest and most expensive on the list, the Queenslander Cubby House by Kitcraft, stretches a whopping 7.2m wide. This is another cottage style cubby, which comes with a door and windows.
A sandpit stretches underneath the cubby, a slide slopes from one side and a staircase takes you up on the other. A number of small accessories such as steering wheels and climbing nets are available for purchase separately.
The Queenslander Cubby House is made from timber, and is supposedly resistant to rot and fungus due to a special organic treatment. The only thing to consider is that this massive cubby house is a DIY project, and hiring a professional to assemble it will cost you even more.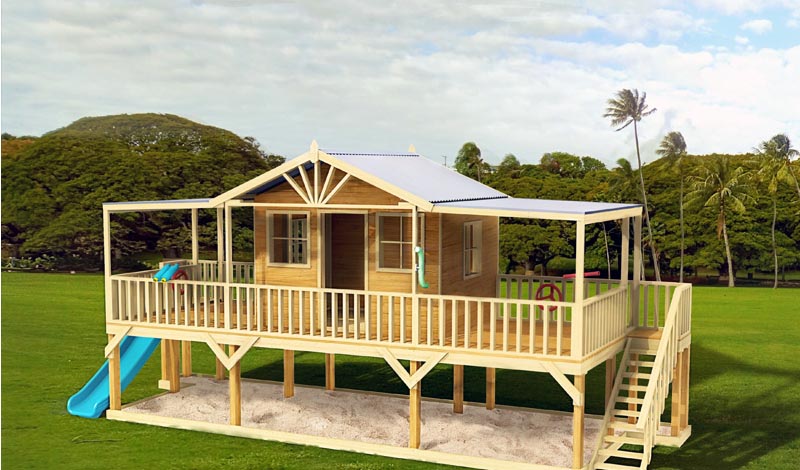 Doors and windows, kitchen
The Spring Cottage by Backyard Discovery is a smaller cottage-style cubby house designed for toddlers. It includes doors and windows, as well as a pretend kitchen! This cubby is made from durable cedar wood, which is resistant to water, bugs and decay.
If you want to get your kid into the backyard for playtime, this is a great option. Although quite small, this cubby is quite realistic, and provides an aesthetically pleasing addition to the backyard.