Getting kids to eat healthily can be a challenge.
Whether it's fussy eaters, or their hunger for sugar-laden treats, snack time can often be tricky to navigate in the right way.
The good news, however, is that you can make your own healthy homemade snacks for kids that they will absolutely adore.
Flavorful dipping sauces, tasty bite-size creations, and yummy desserts, we're here to help you with sweet and savoury easy healthy snacks for kids.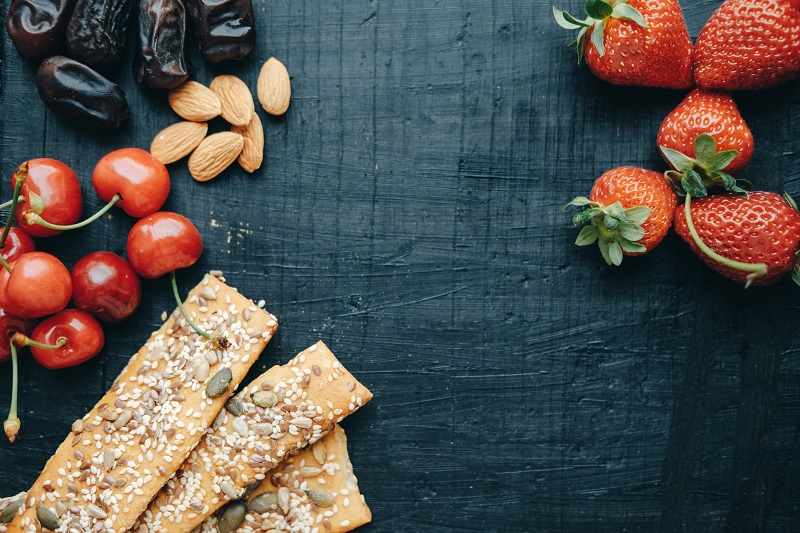 Contents
Easy Healthy Snacks for Kids
Making your own healthy-after-dinner snacks doesn't need to be complicated.
In fact, there is a range of easy healthy snacks that kids will just love.
And even better, these snacks provide high levels of energy - perfect for when the kids come in from their trampoline playtime, swinging or monkeying around.
Also, don't forget to familiarise yourself with the current healthy diet pyramid.
Choc-Dipped Banana Sticks
Most kids love bananas, and even more so when it's dipped in yummy dark chocolate!
This is a fantastic snack for those who need tying over until lunch or dinner.
How to Make:
Peel and chop ripe bananas into round slices, and carefully slide onto skewers.
Melt some dark chocolate in a glass bowl over a saucepan filled with bubbling water (ensuring the boiling water doesn't touch the bottom of the glass bowl), slowly stirring until silky and smooth.
Pour melted dark chocolate into a flat tray and dip one side of each banana skewers into it.
Place on a plate in the fridge to set the chocolate before serving.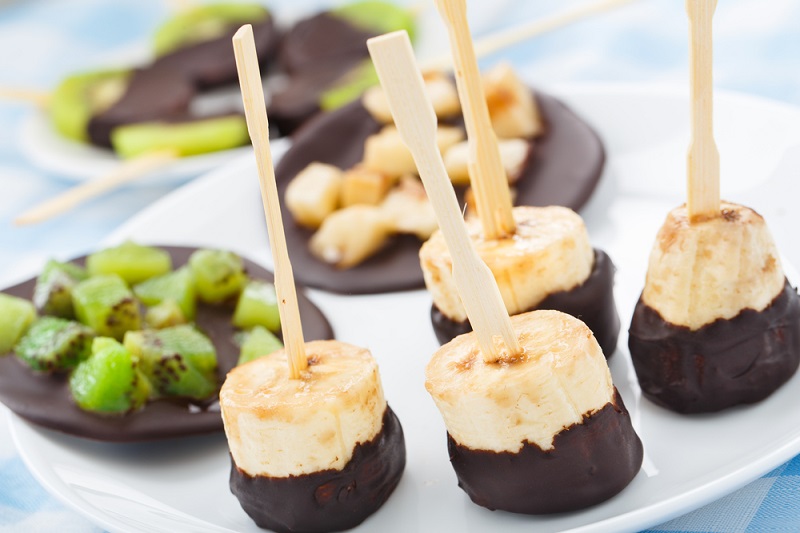 Celery Boats
With a sweet or savoury option, celery boats are easy healthy snacks for kids who've worked up a hunger.
You can even mix up the toppings to keep this snack idea fresh!
How to Make:
Chop up some celery sticks into 10cm lengths.
Spread cream cheese or peanut butter along with the centre dip of the celery sticks.
Top with sultanas, pumpkin seeds or cacao nibs for some crunch.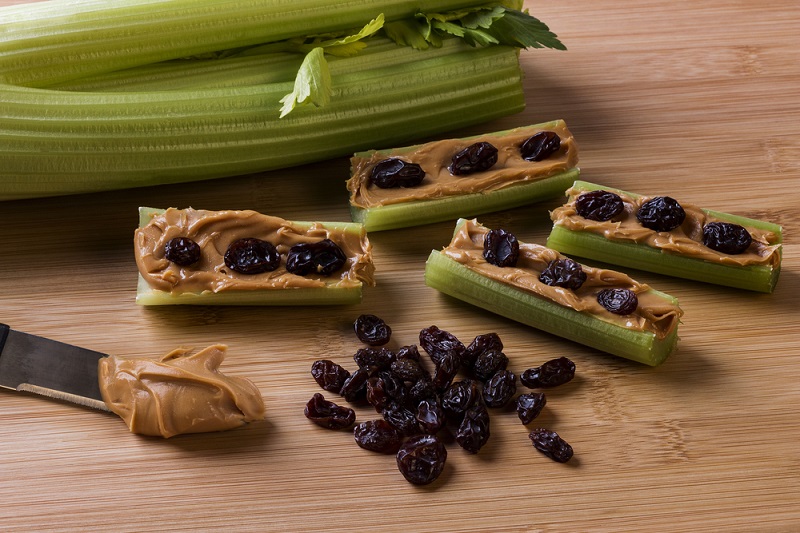 Flatbread Chips with Guacamole
Children often reach for crispy, salty snacks such as potato chips.
Give them a healthy alternative by creating your own out of wholemeal flatbread — quick, easy and delicious!
How to Make:
Preheat your oven to 200 degrees °C.
Chop up some wholemeal flatbreads or wraps into triangles, and place on an oven tray lined with baking paper.
Sprinkle with olive oil and a generous amount of sea salt, then pop into the oven for around five minutes.
To make the guacamole, spoon the contents of two ripe avocados into a bowl.
Add a generous squeeze of lime juice, salt and pepper, then smash with a fork or puree with a stick blender.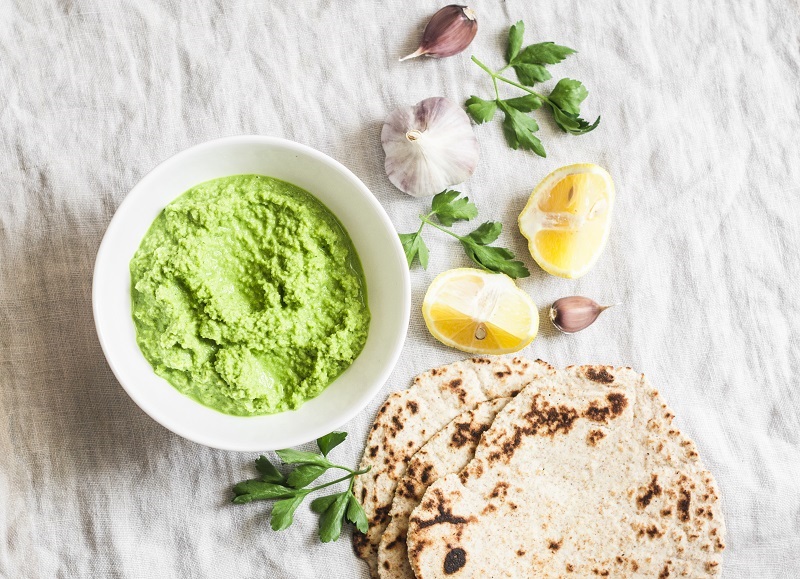 Nut & Fruit Baked Slice
Have food processors? Make your own tasty nut and fruit slices by processing your own nuts.
How to Make:
Preheat oven to 160 °C.
Lightly spray a 20 x 30cm baking pan with oil and line the base with 2 long sides of baking paper.
Chop 100g of pitted fresh dates and 80g of natural almonds.
Place the dates and 2 tablespoons of boiling water in a small bowl. Set aside for 3 minutes to soak, before using a fork to mash.
Take 150g of salted peanuts and 45g of pepitas, and combine it with the chopped dates and almonds. Process mix in a food processor until coarsely chopped.
Transfer mixture to a large bowl and add 35g of puffed rice. Stir to combine.
Place the date mixture in the saucepan, alongside 2 tablespoons of honey, almond butter and macadamia oil. Add 1 tablespoon of ground cinnamon.
Cook the date mixture stirring for 2 minutes or until well combined and warmed. Add to the nut mixture and stir until well combined.
Press mixture into prepared pan and smooth the surface with the back of a spoon. Bake for 35 - 40 minutes and set aside to cool in the pan. Store in an airtight container.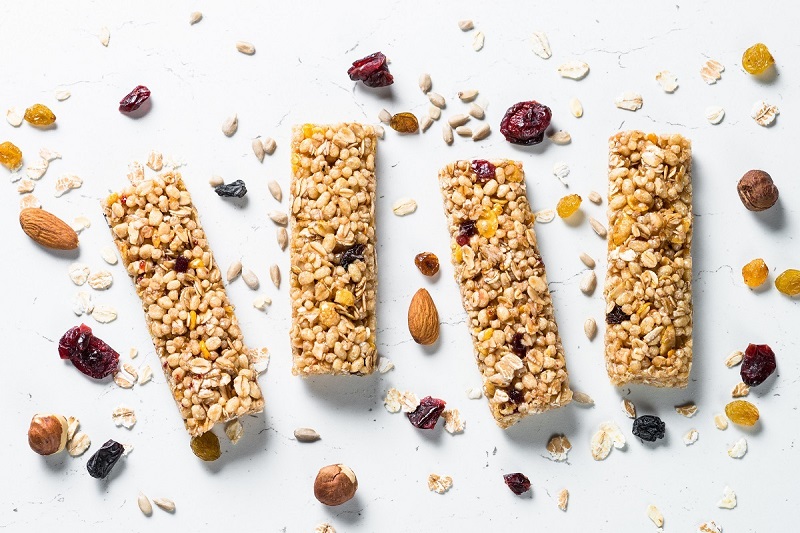 Sugar-Free Muffins
How to Make:
Muffins are always a fantastic treat but often are loaded with sugar.
But by using fruit for sweetness over sugar, you can make your own muffins that are still delicious.
Preheat oven to 180 °C.
Line a muffin tray with paper cases.
Take 2 apples (peeled) and 150g of butter and cook in a saucepan for 5 minutes or until soft.
Peel and mash 2 bananas in a bowl, along with 1 ½ cups of wholemeal self-raising flour, 2 eggs and 2 tablespoons of baking powder.
Add cooked apples and butter to the bowl and mix all ingredients together.
Spoon mixture into paper cases and bake for 20 minutes or until golden brown.
Allow them to cool before serving.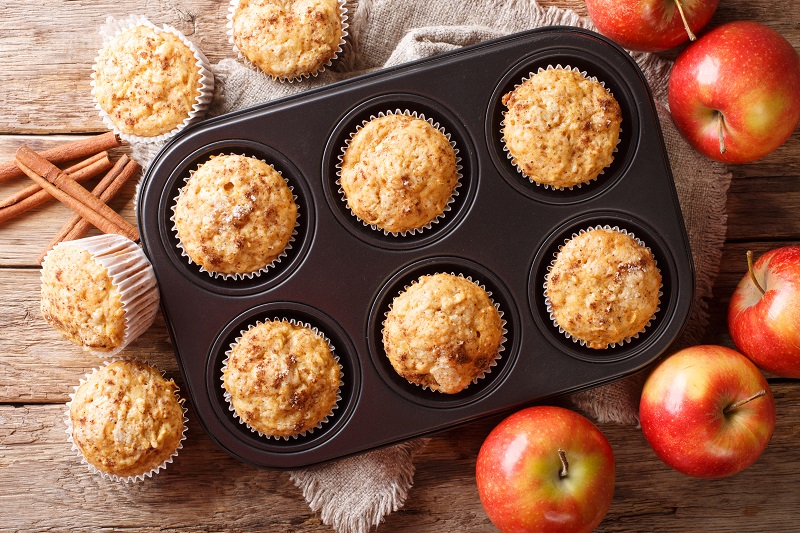 Chocolate Avo Mousse
Here's one that you can whip up in a matter of minutes. This chocolate mousse tastes rich and indulgent, so your kids won't be able to taste the difference.
How to Make:
Scoop 2 avocados into a food processor while adding the following: ½ cup of maple syrup - ½ cup (or cocoa powder if you can't source cacao) - 1 tablespoon of coconut oil - 1 teaspoon of vanilla extract - Pinch of sea salt.
Blend ingredients until smooth, before spooning the mixture into serving pots.
You can also serve with cherries.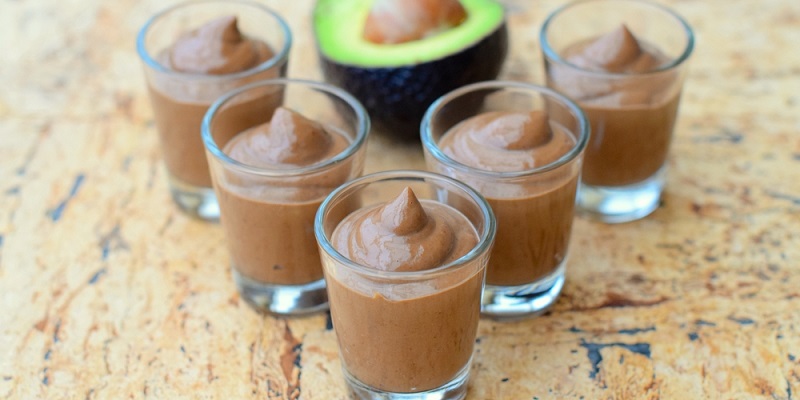 Strawberries & Cream Ice Pops
We've taken the classic English favourite, and given it an Aussie-fresh twist!
How to Make:
Take a few containers of strawberries and blend them to create a thick puree. Strain to remove pulp and seeds.
Combine ½ cup of sugar in a saucepan of water. Set over a medium heat stovetop until boiling, before reducing the heat to a simmer for a few minutes until the sugar has dissolved. Set aside to cool.
Add cooled sugar syrup to the strawberry mixture, until it's sweet to your liking. freezing ingredients will usually dilute their taste, so keep this in mind as you adjust the sweetness.
Combine the natural Greek yoghurt with about a teaspoon of vanilla essence.
Combine the strawberry mixture with the yoghurt mixture, add to the moulds and freeze for at least 30 minutes.
Berries with Coconut Dipping Sauce
Deeply-coloured berries have always been a childhood favourite, and what better way to eat them than coated in the rich, tropical flavour of coconut.
Try this healthy homemade snack for kids that they are sure to love.
How to Make:
Combine 2 cups of milk and 1 cup of coconut milk in a saucepan over medium heat stovetop until it's just boiling.
Add a teaspoon of flour while stirring to combine. Add 2 more teaspoons a little at a time before bringing the temperature down once the mixture has thickened.
Whisk in 1 teaspoon of cinnamon and 2 teaspoons of brown sugar.
Allow the mixture to cool, before spreading it over an assortment of your favourite berries. Finish with sprinkles of toasted coconut while serving.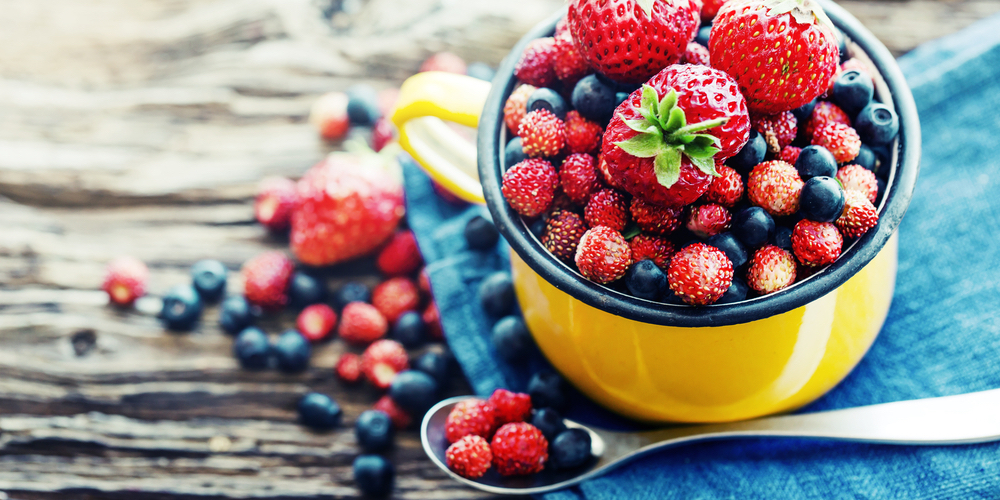 Chicken & Cucumber Bites with Yoghurt
Satisfying and delicious, a couple of these savoury bites will have the kids full until dinner time — especially with the great zesty lemon flavour.
How to Make:
Peel long strips of 1 washed cucumber with a vegetable peeler, and then place into the juice of 1 squeezed lemon.
Cut a chicken breast into bite-size pieces.
Grill chicken pieces over medium heat stovetop until cooked through. Set aside to cool.
Combine natural Greek yoghurt, the juice of half a lemon and half a clove of garlic, and season.
Wrap each small chicken piece with a strip of cucumber, skewering with a toothpick.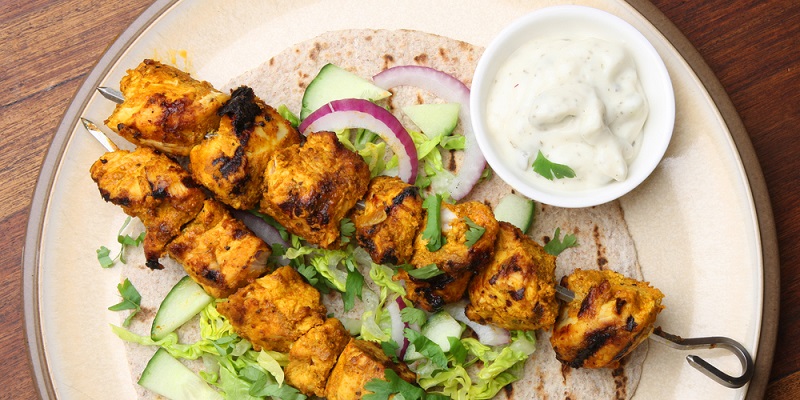 Zucchini Chips
You can still have tasty chips by using zucchini as a substitute with an awesome recipe.
How to Make:
Preheat oven to 220 °C.


Line a large tray with baking paper.


Cut up to 4 zucchini on the diagonal into 1 cm thick slices, then cut into 1cm batons.
Place zucchini batons in a colander set over a bowl. Sprinkle with salt and toss to coat. Set aside for 10 minutes to drain.
Combine the following in a bowl, a cup of almond meal - ¼ cup of semolina - ¼ cup of grated parmesan - 1 ½ tablespoons of finely chopping fresh thyme - ½ cup of garlic powder and 1 lemon rind finely grated.
Whisk a single egg in a bowl and work in batches dipping the zucchini batons in the bowl, draining of excess.
Toss in semolina mixture, to coat zucchini batons after dip.
Place, in a single layer, on the prepared tray. Spray well with olive oil and bake, turning chips every 10 minutes, for 25-30 minutes or until golden and crisp.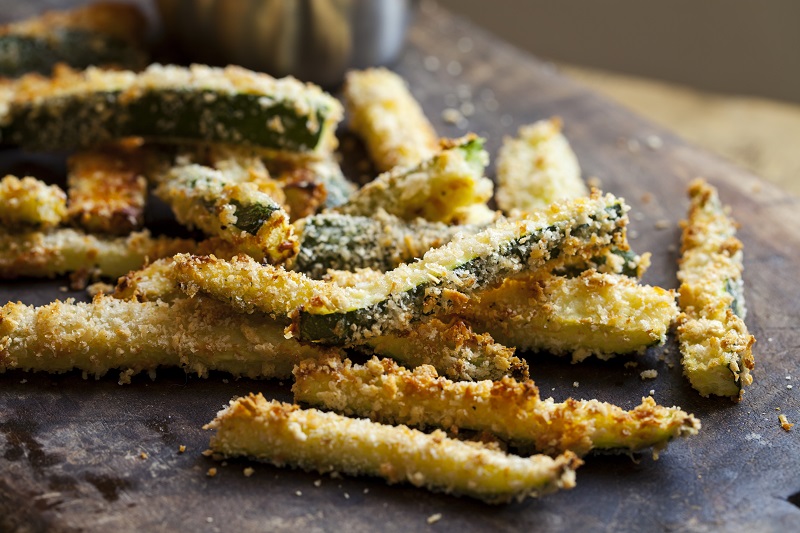 Sources
Kidspot – www.kidspot.com.au
Taste – www.taste.com.au
Good Food – www.goodfood.com.au