We're excited about our new range of kids bikes and we at Vuly Play want to make sure your kids get the most fun out of them whilst keeping safety in mind.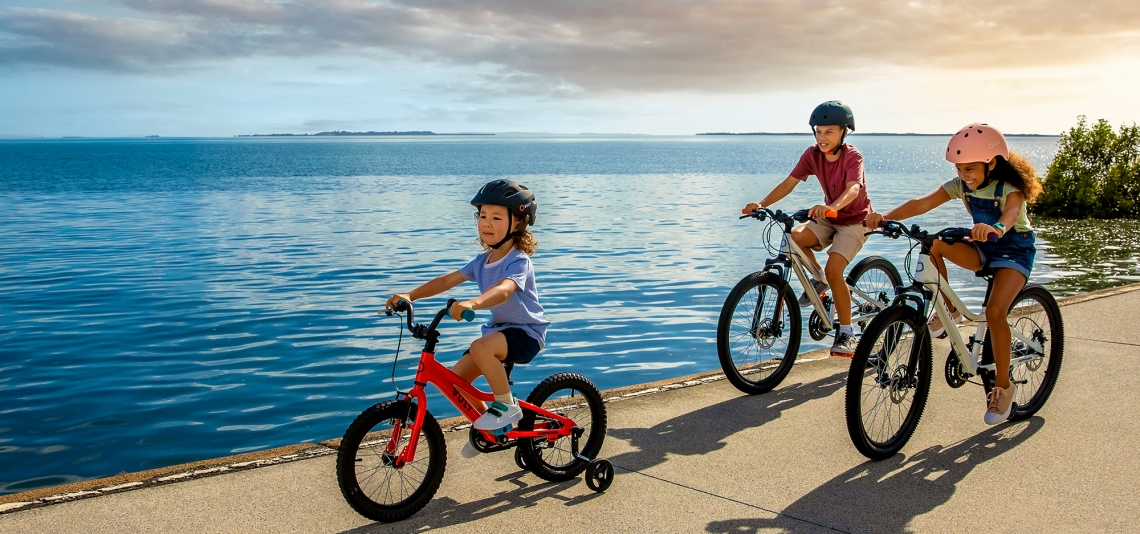 Why is bike safety important?
Each year, more and more children are riding bikes and with that, comes more possible hazards on footpaths and roads. Bike safety among children should be a priority before letting your little ones enjoy their ride whether it's a balance bike, mountain bike or BMX bike.
To ensure your kids are safe at all times while riding their bikes, we've put together a list of safety measures to think of.
Riding the right bike size
We have a range of different sizes of bikes from 12" wheels to 24" wheels. If the bikes you buy for your children are too big or too small, they could have trouble taking control of their own ride and lead to some serious accidents.
If the bike is too big, they could have trouble pedalling or staying upright when they're idle, and if the bike is too small, their knees could be reaching the handlebars which cause issues when turning and pedalling.
A quick way to find out if your child's bike is the wrong size is to look out for their feet. They should be able to touch the ground with the toes of one foot while sitting on the seat, without having to lean the bike to that side. When peddling, their legs should be extended but not completely locked on the downstroke.
Here's a simple guide to ensure you're buying the right bike for your kids.
| | | |
| --- | --- | --- |
| Age | Height | Wheel Size |
| 2-4 years old | 90cm - 102cm | 12" bikes |
| 3-6 years old | 99cm - 117cm | 16" bikes |
| 6-9 years old | 114cm - 132cm | 20" bikes |
| 8-11 years old | 130cm - 150cm | 24" bikes |
Wear a helmet
This one seems obvious, but it is one of the most important things to remember when keeping your kids safe while they ride. And, it is also the law to be wearing a helmet while riding a bike in Australia. Bike helmets are essential for protecting your child from head, brain and facial injuries. Which, in most cases, can reduce the severity of a head injury by 60-90%.
Make sure the helmet complies with Australian standards by showing the Australian Standard mark.

The bike helmet should also fit your child's head comfortably, ensuring it's not too tight or too loose. Hats are also not recommended to be worn under a helmet.
Vuly has a range of AS/NZS compliant kids bike helmets for sale

Check your equipment
Make sure everything on your child's bike is working. Just like a car and checking your hazard lights, brakes and mirrors are in working order, the same should be done with a kids bike. Make sure the handlebars turn the wheels without any issues, the brakes are working, the wheels are inflated and the drive train runs smoothly.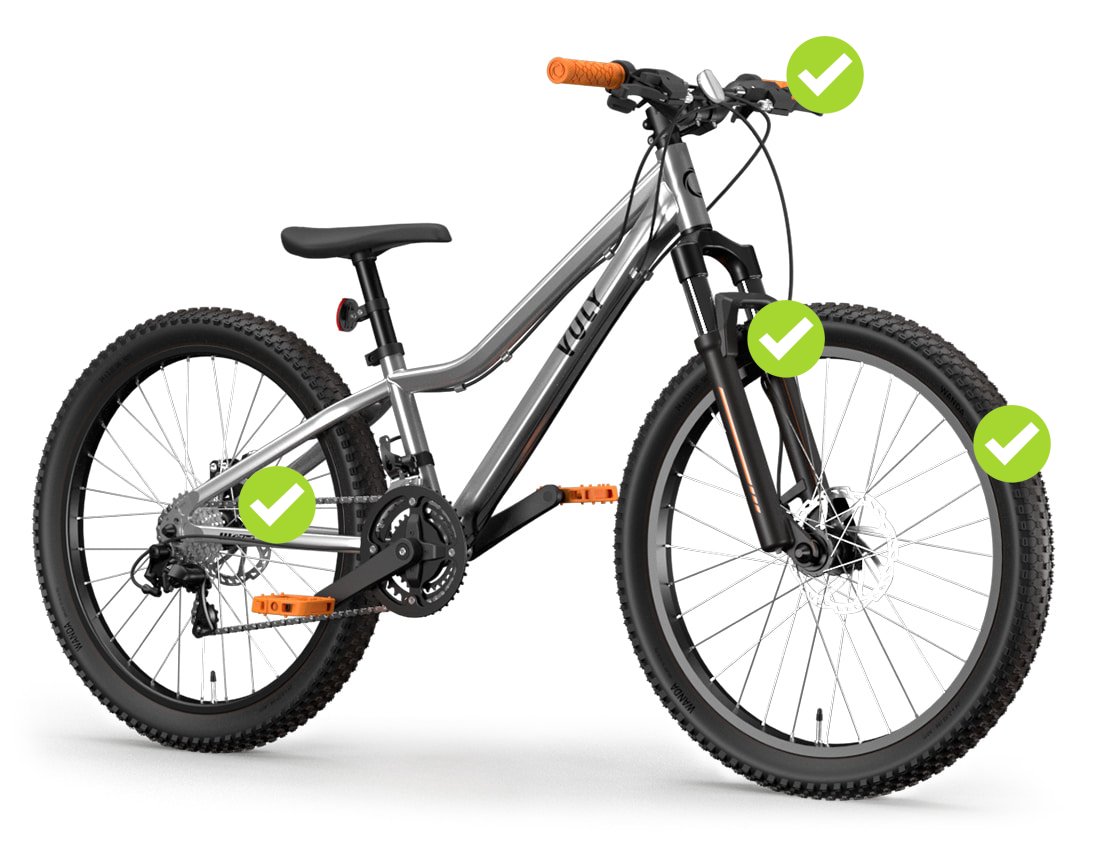 Be highly visible
Ensuring your kids have high visibility is important if they're on a shared path or trail. You can do this by adding reflectors to your kid's bike, adding front and rear bike lights and having them wear colours that stand out - this includes the colour of their helmet. Having them stand out helps other riders or drivers avoid them.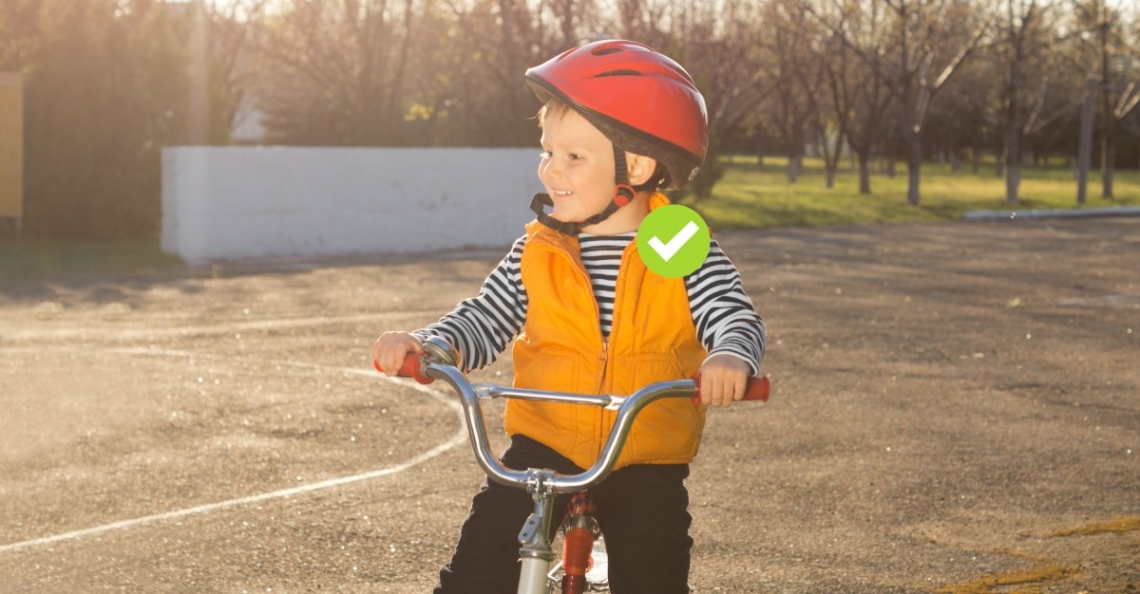 Watch your outfit
Separate from wearing bright or easy to see colours, it's important to check that your kids aren't wearing anything that can get caught in the drivetrain or wheels. This can include loose clothing like pants, drawstrings, scarves, shoelaces and backpack straps.
Their choice of footwear is also important to maintain grip on the pedals. Flip flops, sandals and cleats are generally not ideal as they can often be hard to grip onto the pedals. Most importantly, don't let your kids ride barefoot!
Mountain Biking Safety

Kids bike safety for off-road trails
Our range of mountain bikes are popular amongst adventure-seeking riders and often used on off-road trails. On top of the usual safety consideration listed above, there is a whole new list of mountain bike safety things to consider.

Appropriate eye protection
Venturing off-road with a kids mountain bike can get pretty messy, often being muddy with debris when they ride. To help protect your kid's eyes from foreign objects and debris, it is highly recommended that they wear safety goggles.

Cycling gloves
Off-road trails can be very bumpy and your kids could lose control of their mountain bikes quite easily. To help improve the grip and give your child more control, mountain biking gloves should be worn. On top of providing extra grip, gloves can help prevent chafing and injuries during a fall. Ensure the mountain bike gloves you choose are full-finger gloves.

Safety pads/guards
To protect your child's body from falls or mountain bike accidents, elbow and knee pads/guards should be worn.
View our full range of kids bike accessories and safety gear online