What Are Bike Gears?
Most bikes have some sort of gear system, which allows for more efficient and comfortable riding. It's one of the most important factors that make a good bike, alongside tire pressure and the type of bike frame used.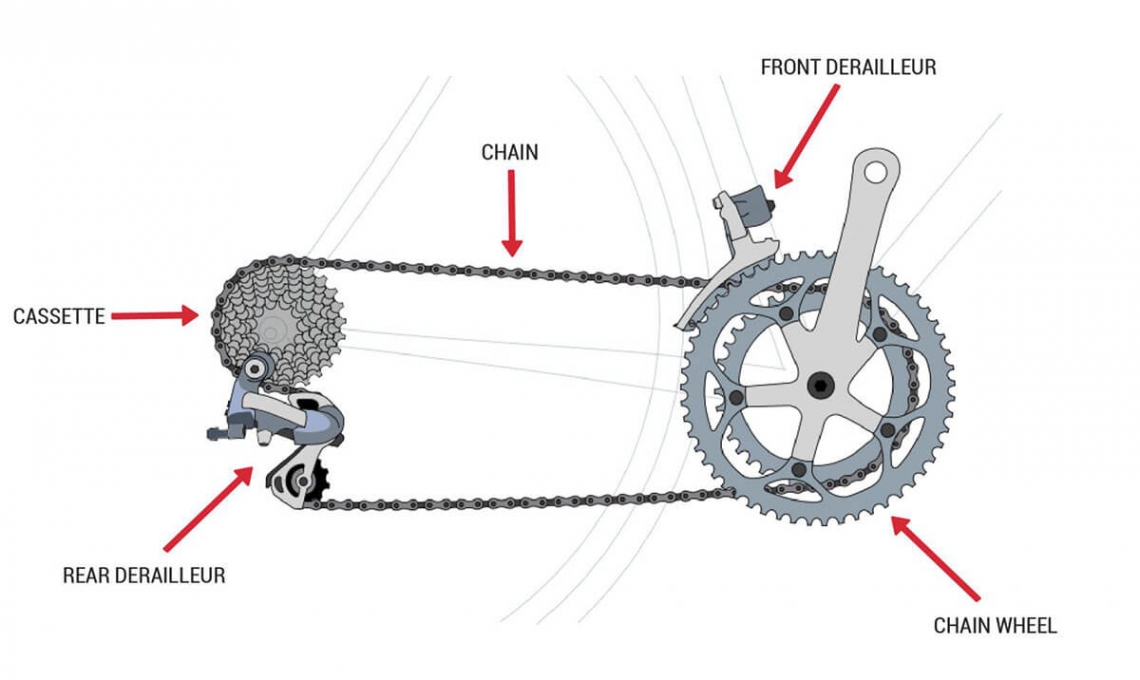 At the front of the bike, you will have either 1, 2 or 3 chainrings. These are usually controlled by the left handlebar lever, and are responsible for large changes in pedaling difficulty/ power. The smaller the chainring, the easier it is.
At the rear of the bike there is a cassette, which has significantly more cogs - usually between 7-12. This means more gear choices and smaller changes between the gears! Unlike the chainrings upfront, the smallest cog in the rear is actually the hardest with the most resistance. Shifting between cogs is usually controlled using a handlebar lever on the right-hand side.
Table 1: Cogs Vs Chainrings Comparison
How To Use Gears On A Bike
In the most basic sense, by shifting gears, you control the amount of force that is propagated to the wheels. At higher gears this is maximised. But this also means that pedaling becomes super tough! Higher gears are usually suitable when you already have a lot of speed, such as when going downhill.
Table 2: High Gear Vs Low Gear
Gears should be shifted one gear at a time - this will prevent damage to the bike and the potential for jamming your gears. Make sure to continue to pedal while shifting, but ease the pressure on the pedals slightly to avoid straining the bike chain.
How To Avoid Cross Chaining
Cross chaining is a concept where the bike is using the easiest cog and hardest chainring or vice versa. In other words, if you're using the smallest cog and smallest chainring, or your largest cog and your largest chainring at the same time, you're doing it wrong!
This creates a large torsional angle between the chain and the 2 anchoring rings. By doing so, you run the risk of mechanical damage, stretching the chain and even dropping or slipping your chain.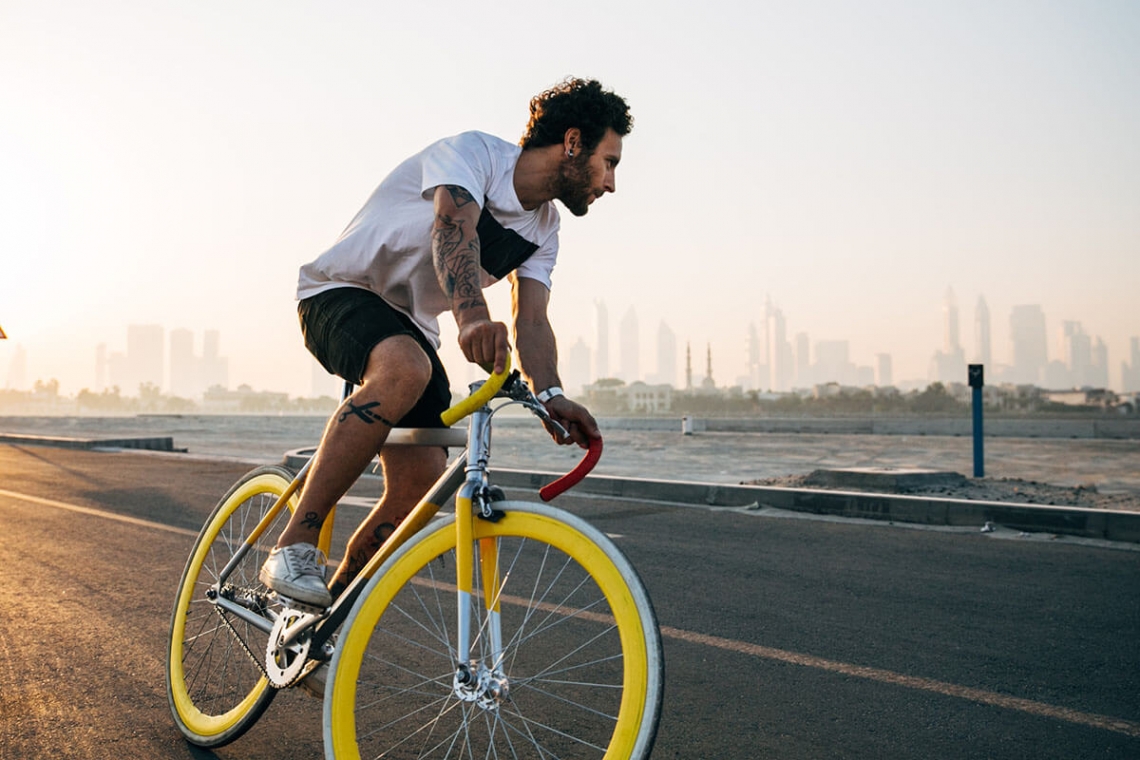 Cadence & Ideal RPM
Cadence is measured in Revolutions per Minute (RPM). It's widely used to gauge the right time to change gears. Everyone has their own preference, and it also typically depends on the bike, but generally keeping your RPM between 80-95 is ideal.
Often Cadence is measured using sports watches or computers, but as you get more familiar with riding, you will be able to intuitively know whether you fall in the ideal range. As your Cadence lowers, you should shift down into an easier gear, if your Cadence becomes too high, you should switch up into a harder gear.
Table 3: When To Shift Gears
| | | |
| --- | --- | --- |
| | Below 80 RPM | Above 95 RPM |
| Gear Change | Shift Down | Shift Up |
Preemptive Gear Shifting For Hills
Optimal gear shifting should be done preemptively, especially on a mountain bike when riding on uneven terrain. Observe the environment. If there's a hill ahead, make sure to begin preparing yourself early. Change your gears on the flat - shift down to an easier gear before entering the hill.
A good way to do this is to shift down a chainring and then make micro-adjustments with the rear cogs using the right-hand lever, depending on the shifting slope.
Changing Bike Gears In Preparation To Coming To A Stop
Downshifting is incredibly important when coming to a stop. If you remain in high gear, it will be incredibly difficult to start pedaling again from a stationary position.
Downshifting Gears When Cornering
Often when cornering, you will want to slow down. You don't know what's ahead. In this situation you will want to shift down a few gears, probably using the right-hand side lever. The downshifting when cornering doesn't need to be as extreme as when climbing a hill or coming to a complete stop.
Table 4: General Rules For Upshifting & Downshifting Bike Gears
| | |
| --- | --- |
| | Gear Shift |
| Uphill | Down |
| Downhill | Up |
| Coming To A Stop | Down |
| Cornering | Down |
Different Types Of Geared Bikes
There are many different types of bicycles. Generally, they can be classified into 1 speed, 3 speed 7 speed bikes and 21 speed bikes. Many professional bikes have more speeds - in fact, a bike with 3 chainrings and 12 cogs can have up to 36 speeds (3 x 12).
1 Speed Bikes
This is the most basic type of bike. Single-speed bikes are generally kids bikes. There is only 1 speed - and as such no ability to shift gears. Although cheap, you may become frustrated with an inability to adapt the bike based on terrain and personal preference.
3 Speed Bikes
3 Speed Bikes are great for anyone that doesn't need a whole lot of gear shifting. Beginners and commuters that ride on relatively flat ground will love them. They offer some basic configuration while maintaining a simple design. Usually, the gears are changed by rotating the handlebars.
In 3 speed bikes, gears can be changed while stationary. The gear changing system doesn't need regular maintenance unlike some of the more advanced bikes because of its simplicity and physical cover.
7 Speed Bikes
Just like the 3 Speed Bikes, 7 Speed Bikes use a rotating handlebar to change gears. They have more options, and as such can be used in more versatile terrains. The major difference from the 3 Speed Bike, is that you want to be pedaling when changing gears. This is because 7 Speed Bikes use a derailleur, and when shifting on a stationary bike, a lot of torsion will be put on the chain - sometimes even causing it to fall off.
21 Speed Bikes
In 21 Speed Bikes, there are levers or triggers on each handlebar. This is commonly referred to as the standard gear configuration. 21 Speed Bikes have 3 chainrings up front and 7 cogs at the rear, providing a total of 21 possible gear options.
These types of bikes are generally more suitable for intermediate to advanced riders. They can help you conquer hills and generally provide more tuned and sophisticated riding. Due to the complexity of the gear changing system, they are also the most prone to damage and need regular maintenance.
Table 5: Geared Bikes Comparison