There are so many different swing set models found in Australia, that it can be hard to decide what is actually the best swing set.
Making an informed decision that fits your family and their needs is important. That's why there are a few considerations you need to know when looking for the best swing set in Australia.
Swing and playsets come in a variety of shapes and sizes. This should be the first thing you consider when choosing between swing sets.
Not only does it need to fit in your yard, but you need appropriate space around the swing set itself for safety. This includes clearance space both vertically, as well as horizontally.
Orientation can matter too, with some swing sets coming in different configurations that help if finding backyard space is a little tricky.
Another thing to keep in mind is that you'll likely want to be able to supervise your kids as they play. So, when factoring in size, you may need to keep to spaces within a clear viewing angle, such as a window or patio.
It's no surprise that kids grow up fast, and what they enjoy today, they may not necessarily enjoy tomorrow. Keep this mind when searching for the best swing set for your family.
Larger swing and playsets offer far greater variety, but often then become harder to supervise with younger children. Alternatively, some of the better swing sets allow you to add new accessories.
This allows for a variety of swing activities to grow with your family and ensures your children don't outgrow something you've spent good money on.
Different materials have been used throughout the ages to construct swing sets.
Wood has often been one of the core materials, but as a range of issues to keep in mind. This includes possible splinter accidents to the likeliness of having to stain after a couple of years.
Plastic is also another common material. They're often cheaper, but some are known to degrade under direct sunlight, reducing their strength.
For this reason, the best swing sets in Australia are often made from metals, such as aluminium. Choosing a metal swing set usually is a smart idea, but be careful of swing sets with thin, flimsy metal components.
Also, remember that metal is prone to rusting over time. Therefore, it's important to invest in an Australian swing set that is rust-resistant, using galvanisation, powder-coating, or something similar.
Just like with any play equipment, safety is crucial when it comes to kids and swing sets. When searching for premium swing models, enquiry about safety standards that relate to Australia.
Furthermore, it's a good idea to ask if the swing set has been tested for quality. The last you want is for accidents to occur from a dodgy constructed frame or swing attachments.
Looking for the Best Australia has to Offer?
Enter 360 Pro by Vuly Play

Purchase an Award-Winning Swingset Today
With its large range of attachments, you choose what your kids will love, while still having the flexibility to add and change swings later.
The range of sizes and configurations fit any backyard, while still offering a bigger swing area than competitors. Plus, it's built to last, offering thick steel, twice galvanisation, and matter powder-coating to keep corrosion and rust at bay. And just like our trampolines for kids, we've spent years researching and rigorously testing components, simulating over 500,00 swings on each swing attachment.
Medium 360 Pro Swing Set
Perfect for smaller backyards or those who just want a high-quality swing set, our medium size can easily be upgraded in the future for even more fun. View here.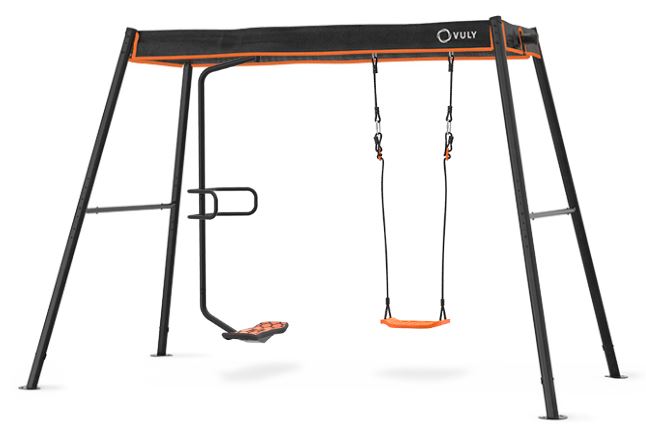 Large 360 Pro Swing Set
A larger frame means even more accessories you can add! Our larger 360 Pro is also a fantastic first buy, with a range of customisation for playtime. View here.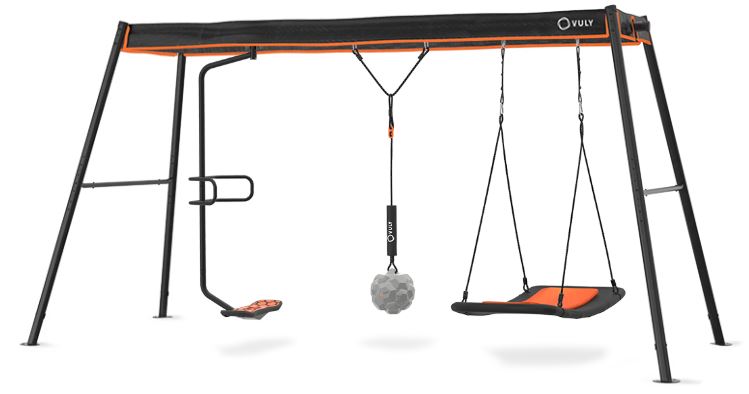 360 Pro Cubby + Swing Set
What's more exciting than a swing set with its very own cubby! This swing set configuration offers multiple swinging bays, as well as a cubby, cargo net, and sandpit. View here.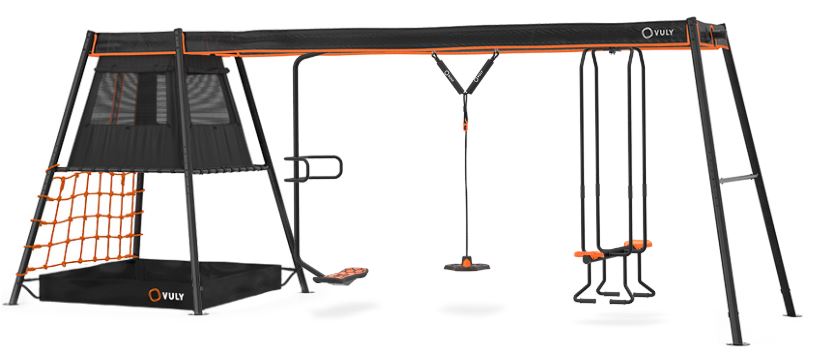 360 Pro Full Swing Set

Looking for the best? Our full swing sets offer a full arrangement of swinging accessories, so your kids never get bored!
With a cubby house in the middle, explore the full range of our swing set accessories and enjoy the ultimate swinging experience, that's also available in L shape configuration. View here.
Want more information? Refer to our swing set buying guide below or call us today.