The exploding popularity of kids trampoline models means there are more brands on the market than ever before. To the untrained eye, the materials they're made of seem to be very similar, but nothing could be further from the truth.
It becomes even more confusing as every company claims their products are made from the highest quality components.
This can be problematic because when shopping for the best trampoline for kids, you want to ensure you are buying a high quality, safe product.
But there is an easy solution – Shop Vuly Trampolines.
We don't just claim our products are the best, we prove it, by extensively researching a wide variety of materials to get the best results for you.
Our company is involved in every aspect of our product development, including formulating the merchandise design and material.
See why Vuly Play offers the best kids trampolines and how long a quality trampoline should last for your family.

Contents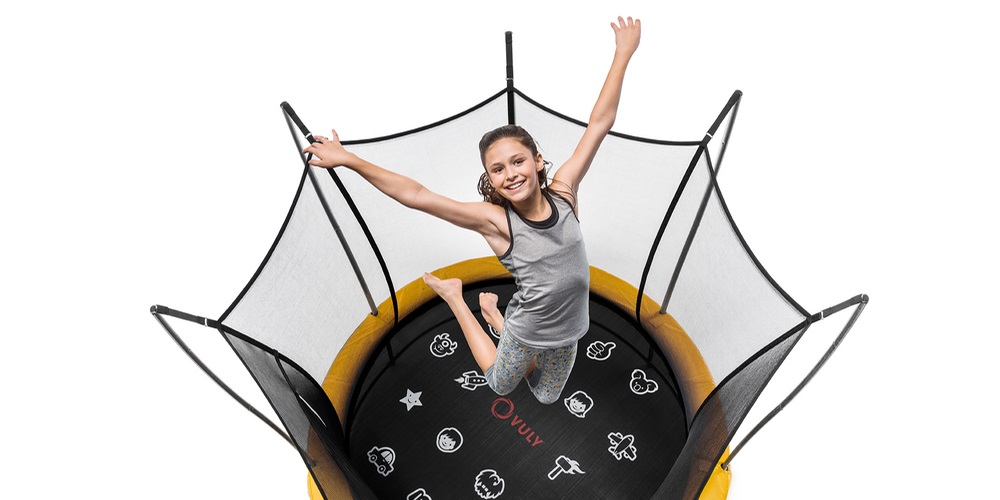 Vuly Play - Quality Trampolines For Kids
When purchasing a trampoline for kids it's crucial to consider the quality of its materials.
At Vuly Play, our engineers alongside the whole Vuly team are always working hard to ensure we design the best kids trampolines.
But what defines quality?
For a start, how does 10 years warranty on your trampoline frame sound?
This is very important because the frame is one of the key components that makes up a trampoline and essentially holds it together.
The steel we use on our trampoline frame is Australian-mined and double galvanised for protection from corrosion and rust, inside out.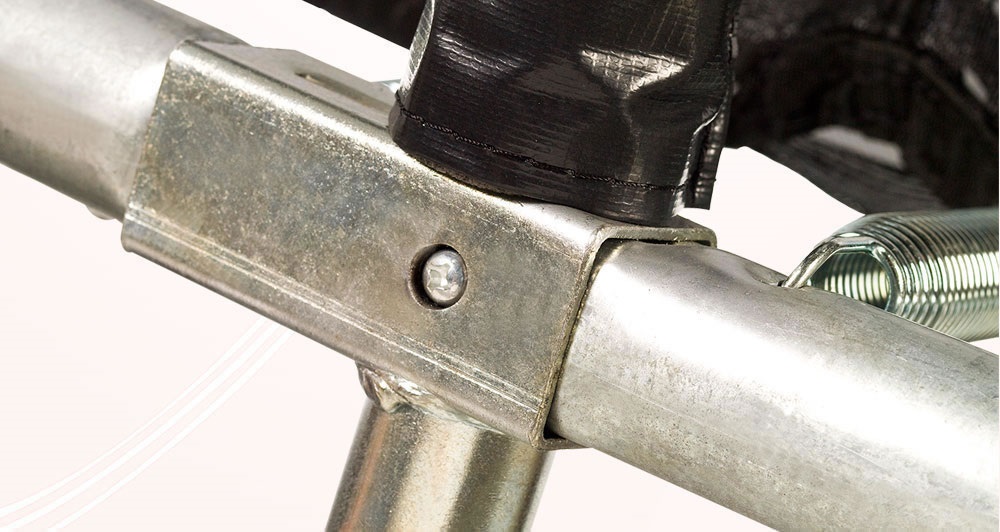 But it's not just the high quality frame - we ensure every part, every piece of our kids trampolines are made to last.
Our steel springs are galvanized to protect against rust. The hooks are longer at the frame side, allowing for increased movement.
For the optimal bouncing experience, our researchers are constantly adjusting the width of the springs, the width of the coils, and the angle of the wind.
Vuly trampoline springs are specially designed so that they provide an easy bouncing experience that is ideal for home use.
Our top-quality jumping surfaces are made of thick, flexible polypropylene. This material is tough and heat resistant.
Additionally, it is light-weight, impact resistant, stress cracking-resistant, and boasts a very high compressive strength.
These qualities are vital for the pressure exerted on a trampoline. Vuly adds to the athletic fun by printing games on our jumping surfaces (known as our HexVex™ Game Mat), providing your child with hours of additional enjoyment.
Our safety nets are composed of Terylene, a synthetic polyester fabric that is known for its lightweight yet sturdy qualities.
An extremely versatile and UV-resistant material, Terylene is commonly used in ropes and sails. With strong synthetic materials, you can be assured that you or your kids will remain securely within the confines of the enclosure.
Our fortifying reinforcement strip is located around the middle of the net for additional safety.
Kids Trampoline and Their Safety Standards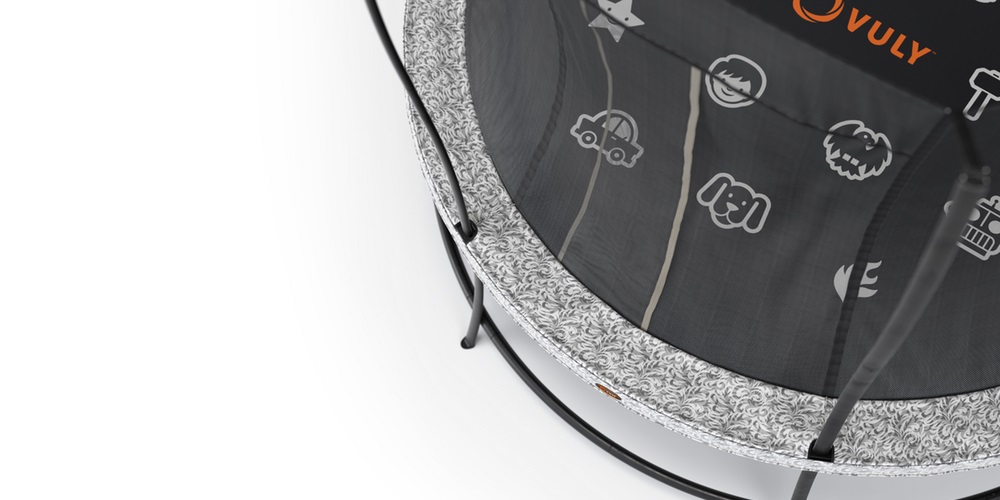 You've probably heard that kids trampolines cause a lot of injuries.
With Vuly trampolines, these ideas couldn't be further from the truth!
Vuly Play has addressed primary concerns about trampolines expressed to us by parents everywhere! We understand that there's nothing more important than the safety of their children.
Today, we talk about how we go further than the safety requirements outlined by Standards Australia, and address some common misconceptions that are promoted by other trampoline manufacturers.

Standards Australia is the country's leading independent standards organisation, specialists in the development of internationally-aligned standards in Australia.
They are the body behind safety standard AS 4989:2015 Trampolines for domestic use.
This standard introduces trampoline requirements for enclosures, structural integrity, the need for UV-resistant materials and impact reduction systems.
All of our trampoline models pass these Australian safety standards.
Our trampoline enclosures prevent any contact with springs or frame, eliminating impact zones in the bouncing area.
We also provide loop padding connectors and a self-sealing door – just two small (but important) areas in which Vuly goes beyond what's required for safety.
Further proving our commitment to safety, we also meet the requirements for many safety standards published by ASTM International and the European Committee for Standardization.
In short, you can be assured every single safety aspect is covered when choosing a Vuly kids trampoline.
Read more on how we exceed safety standards below:
Vuly trampoline frames – and the durable Leaf Springs on our Thunder and Thunder Pro – are made from hard-wearing steel, which is galvanised on the inside of the tubing and on the outside.
Rust won't form in places that you can't see and degrade the integrity of the frame, unlike other competing trampoline models.
The 'no-contact' springs on our Lift trampoline models also feature special 'Chromium Conversion Coating', which provides an extra rust-free guarantee.
Vuly's frames offer an incredible 10 year warranty, ensuring a guaranteed sturdy and safe jumping platform not found in competitors.
Made from ultra-soft silk terylene or longer-lasting polyethylene material, Vuly safety enclosures feel gentle on the skin and are woven to consist of the smallest holes possible.
Unlike many competitors, Vuly trampoline nets are attached directly to the mat to prevent any contact with springs or frames, and there's nowhere for little digits to get caught.
The net is also the perfect level of tightness; you'll never fall off the side! All of our nets will gently guide you back onto the mat every time.
Vuly trampolines provide fantastic vertical bounce, which is low-impact and gentle on joints young and old.
Some activities – like running, tennis or basketball – can be taxing on knees and ankles, and other competitor trampoline models have a diagonal bounce, which can also be harmful for joints.
However, gentle bouncing on a Vuly trampoline mat is a great way to raise your heart rate without causing damage to your body.
Many of our competitors claim to not sell tents and shade cover roofs for their trampolines – or advise customers to steer clear of them — because they "conflict with the height restrictions in the safety standards".
This is simply not true.
In fact, the Australian Standard makes specific provisions for these products. It recognises that "[…] accessories specifically designed to cover the trampoline, such as tents or sunshades, may be provided with the trampoline or sold separately".
Provided that you still assemble your trampoline with the right clearance above and around it, our Deluxe Trampoline Tents and Shade Covers are great ways to provide additional sun cover.
How Long do Trampolines Last?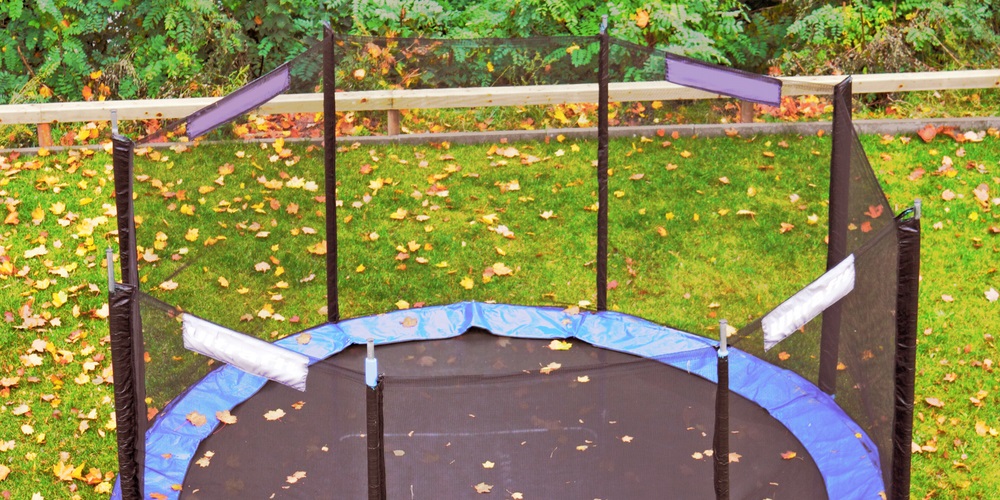 When it comes to the question of how long do trampolines last, there are several factors that need to be considered.
Of course, the most crucial factor will always be the overall quality of the trampoline and its materials.
While trampolines are available from most large stores and online – and at very competitive prices – you should always look for the highest quality that you can afford.
Take a good look at the frame, jump mat, safety padding and safety net on the kids trampolines that you shortlist.
Here are some of the important aspects that also impact how long a trampoline lasts for.

The Frame Quality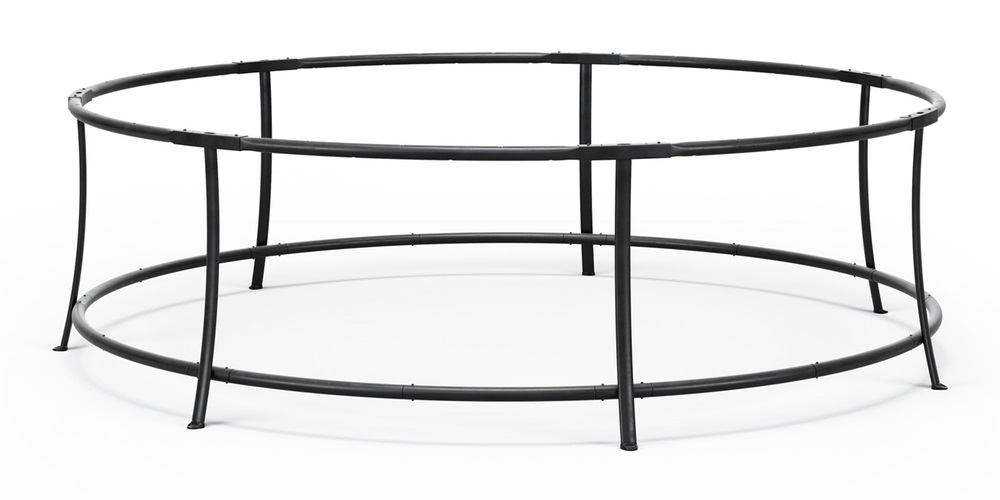 A weaker frame is one of the main issues that causes trampolines to break down over time.
Some trampoline manufacturers compromise on the galvanised thickness when fabricating the tubes that make up their trampolines. Others use materials that are not correctly treated for exposure to the weather.
Also, think carefully about the age and weight of the potential trampoline users, and make sure the trampoline frame you're looking to buy can support those users.
Unlike most other brands, Vuly trampolines take up to 150 kg of weight. Our frames are also twice galvanised, so they won't bend or break.
All Vuly kids trampolines use reinforced square joiners, meaning that the frames are a lot sturdier than the round joiners used in other trampolines.
The inherent strength of a Vuly frame also comes from its double-ring foundation – ensuring its made for the utmost stability.
Our Lift 2 and Thunder Pro trampoline models are also uniquely powder-coated to further protect against rust – And don't forget that we offer a 10 year warranty on our frames.

The Jump Mat Isn't Strong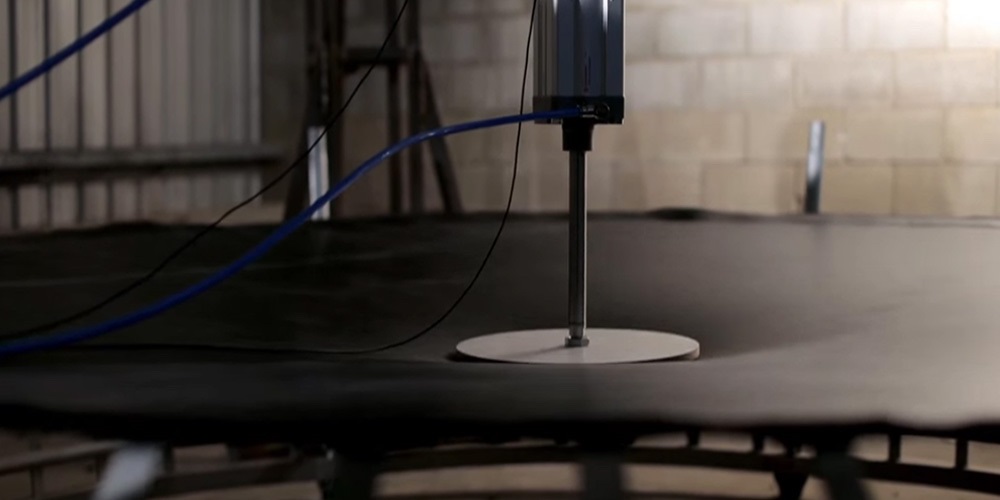 A trampoline jump mat takes a lot of bouncing over its life.
Not only must it be made of a super-durable material, it's also essential to frequently check that the mat is free from tiny holes and tears, as this will allow you to spot any damage before there is a problem.
Trampoline jump mats with small tears will need to be replaced as soon as possible, so that the strength of other trampoline parts – and the jumper's safety – are uncompromised.
Jump mats made from polypropylene are stronger than others – especially if they're also UV-treated.
Tested for 40,000 bounces, Vuly trampoline mats are strong and robust, suiting Australian weather conditions.
Not only that, even when you're outside of the warranty period, you can still get half-price jump mat for life – along with any other core component of your trampoline.
Vuly jump mats even have printed icons on them, for your family to create fun trampoline games and increase the enjoyment that you get from the trampoline.
Watch the kids bounce and use their imagination to make up contests using the images on the mat!