Are you looking for great play equipment ideal for smaller backyards and spaces? Don't worry! Vuly Play has got you covered with one of the best 8ft trampoline models in Australia – The Ultra Small.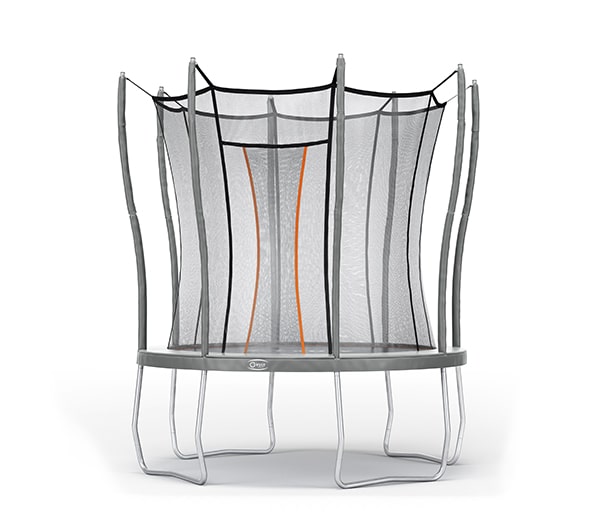 Many small trampolines look like they are made the same, especially as they generally fit the size range between 6 – 8ft, but this could be further from the truth!
Because they are smaller and compact, their price range is also generally cheaper, but ensuring you buy a high-quality product is crucial.
8ft trampolines manufactured with only premium materials should be a must. The last thing you need is a backyard trampoline that won't go the distance. Vuly Play understands this need. We just don't say our Ultra Small Trampolines are the best, we prove it, with comprehensive research and testing.
Our R&D teams, as well as our engineers, have collaborated in every step of the design phase. This allows all our Ultra Small 8ft Trampolines to be the best compact size play equipment in Australia.
We are so confident in the quality of Vuly Trampolines, we offer a 10-year warranty on the frame. And the reason why we are so confident is that the materials will use for every single Vuly Ultra.
The springs are one of the most important aspects of a trampoline. The more bouncing that occurs on a trampoline the more the springs are worn.
This is why Vuly uses steel springs that are galvanised to protect against corrosion and rust. And the steel just doesn't make the springs last longer, they also produce a better rebound and thus, a better bounce factor.
With all the bouncing your kids are going to do, you better make sure you have a high-quality jumping mat to go along with your 8ft trampoline.
We are confident in saying that we have some of the best jumping mats in Australia. They are made from thick and durable polypropylene, a material that's been designed to last. If you want to ensure longevity with your little bouncers, invest in a trampoline with a strong jump mat!
Every Vuly Ultra Trampoline regardless of its size features state-of-the-art safety nets. Each one is comprised of Terylene, which is a synthetic polyester fabric that is known to be both sturdy, yet lightweight.
I don't think we have to outline why having high-quality safety nets is important for overall safety.
Full enclosure netting is one of the main features of the modern 8ft trampoline, so buying one without it wouldn't be a smart purchase.

Vuly Ultra Trampolines – Exceeding Safety Standards
Trampolines of the past have notoriously been known to be accident magnets, due to a lack of safety features such as netting, and poor design.
This has changed considerably with modern trampolines. Independent safety standards have now been established, such as the one from Standards Australia, the nation's leading independent standards organisation.
Safety standard AS 4989:2015 Trampolines for domestic use is just one standard issued by the company that introduces safety trampoline requirements.
You can be certain that all Ultra Small 8ft Trampolines by Vuly pass this standard.
We do this by fulfilling or exceeding some of the requirements below.
Unlike many of our competitors, Vuly 8ft Ultra Trampolines nets are attached directly to the mat. This prevents any contact with springs or the frame itself.
We also ensure that the net is perfect level of tightness. This means kids will never fall off the side, but rather, will be gen guided back onto the mat every time.
Even the entrance to the Ultra Trampoline features a self-closing stretchy door.
Vuly Ultra Trampolines provide amazing vertical bounce, and since it's low impact, it's gentle on joints (unlike running or other sport).
For this reason, it makes for a great alternative for those who still want to get active, but don't want to put too much pressure on joints.
Be sure to check out our full range of backyard trampolines!