When buying a trampoline for your kids, safety should always come first, but with so many trampoline options out there to choose from, we know how hard it can be to find the right one!
When it comes to your kids, you should never compromise on safety. Over and over again, you hear horror stories of falls and accidents on trampolines that result in injury. In fact, according to Product Safety Australia, Australians report more than 3,000 trampoline-related injuries every year!
But that doesn't mean your kids should be left out from experiencing the joy and fun of jumping on a trampoline. There are many safe options available today to ensure that your little ones can bounce around safely.
What do you need to look out for and what should you avoid when looking for a safe trampoline? To keep you in the know, we've come up with the ultimate checklist of features that you should keep on your radar. Let us help you pick the safest trampoline possible for your family!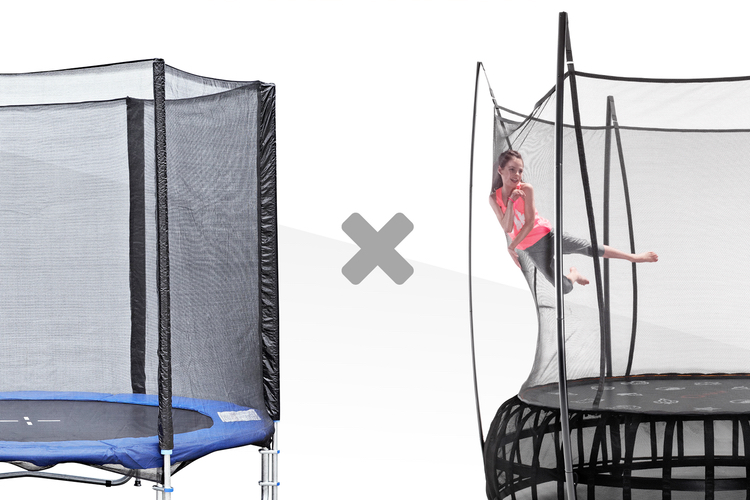 Coil Springs
Most trampolines feature a series of coiled metal springs that line the edge of the trampoline to generate the bounce. Unfortunately, these springs are a common cause of trampoline injuries. The problem is that the space between each spring is often wide enough for a leg to fall through. Little fingers and toes can also get caught in the springs as they coil open and closed.
While you can't avoid coil springs for many trampolines, there are a number of features to look for to get the safest model:
Ensure that the coil springs are outside the safety net. The biggest injury risk comes from the potential for bouncers to land on coil springs.
Take a look at how well the springs are secured. When each one is hooked into the jump mat and frame, there should be no risk of it popping out while bouncing.
Make sure that the safety padding is attached to the springs or frame. This will prevent it slipping off and exposing the springs.
Check for rust in the springs, if buying second-hand. Decay could easily result in coils snapping and breaking.
Safety Padding
If you purchase a trampoline with coil springs, safety padding is an absolute must! Safety padding, secured around the frame, covers the springs and the hard metal frame – preventing any rim or spring hazards.
Keep in mind that some padding can get worn over time, especially if it's left out in the elements. Most good quality padding is made from vinyl, which is thick, durable and long lasting. For an extra level of durability, you can even opt for reversible, double-sided safety padding. The lifespan will be twice as long as traditional padding.

Leaf Springs
If you want to avoid the hazards of coil springs altogether, a trampoline with the Leaf Spring system – such as the Thunder or Thunder Pro – is by far the best option. These trampolines have no coils, and instead use refined Leaf Springs positioned underneath the trampoline jump mat to deliver a superior bounce in total safety.
Shaped from a single piece of steel, there's no risk of fingers or toes getting caught or feet slipping through the gaps with the innovative Leaf Spring system. Because these 'springs' are positioned underneath the rim of the jump mat, the trampoline also has a gentle edge that's always safe to land on.
Sturdy Frame
Rectangular vs circular
When deciding between a circle or rectangle-shaped frame, keep in mind that traditional rectangular trampolines tend to have a greater risk of falling over – especially if you place more weight on one end. The risk of a trampoline falling over reduces greatly when that trampoline is round; it's a shape that's naturally more stable.
Composition
When choosing your trampoline, you will also want to check what the frame is made of. The frame of your trampoline should be sturdy and able to withstand the elements. Trampolines with a galvanised and heat-treated frame will stand the test of time and maintain their strength for years to come, and frames with a powder coating are superior at defending against rust in the long-term.
Edge
If you choose a trampoline with a Leaf Spring system, you needn't worry about the frame at all! These trampolines have gentle edges that are further enclosed by safety netting. If you're worried about any potential harm that could result from a steel frame, the Leaf Spring system fundamentally removes this risk.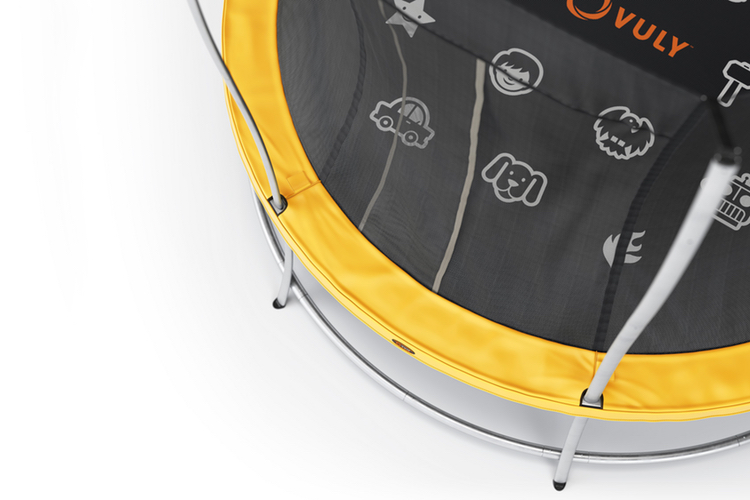 Safety Netting
Another cause of injury is bouncing off the trampoline itself. A safety net, secured around the perimeter of the trampoline, alleviates this safety concern! Most safety netting extends nice and tall; no matter how high your little ones bounce – so long as they aren't double bouncing – there's no way that they will vault over it.
The netting should be sturdy enough for your kids to bounce from edge to edge without causing the whole trampoline to topple over. The safest trampolines also have their netting secured around the inner rim of the springs. That means there will be no contact with the springs or the frame at all while bouncing.
Despite having padding and netting on top of your trampoline, the kids are bound to try crawling underneath – risking their little fingers getting caught in springs or injury from other kids bouncing on top of them. That's why skirt netting is also available, which you can secure around the trampoline to keep kids and pets from crawling under and getting hurt.
Safety Ladder
Along with the trampoline itself, there are many accessories that you can buy and include to create the safest trampoline possible, and a ladder should be at the very top of your list.
The jump mats of most trampolines are elevated high off the ground, meaning it can take some effort to get on or off the trampoline – especially for small children. To overcome this, just add a ladder so that your kids can climb aboard the trampoline safely.
It's always best to get a ladder that's made to match the trampoline you're buying. That way, you can securely attach the ladder to the frame of your trampoline – reducing the risk of the ladder falling over.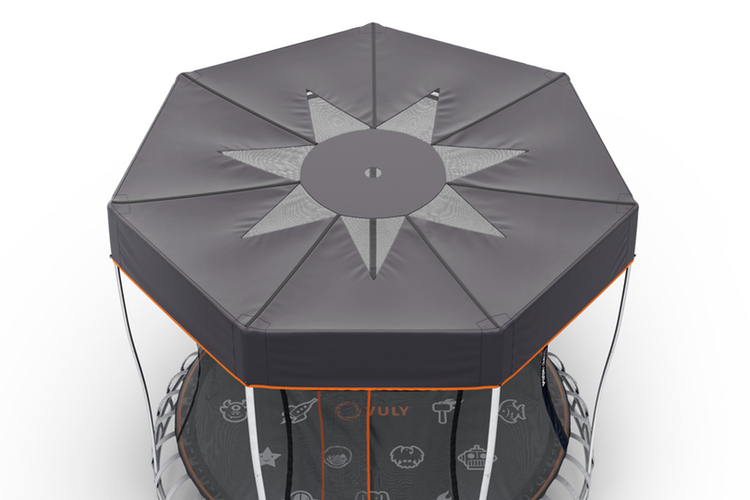 Shade Cover
When your kids use their trampoline for the very first time, they'll probably want to jump on it all day, every day. If they're outside in the midday sun for too long, there is the risk of sunburn or even heat stroke.
Trampoline shade covers are available for this very reason: to keep your kids sheltered from the sun while playing outdoors on their new favourite toy. They take no time at all to put on, but remember to remove them at the end of the day. Shade covers aren't designed to withstand outdoor conditions for long periods of time.
A Trampoline That Puts Safety First
Now that you know everything you need to look out for when buying a trampoline – and all the essential safety features available – you're now well equipped to purchase the safest trampoline within your price range.
If you want to avoid hunting around for a trampoline manufacturer with all the safety features your looking for, take a look at Vuly trampolines instead!
At Vuly, we're proud to create trampolines with superior safety features. From safety mats and safety netting to gentle edge trampolines and a range of accessories, you'll find it here.
Get your trampoline today, or call us on 1300 667 514 to find out more.
See our new basketball hoop.