Do you need to put some much-needed bounce into your family's life? Are the kids spending too much time inside and not enough time enjoying the great outdoors? If you answered "yes!", then we know just what you need: a Vuly trampoline!
Developed to take up to 150 kg of weight, with frames made from double-galvanised Australian steel tubing, the Vuly trampoline range, and the mighty Thunder Pro – the trampoline with the best rebound of any backyard trampoline – will bounce the family outside and into years of fun and fitness!
Bouncing for your health
Did you know that bouncing on a trampoline exercises nearly every muscle in the body, and encourages both muscle strength and improved posture? Studies show that bouncing on a trampoline increases awareness of the body and aids with balance and coordination.
Trampolining doesn't stress joints, like running can. Instead, bouncing on a trampoline transfers the impact of jumping to the trampoline, instead of sensitive joints. You can enjoy a workout while bouncing on your trampoline – keeping your muscles strong and your joints mobile. In fact, a study carried out by NASA found that 10 minutes bouncing on a trampoline is a better cardiovascular workout than 33 minutes of running.
Bouncing on a trampoline also helps to tackle depression and stress because it increases the endorphins that your brain releases. In children, bouncing also aids the development of motor skills – including hand-eye coordination. In fact, trampolining stimulates nearly every sense and leads to an abundance of brain activity.
So, what are you waiting for? If you want to experience great fun and hear the squeals of laughter as your family members out-bounce each other – and get a good cardio work-out – then you need the bounciest trampoline: made by Vuly, of course! What a great way for everyone to get fit and enjoy hours of fun together.
Bouncing for the entire family
Mum and Dad, don't forget to join in! All our trampolines are heavy duty, made with strong quality components that have a 150-kg weight rating. We make it fun, fun, fun for the entire family.
Our springs
We use a dual-layered tiered spring system, which means that the tiered springs recoil based on the user's weight. Thicker hooks, tapered ends and chromate-conversion coating all provide a safeguard against snapping, and our steel springs are galvanised to protect against rust. The hooks are also longer at the frame end to allow for increased movement and the optimal bouncing experience.
Our frame
Vuly has worked hard to develop frame strength and the unique spring systems to provide the best bounce available. Our frame tubes are 1.5 mm thick, strong and sturdy and comprise the dual-ringed foundation of thick steel. Premium models also feature matte black powder-coating, which offers additional protection against corrosion. We're proud of our robust frames; their thickness frames far exceed international trampoline safety standards and those of competitors.
Our mat
Our trampolines are simply the bounciest. The Vuly jump mat – a vital part of the trampoline – has to endure the constant flexing and stress from all the jumping and bouncing. Our mats are made of thick, flexible polypropylene fabric and do not stretch. They always return to the original, flat position! Your whole family can enjoy bouncing on the Vuly jumping surface; it can take weight up to 150 kg. It's developed to be lightweight, impact-resistant and boasts a high compressive strength.
The bounciest trampoline
Vuly Thunder Pro trampolines let you experience bouncing like no trampoline before! The Thunder Pro is the most advanced trampoline in the world. Our Vuly Thunder range: the trampoline with the best rebound of any backyard trampoline! The Thunder combines affordable springless bouncing with a jump mat that connects to the safety net to form one seamless piece. Our Thunder Pro is the strongest and most durable backyard trampoline, thanks to the years of research and testing that has enabled Vuly to bring the best bounce to families everywhere.
Bouncing safely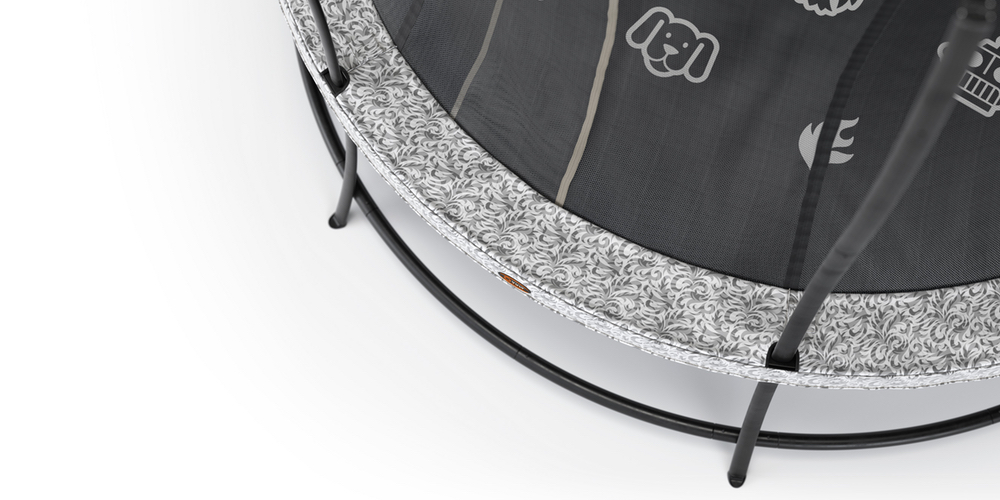 Vuly believes that every bounce on our trampolines should be the best and safest bounce that any trampoline can offer. We make sure that your kids will be able to bounce from edge to edge safely on a Vuly trampoline, because there are no contact zones to worry about, no frames to hit and no springs where feet can get caught.
Unlike some enclosures, a Vuly safety net secures to the perimeter of the trampoline – attaching on the INSIDE of the springs. This ensures that the person bouncing on the trampoline is not in danger of landing outside the jump mat onto springs or the frame. As your family bounces on their trampoline, it's important to remember that you keep your mandatory safety net attached and in good condition, especially when you have young children using the trampoline.
Our strong, tightly woven safety netting is made from UV-resistant polyethylene, which ensures that your family can bounce as high as they like. They'll remain safely within the enclosure.
If you are searching for a trampoline that has excellent safety standards, is robust and strong, will provide hours of fun for the family and has the best bounce of all backyard trampolines, then look no further than Vuly!
If you would like more information, call us on 1300 667 514 or enquire here.