Find the information you need to know when buying a trampoline.
We have covered the main points below in our helpful video and trampoline buying guide.

Contents
First Consideration – Trampoline Size
Trampolines are usually measured in feet.
It's super important that you consider the right size for your yard, as you will need clearance both around the trampoline and above as well.
Another significatnt factor is also the weight limit of the trampoline.
At Vuly Play, we have four primary sizes spread across our different trampoline models.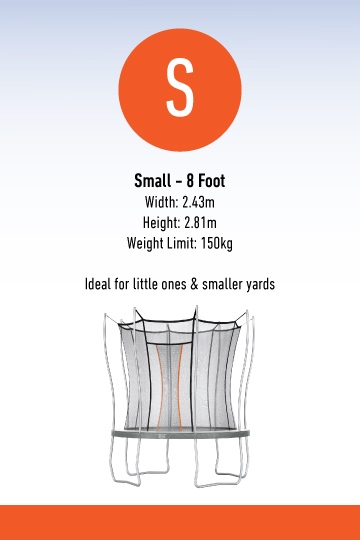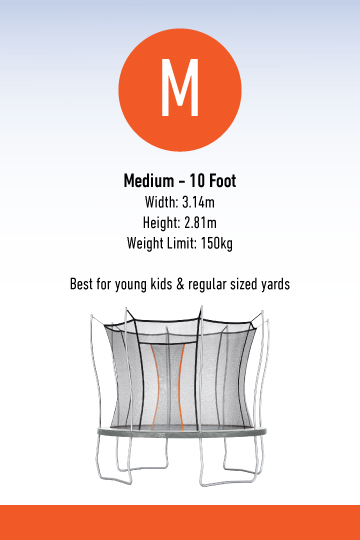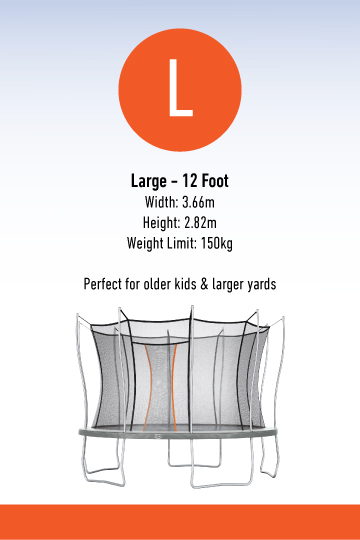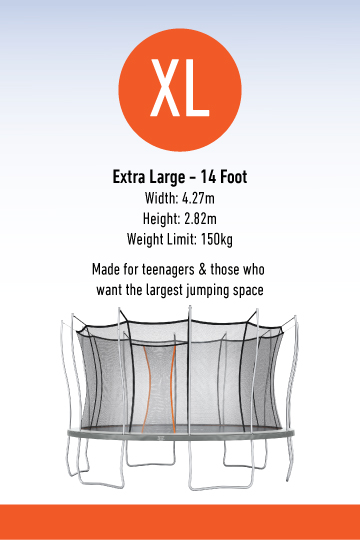 Still Not Sure?
Let Us Help You Choose
Call 1300 667 514

Second Consideration – Spring vs Springless
Another important option is to consider buying either a coiled spring or a springless trampoline.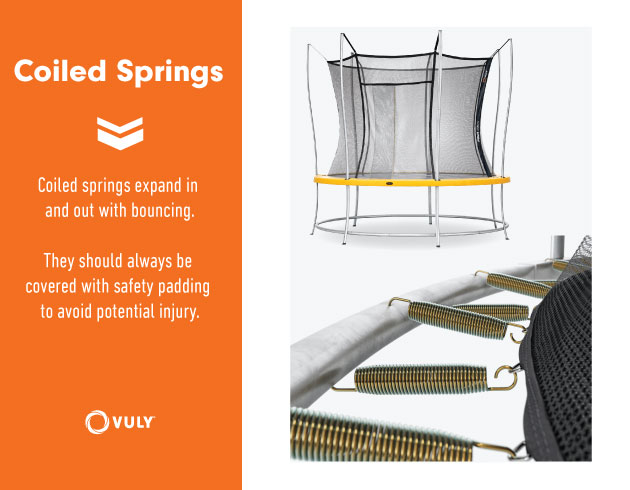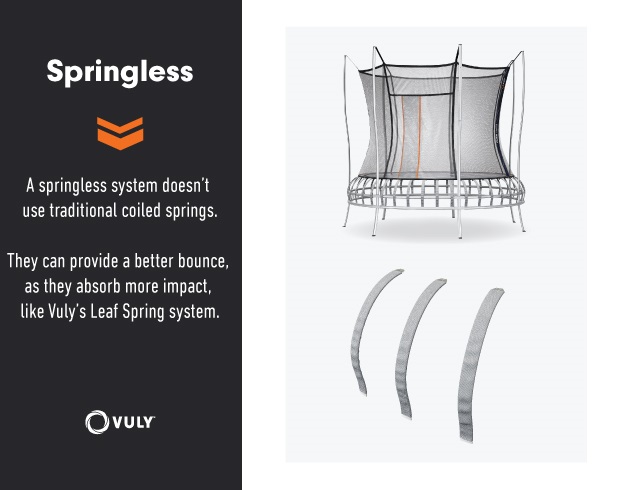 If you do opt for coil springs, make sure the trampoline has them covered with quality safety padding to reduce the chance of injury.
Also, keep in mind that springless trampolines like Vuly Thunder often produce a better bounce.
Third Consideration – Frame, Safety Net & Mat
The frame is a crucial component of the trampoline.
Rectangular or Circular Frame
Historically most trampoline frames have been rectangular, but many manufactures have shifted to using a circular design.
It's easier to apply a safety net to a circular frame compared to rectangular trampolines.
Also, circular trampolines are naturally more stable due to their shape. Rectangular trampolines are more vulnerable to falling over, especially if a large amount of weight is placed at one end.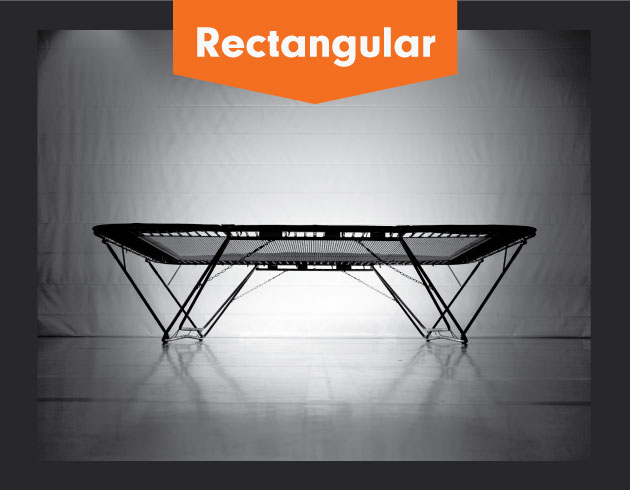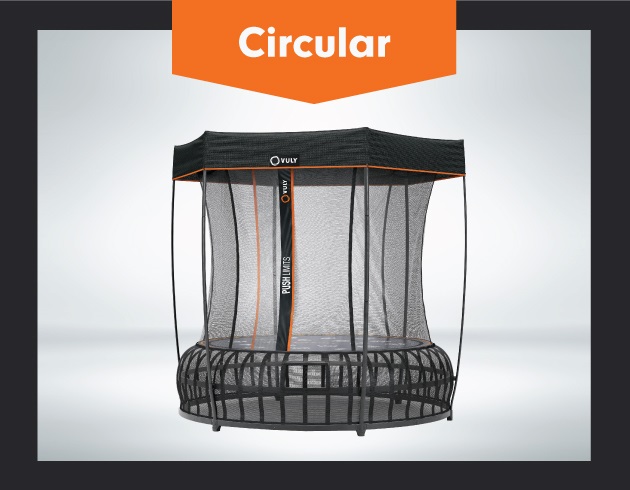 Frame Finish
Making up the base of the trampoline, the quality of the frame is equally important. You'll want to invest in a heavy duty trampoline that will last.
Likewise, don't forget to ask about the quality of the trampoline's safety pad and net.
These are items you don't want to replace regularly, so enquire if they've had real-world UV testing to withstand Australia's often harsh climate.
Overall, you want to make sure you buy the safest trampoline possible.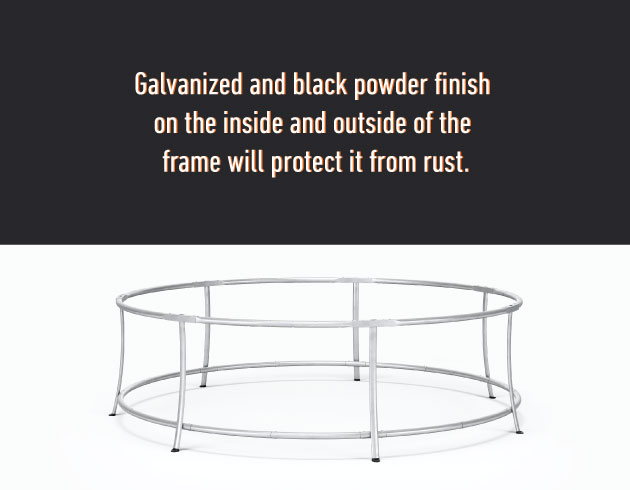 Likewise, don't forget about asking about the quality of the safety net and mat
These are items you don't want to have to replace regularly, so enquire if they've had real-world UV testing.
Fourth Consideration – Weight Limit
Before buying your trampoline make certain you know how much weight it can take.
Australian Standards state that a trampoline should be tested for five times its static weight, based on the minimum weight rating the manufacturer claims.
For example, if a trampoline is officially rated with a weight limit of 150 Kgs, it should be able to take up to 750 Kgs of static weight load.
Also, double check that the trampoline has passed Australian Safety Standards - AS 4989:2015.
This is important as it's not a mandatory requirement for manufacturers.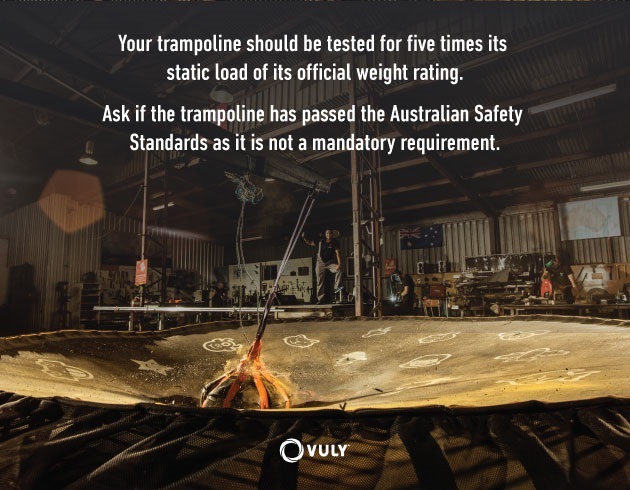 Fifth Consideration – Assembly, Warranty and Parts
Ask about the warranty period for different parts of the trampoline. A quality product should have at minimum, a 5-year warranty on the trampoline's frame.
Knowing that you can easily and affordably buy spare parts is also something to check. Be wary of manufacturers who don't list spare part prices online – they are likely going to be very expensive.
Easy assembly is also a bonus when buying a trampoline. Enquire if installation involves nuts and bolts, as well as the use of tools such as a hammer or drill.
Some manufacturers make this process easier by using push buttons, allowing trampoline components and parts to click together without the need of tools.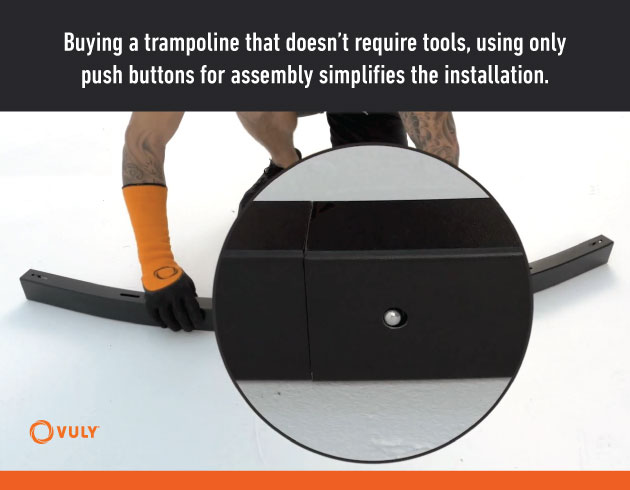 Sixth Consideration – Accessories
Trampolines with diverse ranges of accessories ensures kids remain entertained, making your trampoline purchase a better long-term investment.
Check what you can add to your trampoline, as some brands will provide more choices over others, making it easy to play trampoline games.
Also, remember to ask about utility accessories such as wheels, allowing your trampoline to be moved easily (such as when you need to mow the grass).
We hope this guide has helped you when deciding between trampolines for sale.
Stay tuned for our upcoming kid's swing set and monkey bar buying guides.