3 Wheel Scooters for Kids
3 wheel scooters have become a very popular outdoor toy for children.
A kids 3 wheel scooter is perfect to keep your child active, as well as ensuring safe riding experience if they are new to using a scooter.
With an extra wheel for stability, 3 wheel scooters for kids are bound to keep your little one happy, allowing them another way to enjoy the outdoors.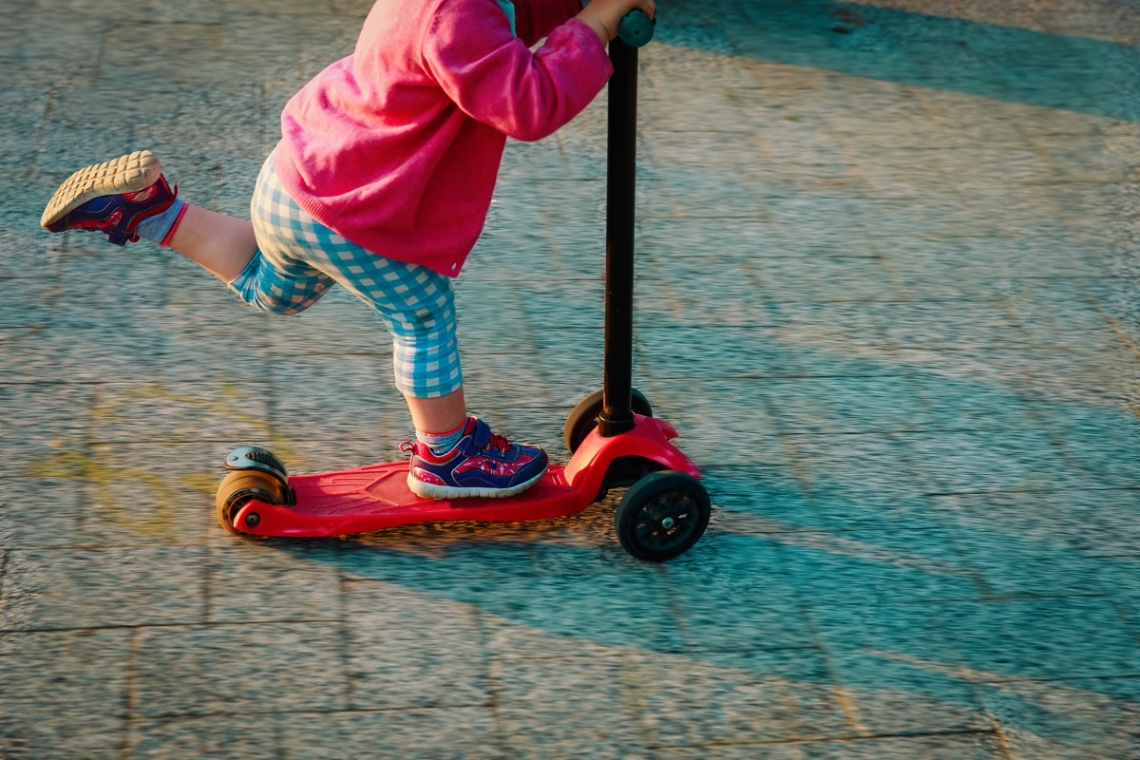 What is a 3 Wheel Scooter?
A 3 wheel scooter offers an additional level of support for kids, while helping parents to feel more at ease as well.
A kids 3 wheel scooter is a traditional scooter, that has an extra wheel on the back end.
This can improve stability for cornering and braking, as well as making sure that easier to balance on the deck.
Due to these benefits, 3 wheel scooters have become the prime choice for those getting started with scooter riding.
They're also a great way for younger children to keep up with their older siblings or with other children in the neighbourhood using traditional scooters.
Most 3 wheel scooters have the two wheel configuration in the back, as well as the one wheel for steering.
The wheel spacing as well as the added inclusion of the secondary wheel on the back, ensures that this is a scooter that can keep its stability throughout acceleration.
This type of scooter is perfect for your child to build confidence and trust themselves in their ability to balance.

Components of the 3 Wheel Scooter?
The main components of a 3 wheel scooter for kids include the front steering wheel, the handlebars, the brakes and the main standing deck.
From the main standing deck, children place their feet and balance accordingly, while kicking out along the ground to build acceleration. The deck is usually designed for ample room to hold two feet and to manage the balancing of the rider.
Breaking on three wheel scooters is usually accomplished with a back brake, that impacts along the wheel by having a child step down on it.
Similar to breaks on kids bikes, a 3 wheel scooter includes breaks that apply friction to the wheel to slow momentum. Unlike a bike however, these breaks are found at the back of the scooter and are applied by using the rider's back foot.
Handlebars on a kids 3 wheel scooters are often designed for easy cornering and can be adjusted to suit the height of the child.
This is a helpful addition as it allows the scooter to be passed on between generations or even handed down between several kids.
Make sure you double check this components when looking for 3 wheel scooters for sale.
This includes adjustable handlebar and grips, breaking system, and a large, durable construction for the deck. Also double check the wheels resin application.
Resin is often used on 3 wheel scooters because it offers the best handling under high speeds.
The wheels on these types of scooters are usually modelled after skateboards or roller blade wheels. They aren't designed for off-road surfaces like a bike tire, but they can offer great handling under high speeds on the roads.

Fun Activities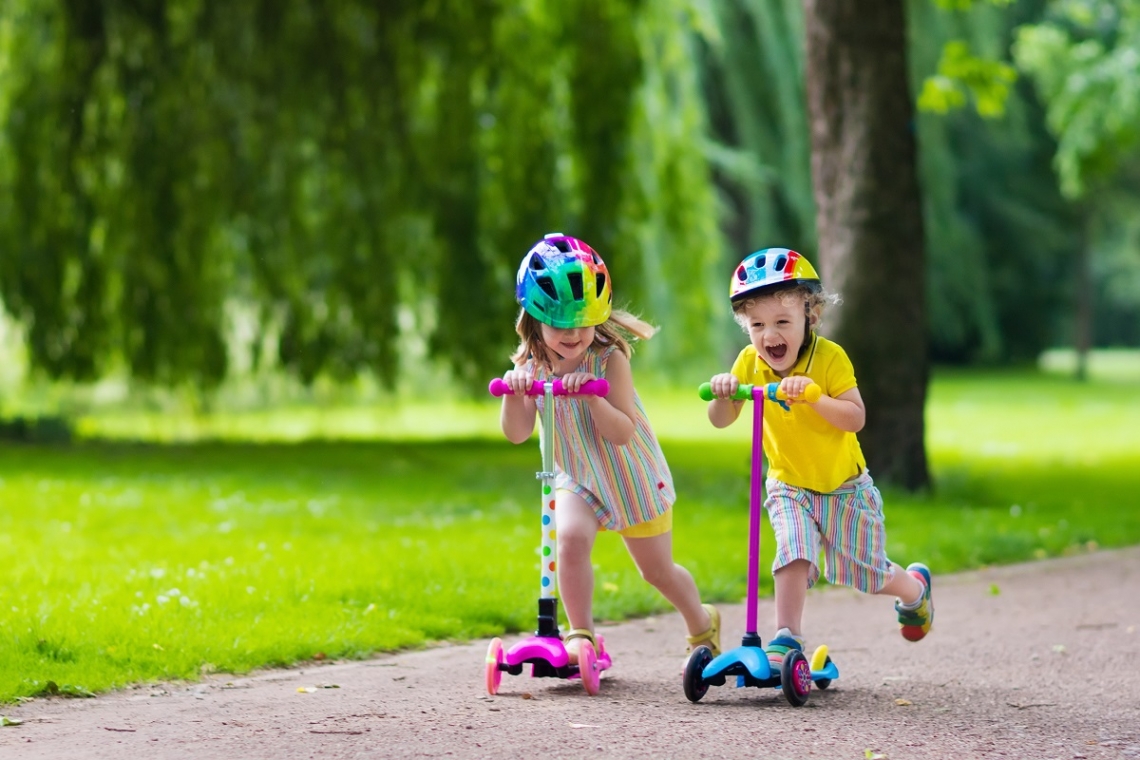 Some fun activities with a 3 wheel scooter might involve timed laps around the block, riding it up and down the driveway or simply enjoying a quick scoot around the neighbourhood.
For younger children it's important they are under supervision and that they are wearing some type of helmet for safety. We would also highly recommend using knee pads or elbow pads to prevent the chance of scrapes and bruises.

Benefits of a Kids 3 Wheel Scooter
The biggest benefit of 3 wheel scooters is that provides the perfect outlet for exercise.
If your child is afraid to get up on a a bike or is not ready for a skateboard, scooters can offer the a chance to keep up with their friends. They also don't have to worry about something that's difficult to balance or handle on the road or street path.
Regular exercise is important for growing bodies and the 3 wheel scooter is a fantastic, fun way to get your kids outside and away from screens.

Staying Safe
As mentioned, children using 3 wheel scooters should always be wearing a safety helmet.
Also consider the option to wear gloves, knee pads and elbow pads. It's important to minimise the chance that your child may impact the road. Bitumen makes for an unpleasant surface to fall on.
No one wants scrapes, bruises or worse, broken bones, so always put safety first.
Opting to wear longer clothing can also help to prevent damage when a child takes a spill on their scooter. Just make sure it's not loose enough to be caught in any of the tyres.
Another important tip to keep in mind is to do a quick safety check before your kids heat out.
Make sure that the bearings in the wheels are regularly lubricated and that the scooter is in good working order. Preventing accidents sometimes just means doing a quick safety check.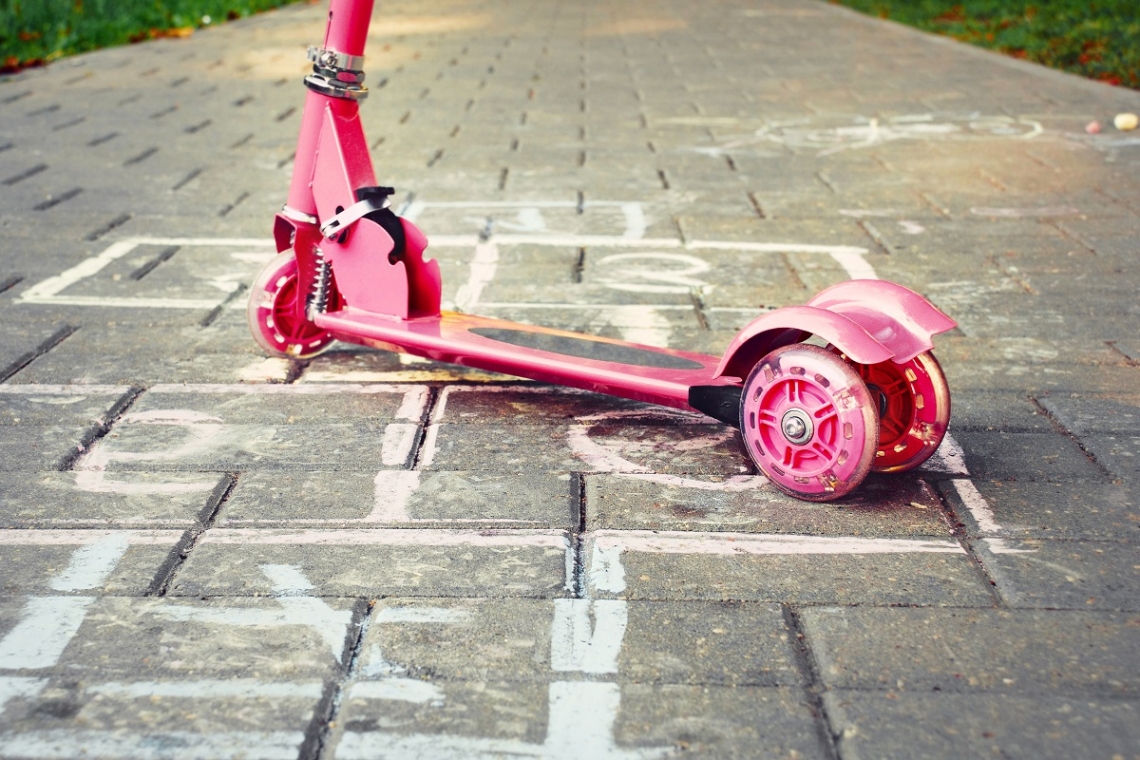 Vuly's 3 Wheel Scooter - Highest Quality
A 3 wheel scooter for kids is an excellent way to keep your kids fit and active, while having a bunch of fun. Consider this a fantastic option for younger kids who don't want the complexity of riding bike, but still want move around with their siblings or friends.
Like Vuly Play's range of trampolines or multi-part swing sets, our kids 3 wheel scooters are made with the highest quality in mind.
You can have total peace of mind that you are buying when you shop with Vuly, from cutting-edge design, to helpful support and long customer warranties.
Contact us for more information, or view our electric scooters for kids.