Quality Scooters for Kids
Like all Vuly Play outdoor equipment, our scooters lead the way with superior quality and innovative engineering.
Scooters are suitable for kids of all ages and are commonly identified by the long straight vertical bar that joins onto handlebars with grips for steering and control.
This is combined with a thick foot pad at the base where the rider keeps one foot on, while using the other foot to kick along the surface to build momentum.
Traditional scooters often include two wheels with a brake mechanism attached at the rear that helps slow down the overall speed when pressure is applied.
Whether your kids want to scoot alongside you on the footpath, or spend time at your local skate park, we have the perfect scooter for you.
Our scooters for kids are made from durable aluminium, reducing the overall weight and allowing for greater levels of manoeuvrability.
Safety is always a great priority here at Vuly which is why our scooters include lightweight wheels that provide the smoothest of rides. This helps kids maintain higher levels of steering accuracy ensuring every ride is safer.
We have kids scooters to fit all needs and budget types. From traditional kick scooters and glide scooters to electric scooters, you know you're getting only the best when it comes to Vuly Play.
But want to found out more about kids scooters?
Here, you'll find more essential details about this veritable play tool loved by most kids.


What is the Scooter?
Kids scooters have been with us since the 20th century.
They are human-powered play tools that possess handlebars, wheels, and decks, driven by a rider. These scooters are often made up of aluminum, steel, amongst others.
The history of scooters dates back to 1920(s) when they were invented. They were mostly used in Europe and the United States in industrial urban areas.
Since then, they have been an excellent tool for outdoor play moments for kids.
Now, scooters have often been mistaken for bikes. And, of course, they do share features, but here are distinctions. One distinguishing aspect is that a bike possesses a seat, while the scooter does not.

Types of Scooters for Your Kids
There are several types of scooters that you can consider to buy for your kids.

2 Wheeled Scooter
The traditional 2-wheeled scooter is lightweight and easy to carry around. It comes with durable PU wheels that provide an excellent cushioning effect. It also is a great deal of fun for your kids when riding.

3 Wheeled Scooter
A 3 wheeled scooter is strongly advised for your child who is a beginner in riding. It possesses a wide deck and two front wheels to increase balance and stability. The deck is provided for the safety of your child..

Electric Scooter
The electric scooter provides a great fun experience for kids. It comes with a high capacity battery and a certified charger. It can hold up to 120Lbs, Max Speed 6MPH, and maximum range of 5 Kms. It possesses an efficient hand brake system that provides safety for your kids.

Essential Components of a Scooter
Many parents have no idea about the different parts of a scooter and this can make it harder for proper maintenance. It's important to know the scooter's essential components for safety and quality checks. These parts include:

Decks: These are boards on which the rider will stand. It is usually made of aluminum. It houses the steel tube.

Tyres: Scooters are also a mode of transportation even though they can only cover short distances. Most include high quality tyres attached to the wheel, that should last for many years with regular use.

Batteries: Batteries are parts of an electric scooter. It's also advised that you keep the battery charge even if you are not using the scooter for a long time.

Brakes: The brakes are created to ensure the safety of your child while riding. They are placed on the back of the scooter deck and can be applied with foot pressure.

Advantages of the Kids Scooter
The kids scooter is an ideal present as it can be both an entertaining and enjoyable past time, as well as a mode of transport that can be significantly cheaper than a bike.
They are great at motivating kids to get outdoors and enjoy more physical activity, while not requiring the maintenance and upkeep of other play equipment.
Even better, they can be easily folded up to carry or stored away.
Some features of a scooter include…
Lightweight and easy to carry / store
Sturdy and solid build for prolong use
Easy to learn and use
Fantastic means of exercise

Safety Tips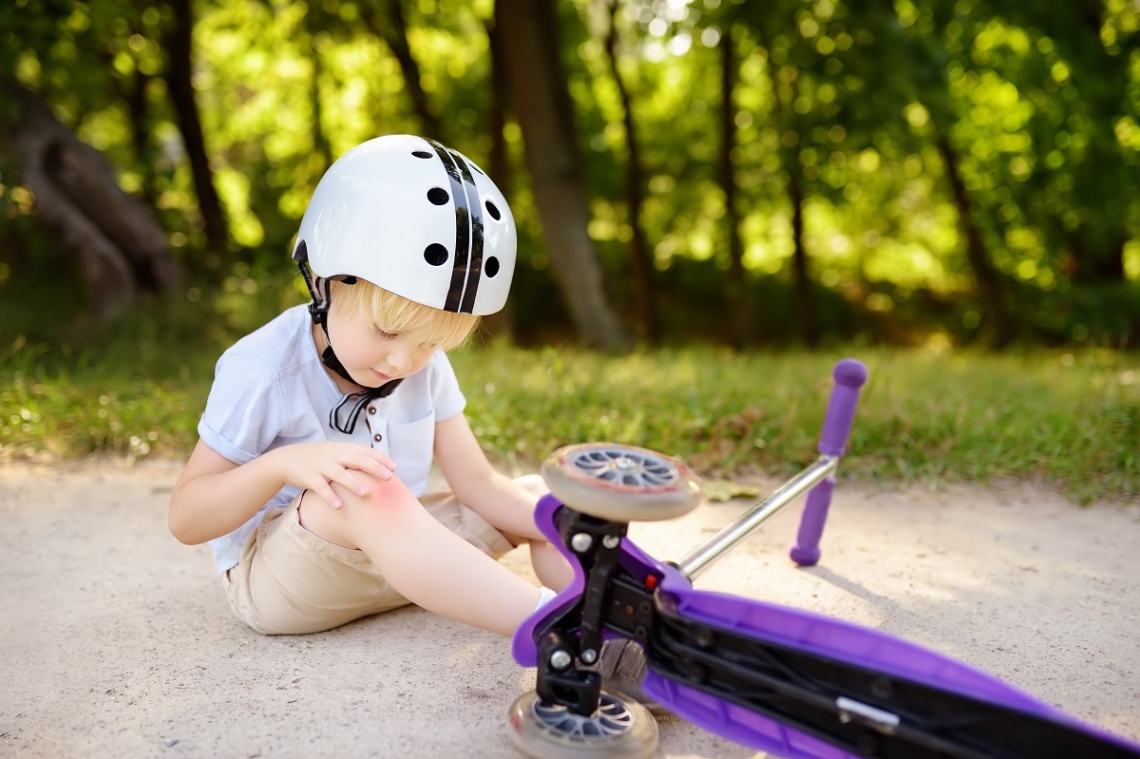 It is important to note that in scooter riding, safety precautions must be taken seriously to avoid any sort of injury.
Kids have often been severely injured because the safety precautions were not adhered to. They include:
Create an adequate and safe learning area for your child
Ensure that your child equips himself with a helmet, knee guard, elbow guard, etc.
Supervise your child when they are riding their scooter at younger ages
Teach your child to abide by road rules
Warn your child about other potential dangers

Health Benefits
Like other forms of playtime equipment, such as swing set systems or , scooter riding provides a range of health benefits for kids.
It aids digestion. Pediatrics have noted the importance of the scooter to support gastrointestinal motility. The nutrition from the food consumed will be absorbed. This, in turn, will make the kids grown and develop rapidly.
It has also been stated that scooter exercises can strengthen the limbs and muscle your child. Metabolism and blood circulation is enhanced. It also prevents disease because they have access to vitamin D, sunshine, and fresh air.

Vuly Scooters for Your Kids
We stand by the premium quality of all our Vuly Play scooters. It's why, just like our trampolines, we offer an industry leading warranty with all our scooters and their parts.
Though if you do find that you require a part outside of warranty, we make the process easy and simple with online ordering.
And if you ordered your scooter through us directly, your eligible for half price on parts for life!