Has anyone ever heard of a trampoline park? It's like a skatepark, but filled with trampolines! There are trampolines on the floor and even trampolines on the wall!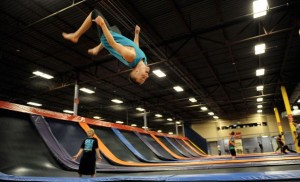 Trampoline Park in the States!


A trampoline park like this features food, drinks, field lights and, of course, trampolines. How awesome is this? You can even have a subscribe with a yearly fee. There are several locations around Australia and the United States.

The only minor problems associated with a trampoline park are:

1) the close proximity you have with other jumpers and

2) the lack of netting that could really prevent you from getting hurt.

If you combine the two, you could have other jumpers nearby who might accidentally jump into you, causing a collision.

Have you ever been to a trampoline park? Would you go to one or let your kids play at one if there was one close to where you live?