One of our customers in Waroona, Western Australia recently reported that his
trampoline
was severely damaged in a never before seen tornado that ripped through the area in July (for a full run-down on the storm). After hearing about this news, I thought it prudent to pen a few tips on how you can best secure your trampoline in case you find yourself in the middle of a devastating storm like the one that swept through Warona.
There are a couple of strategies you can implement to secure your trampoline:
1. Purchase a
Vuly Anchor Kit
Forgive me for the shameless self plug, but this is truly a great accessory. Our trampoline anchor kit is designed to secure your trampoline into the ground should any extreme weather conditions occur. Our anchor kit is unique in it's locking system which attaches to the frame of our trampolines and then into the ground using sturdy, galvanised steel pegs. If you already have a Vuly
Anchor Kit
and are unsure how to use it, please click 
How To Install Your Vuly Ancho
r Kit
.
2. Weigh down your
trampoline
with sandbags
Weighing down your trampoline with sandbags is an affordable and easy option to secure your trampoline against the elements. Sandbags are available from most local hardware stores, garden shops or landscaping businesses. If you are unsure where your local sandbag provider may be, please call us on 1300 667 514.
If you live in a frequently weather-stricken area and are concerned that your trampoline may move during these conditions, please, take action now to secure your trampoline against the elements. Not only for your trampoline's sake, but for the people and property around you that could be drastically hurt should your trampoline go flyabouts!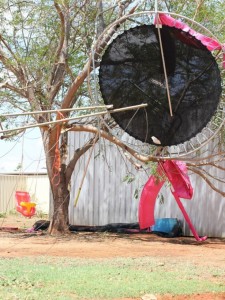 You don't want this in your backyard!