Vuly trampolines in Toys R Us? – best news ever!

Next time you pop down to your local shops you can now check out Vuly Trampolines in ToysRUs, as well as our awesome trampoline displays, built by hand and with love here at Vuly HQ by our very own trampoline maestros. Hmm, sounds like its time to have a squiz again at the Vuly trampoline store locator for ToysRUs stores!

You might not know, but here at Vuly, we don't see our trampolines as gym or sports equipment. Oh no, you and we both know that trampolines have sooo much more potential than that. With all Vuly's trampoline accessories, our Trampoline Tent, Basketball Hoop and Vuly Deck, trampolines are really the ultimate backyard toy. That's why having Vuly Trampolines in ToysRUs is a match made in heaven! The trampoline is finally a toy again.

In what has been a truly epic adventure, the Vuly team has been racing across Australia visiting every ToysRUs store. We've been building our awesome trampoline displays, and have been making sure there are enough Vuly Trampolines in ToysRUs to feed the bouncing demand for, well... bouncing! Check out that good lookin' Vuly head below making sure you'll be able to see Vuly Trampolines far and wide.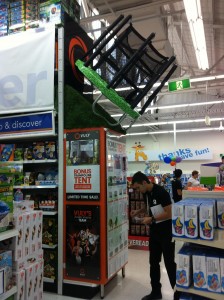 Vuly setting up our trampoline display in ToysRUs

It's been a heady summer of jumping between flights, long roadtrips and manic taxi rides for Vuly's intrepid trampoline missionaries, who have now returned home and are quietly nursing their blisters in the corner.

[caption id="attachment_3090" align="aligncenter" aria-busy="195"]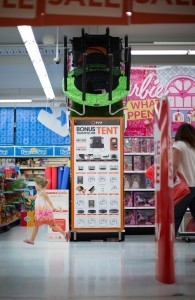 A Vuly Display in all its glory!

We're now planning some really exciting events for the next few months to kick-start having Vuly Trampolines in ToysRUs. This is going to include a heap of specials, competitions and giveaways, and (yes, you heard it here first folks!) a tour of Vuly's heroes, our Trampoline Olympians. Now that's a reason more than any to head down to ToysRUs.

2013 has certainly started with a bang for Vuly Trampolines and ToysRUs – or a triple front flip to be exact!