The trampoline you purchased over the school holidays doesn't have to be forgotten now that your kids are back at school. Though days spent in the classroom can seem long and exhausting -- your kiddlie-winks are coming home looking like they've run a marathon, clambered through the jungle and wrestled a tiger -- children often just need to get their blood pumping again to recharge their batteries after school. The trampoline is just perfect for getting that extra exercise, and breaking up time spent in front of a screen. We know, we know...being a kid is tough!

Children should be as active as possible, to facilitate growth, development and general health. Daily movement helps to develop a child's sensory and motor systems. Children and adults of all ages benefit from a range of physical activity, and our basic needs don't really change dramatically with age, as we have outlined below. So let's get active!

According to the Australian Bureau of Statistics, "On average, children and young people aged 5–17 years spent one and a half hours (91 minutes) per day on physical activity and over two hours a day (136 minutes) in screen-based activity with physical activity decreasing and screen-based activity increasing as age increased."

The Australian Health Survey conducted in April 2012 found that 25 per cent of Australian children and teenagers, aged five to 17 years, are overweight or obese, which indicates that a more sports-minded culture that encourages children to be physically active needs to be developed. Plus, a 2009 survey and found that 14 percent of middle- and high-school aged children participated in the minimum recommended levels of physical activity.

We would love to encourage people of all ages to get outdoors, jump on the trampoline and take control of their health to avoid obesity and becoming unwell. After all, it's the adults in a household that act as role models for children, who will mirror those habits – the good (trampolining), the bad (putting your feet on the table), and the ugly (you know the one we're talking about!).

Queensland Government research shows that children doing regular physical activity can have:


improved emotional wellbeing - helps young children feel more confident, happy and relaxed, with improved self-esteem and self-concept;


improved health - encourages healthy growth and development of children's bodies, and similar benefits of physically active adults;


improved mental health - improves concentration skills and ability to manage anxiety and stress;


enhanced social skills - develops skills such as cooperation and teamwork, and a great way to have fun, meet new people and develop friendships;


increased capacity for learning and productivity - active children are generally more motivated and better organised than children who are inactive, and physical activity has direct links to improved learning outcomes;


a more positive school environment - active students are generally less aggressive and experience fewer discipline problems; and


a reduction in anti-social behaviour - active children are less likely to smoke, use illicit drugs or be involved in criminal activity.

Most importantly, kids need the opportunity to participate in a variety of activities that are fun and suit their interests, skills and abilities. Variety will also offer your child a range of health bene?ts, experiences and challenges. That's why we love jumping on the trampoline!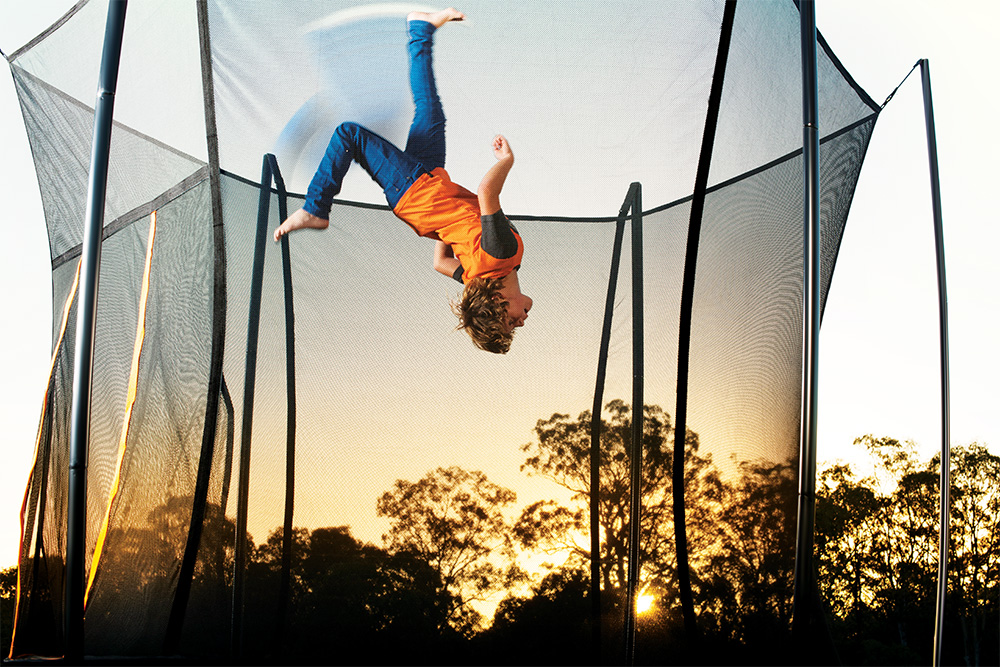 Children Aged 5 – 12


The Australian Government suggests that primary school aged children combine moderate and vigorous activities for at least 60 minutes each day, and preferably much more than that. This exercise can be broken up into shorter periods of time throughout the day, and can be a mixture of play based learning exercises and formal exercise.

It is recommended that children have a limited time of just two hours screen time (that is non-educational) each day, which includes television, the computer and hand-held gaming devices. So, that means that there are plenty of opportunities to get outside for a bounce on your trampoline or an outdoor game between siblings or neighbours.

Likewise, children shouldn't be inactive for prolonged periods of time, about an hour or so, to stop them getting tired and run-down. Except when they're asleep, of course - then you'll be grateful for the peace and quiet. Plus, it's probably okay to be still then. As the Australian Government says in their Active Kids are Healthy Kids documentation, "Encouraging kids to be active when they are young also establishes a routine that could stay with them throughout their life."


Young Adults Aged 13 - 18


While kids that are older have more homework, which usually requires more time spent with their head in a book, they still require at least an hour of physical activity each day. This can built up throughout the day with a variety of activities.

It becomes increasingly more difficult for young adults to get the required amount of exercise, unless they take physical education classes or join a sporting team that trains regularly. One way to determine whether you've reached moderate intensity is the "talk test." During moderately intense activity, you should be able to talk but not sing, the CDC reports. During vigorous activity, you'll be able to say only a few words before breaking to breathe.

Between the ages of 13 and 18, people really define their habits, sense of self, and determination to be fit and healthy.

A healthy diet will make sure you and your budding trampolinists have the energy, strength and good health to try new active challenges. If you combine healthy eating and physical activity, it will also help you maintain a healthy weight. So get out onto your trampoline and have a great time!

References:

https://www.qld.gov.au/recreation/health/get-active/kids-teenagers/

https://www.nhmrc.gov.au/_files_nhmrc/file/publications/synopses/n30_pamphlet.pdf

http://www.health.gov.au/internet/main/publishing.nsf/content/health-pubhlth-strateg-phys-act-guidelines#rec_0_5