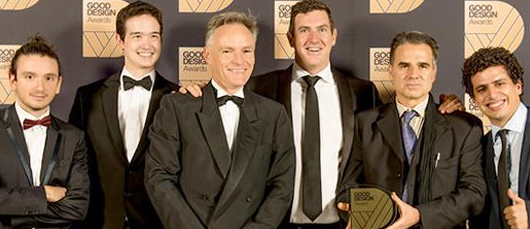 Pictured: Joe Andon (far right with Good Design winners)
Funded by two "significant" minority investments, Australian innovator Vuly Trampolines has gone into the US market.
Founder and chief executive Joe Andon says the backing of Brisbane-based investors Cyril Jinks and Joseph Barokat has helped Vuly open its first US office and sign a deal with global retailer Toys R Us.
"This type of stabilising investment gives us the ability to commence major operations in the US," he says. "The two investors have a wealth of experience and their insight will benefit the company in many ways."
Vuly's designs, sells and retails recreational trampolines in Australia. It has a presence in the UK, Canada, Qatar, Kuwait, Saudi Arabia, the United Arab Emirates. Andon says the USA office will be the company's biggest expansion to date. Its innovative Thunder springless trampoline was recently honoured in the Good Design Awards in Sydney, winning the sports and leisure category.
Jinks sees "a huge opportunity" to promote the creativity and intellectual property of a vibrant young company: "I was delighted to support Joe both financially and strategically to ensure that Vuly Trampolines is globally competitive," he says.