You'd be hard pressed to find any kid or grown-up who doesn't love themed parties. If your child's birthday is approaching—and they absolutely adore their Vuly (or they're getting one for their birthday)—try our trampoline-themed party! You won't have to head to any entertainment centres, nor worry about cleaning up any mess in the house.

We've spoken before about including your trampoline in a birthday party, but actually planning a party around it can encourage more kids to get into the jumping spirit. We've put together 5 easy ways that can transform an otherwise ordinary party into a bouncy and memorable birthday celebration. Hip, hip, hooray!


Vuly's trampoline themed birthday – Vuly invitations and messages


When you send an invitation to a party, you're instantly setting the theme and mood for the day. For a trampoline-themed party, you'll need matching invitations! Use some of Vuly's fantastic images—from this blog—on your card to let the attendees know just the sort of fun that they can expect.

If you're in Brisbane, you can also pop into our showroom and pick up some fun Vuly stickers that represent your model of trampoline.* Stick them on the back of a piece of card alongside each invitation, and on the reverse, put the text "You make me jump for joy because...". Encourage the attendee's parents to return this card with messages from your child's peers about why they're friends. You can hide them all around your yard for a surprising and thoughtful treasure hunt that'll make the birthday boy or girl feel good about themselves!

* We will be including these Vuly stickers inside the boxes of new trampolines later in 2016. Stay tuned!


Vuly's trampoline themed birthday – Vuly and their favourite colours


Does the birthday boy or girl have a favourite sporting team that they follow? It can be lots of fun to ensure that the whole family, and all their friends—are wearing that team's colours for the entire day. This is particularly cheeky fun if attendees are rival team supporters!

Mix in the Vuly orange to really highlight the theme or to get them pumped for the fantastic new present.


Vuly's trampoline themed birthday – Next-level bounce house or sleepover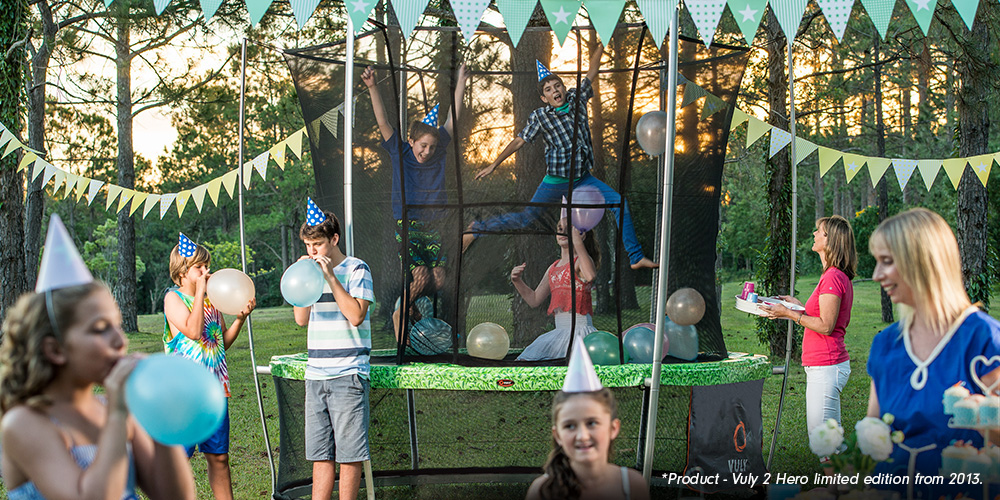 Your Vuly isn't only the best toy in the backyard, it's also the perfect jumping castle, water park and basketball rink! Simply blow up some balloons, and fill your trampoline for a better-than-hired jumping castle, or attach a Vuly Mister or two to create your own fun water park without ever leaving the house!

If they have friends staying over, you can transform the trampoline into an outdoor movie theatre or light show. Replace the balloons from the day with light-up LED beach balls! Then, toss on your Shade Cover or Deluxe Tent and pop their favourite film onto a laptop or tablet. With some comfortable pillows, blankets and soft toys, a birthday sleepover at your place better than anywhere else.


Vuly's trampoline themed birthday – Oven-baked 'Bouncy Fries'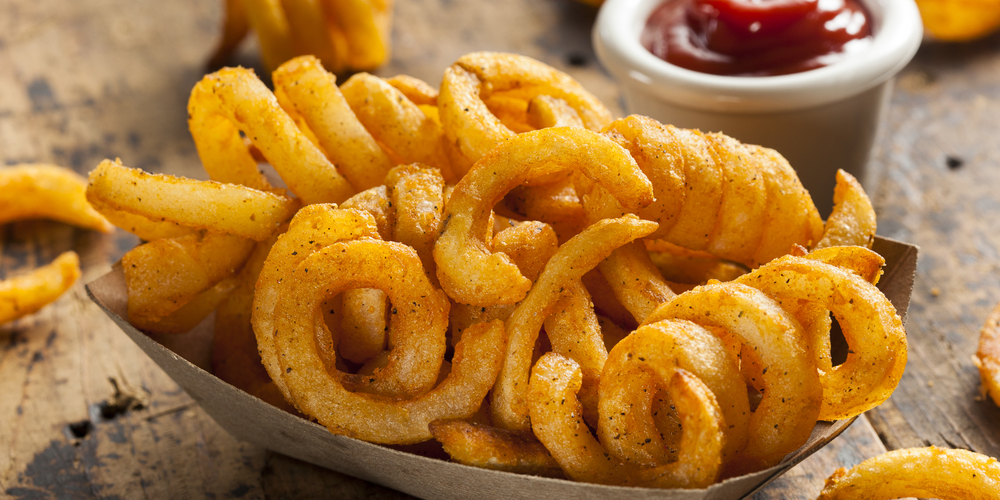 A trampoline-y rename of classic curly fries, Bouncy Fries are a great way to reinforce the theme—and they'll please the masses too! Making the shape from the potatoes will be easier if you have a 'spiral potato cutter' or a 'curly fries cutter', but with a little bit of skill, you can get handmade results that are just as good. See this video guide on how to do it!

You will need:




3 large Desiree potatoes,
¼ teaspoon garlic powder,
? teaspoon cayenne pepper,



Method:




Bring to the boil a medium-sized pot of water.
Peel the potatoes if you want to (it isn't necessary), and cut them into thick curly fries. Use a spiral potato cutter if you have one; otherwise, follow the video guide linked above.
Place the fries into the boiling water for exactly 3 minutes.
Drain into a strainer with cold water, and dry the fries with paper towels. Set them aside.
Combine the paprika, salt, garlic powder, onion powder, cayenne pepper and flour in a small bowl.
Add in the egg and milk, and mix well.
Transfer the fries into a large bowl, and pour the seasoning mixture in. Mix well.
Tip the fries onto a tray lined with baking paper, and spread them spread around, so that they don't overlap.
Bake for 30-35 minutes—flipping a few times throughout—until your 'Bouncy Fries' are crispy!


We'd love to hear how you highlighted your Vuly as a present at a party, or you how created a jumping, trampoline-themed birthday.