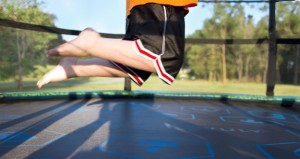 Trampoline Game, Trampoline Twister, requires only 3 players and is a fun game to play!
HexVex™ is an interactive game structure printed on the trampoline mat of Vuly Trampolines. HexVex™ was originally based on "Add-ons", a training tool used by an elite trampolinist to improve their co-ordination and reaction time. Now adapted for Vuly's
trampolines
, HexVex™ helps jumpers to enhance their balance, increase their memory and learn sequence.
We've developed a new
trampoline mat
game to play with your HexVex™ icons.
Trampoline Twister
Players: 3



Player 1 and Player 2 begin the game by standing in the center of the trampoline mat.



Player 3 remains off the trampoline mat to act as the "referee".



The referee closes his or her eyes and chooses a random icon and body part that Player 1 and Player 2 must touch together eg, "Left Leg, Alien."



The winner is the player who stays up for the longest without falling over!
For other trampoline games, visit our HexVex
trampoline game
page.