When it comes to family time, finding an activity that everyone can agree on can sometimes be a bit of a struggle.
But finding fun things to do with family, that both you as parents can enjoy, alongside your kids, doesn't need to hard!
Today we look at a range of fun activities, holiday ideas, and other opportunities that your entire family can do together.
Contents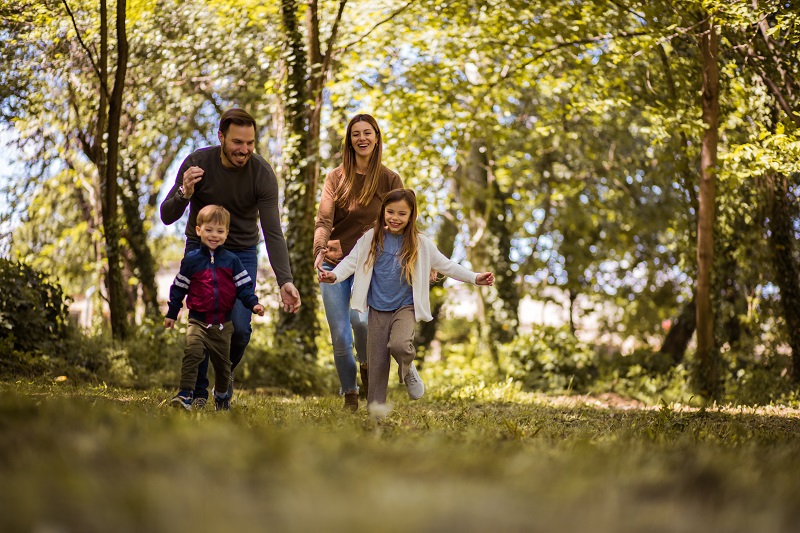 Things to do at Home as a Family
Sometimes, we just don't have time to get out of the house. That doesn't mean you can't schedule some fun family time though!
Here is a range of things to do with the family at home and in your backyard.

Cooking as a Family
Cooking is great to spend time with as a family and allows for tasks to be assigned to different family members.
Children especially like baking, with such yummy treats like biscuits, brownies, or pizza. Pretty much anything that allows kids to squish dough will be a fan favourite.
Washing and cleaning the mess up afterwards also teaches kids good habits.

Building a Pillow and/or Blanket Fort
There is just some kind of allure for kids to want to build their own pillow and blanket fort inside. You can help them by designing a layout and getting them to help set up each segment.
This is especially fun on rainy days, allowing children to go camping indoors and for the family to spend other activities together – such as telling stories!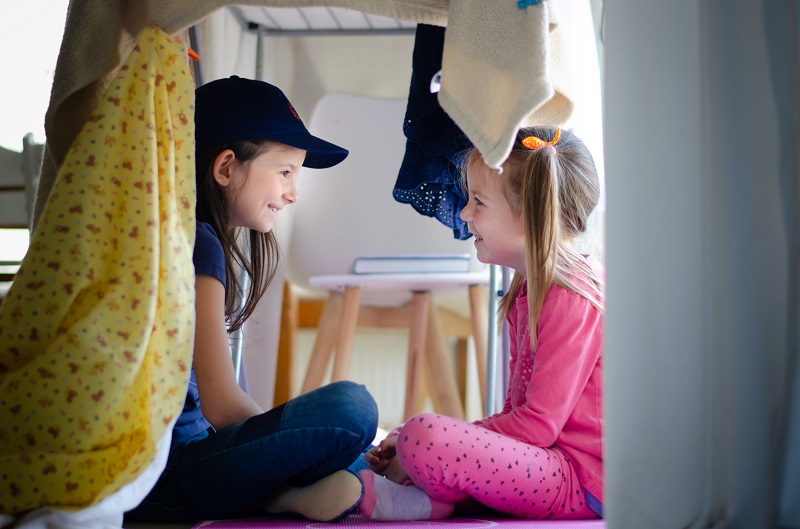 Jigsaw Puzzles
An oldie but a goodie, don't forget that a large jigsaw puzzle can make for great family time. While jigsaw puzzles can sometimes be difficult alone, with everyone working together this task becomes much more manageable.
Try to choose a puzzle that depicts something your kids will like, such as their favourite animals.

Handball Competition
Another fun thing to do with family is hosting your own handball competition. With some chalk, you can outline boundaries, while each member takes it in turns playing against each other.
Handball is a common activity for many kids at school, so be ready for some friendly competitiveness in your very own backyard.

Chalk Portraits
Speaking of chalk, using it and the many colours it comes in can also lead to an enjoyable family experience. The driveway can be the perfect 'canvas' where a fun activity of drawing each other's portraits can bring many laughs.
And when all is said and done, it's painless to remove each artistic rendition of your family with the hose.

Treasure Hunt
This one may take a little pre-planning but is sure to be a hit with your children. All mum or dad needs to do is to draw up a map with directions that leads to the 'treasure'.
If you want to make it even more exciting, you can include a series of clues that direct your kids to their final destination. While sweets can be used as a prize, there are many smaller toy items that can be used, such a Lego or stickers.

Backyard Family Picnic
Who says you need to leave the house to share a family picnic together! Plan as a family on what tasty snacks you will include and find a nice, big blanket that can be placed on the ground.
If the weather isn't suitable, it may be worth having an indoor picnic instead.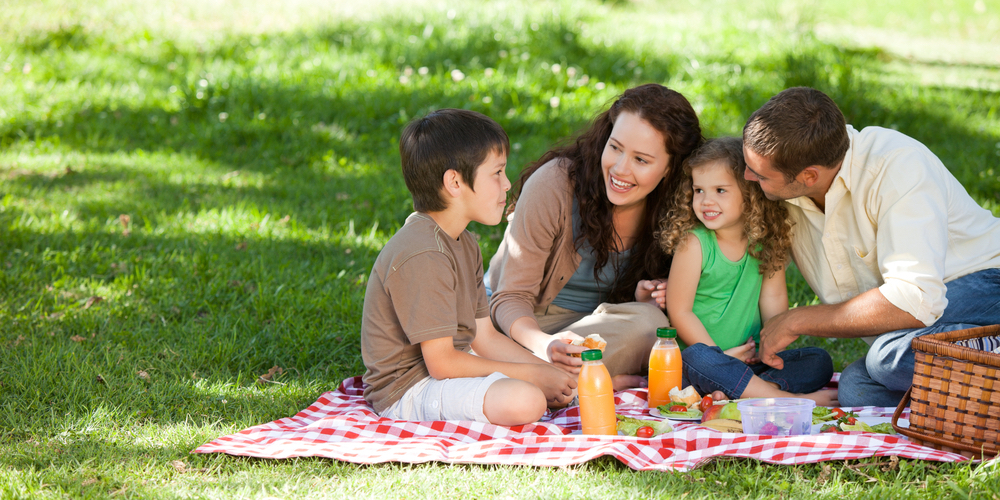 Family Gardening
Gardening has often been an enjoyable pastime for mum and dad, so why not include it as a thing to do as a family!
Whether it's maintaining plants and bushes or planting a new range of flowers, rarely is there short of tasks for family members when gardening is involved.
Another idea is to grow your own herb or vegetable garden. This provides children with responsibility and visibly shows their progress as their vegetables grow.

Backyard Play Equipment
We'd be silly not to include play equipment in our list of home family activities!
Here at Vuly Play, our equipment not only provides a lot of fun for kids but also offers something to parents as well.
For example, our monkey bars for kids can include kid favourites like a cargo net and flying fox, but we also offer accessories adults can use like roman rings and boxing bag!
Outdoor Family Activities
While there are plenty of things to do at home, you shouldn't look past enjoying outdoor activities as a family.
Here a just a few ideas to get the ball rolling in how mum, dad, and the kids, can make fun memories together in the great outdoors.

Family Bike Riding
It's common knowledge that kids love bikes. So, with this in mind, why not organise a bike trip for the whole family!
There are plenty of bikes paths across Australia, allowing you to plan effectively before you head off cycling. If you have any kids that are too young to ride a bike, scooters make perfect alternatives to keep up with riders.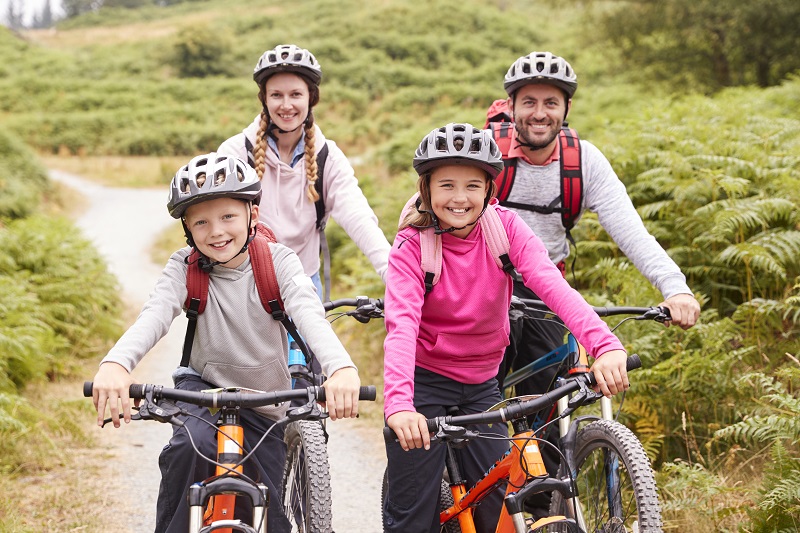 Walking and Hiking Trails
Living in Australia, we're fortunate to have so many pristine natural environments ripe for exploring.
Taking the family beyond the backyard for a trip into the great outdoors doesn't mean just going to the local park or to the beach!
Few activities can match a real nature trek — the forest air, pristine landscapes, majestic vistas all compound into an incredible experience for the whole family.
A little research will reveal national parks, walking tracks and hikes close to your location. This includes tropical rain forests and native bushland to seaside mangroves and mountainous pine forests.
Take the kids outside their comfort zone and into a beautiful area to explore that's right on your doorstep.

Visit Animals
Zoos and petting farms are a fantastic day out for the whole family and allows your children to get up close and personal with a range of interesting animals.
Your kids will love the opportunity to feed a goat, pat a rabbit or see large cats like tigers, prowl in their enclosures.
Family time at the beach
Australia is home to some of the world's most beautiful beaches. Not only is the beach a scenic spot to spend your day off, but it's also one of the most active weekend destinations for you and your family.
When searching for fun things to do with family, the beach becomes a clear winner. It's almost always close to home, encourages physical activity and provides opportunities for family bonding.

Family Beach Time – Sand
Sand offers a unique surface to walk, run and play on. The millions of tiny grains move beneath your feet as you walk, making it more difficult to stay upright and gather momentum.
This means that the muscles in your body are working doubly as hard just to run, resulting in some serious calorie burning!
A gentle walk along the beach is great exercise, as are any games that you can play on sand. Think beach volleyball, cricket or an old fashioned round of frisbee with the family dog (they'll love you for that).
If you're near an especially large beach, running up sand dunes to toboggan down is also a particularly powerful form of exercise.

Family Beach Time – Surf
Swimming is one of the few forms of exercise that targets all of the major muscle groups in the body, without any 'impact' – making it is gentle on joints as it is intense for muscles.
Diving beneath waves, swimming out to sea and body surfing into shore are all activities that many of us find relaxing.
However, below the surface, your blood circulation is increasing, your immune system is strengthening and inflammation is easing. Just remember to stay in between the flags!
As well as these benefits, seawater is also good for the skin; the salts and minerals in the water helps to hydrate the epidermis, ward off bacteria and gently exfoliate away dead skin cells.

Family Beach Time – Sun
The Australian Bureau of Statistics estimates that 25% of Aussie adults are vitamin D deficient, which can result in a range of health complications – from stomach issues to depression.
You only need a short amount of time in the sun to absorb your daily vitamin D needs; a trip to the beach will provide adequate exposure.
Just ensure that you apply plenty of sunscreen, and always well a hat, shirt and sunglasses during time out of the water.

Family Beach Time – Did you know?
Have you ever wondered why you feel so refreshed after a day at the beach? It's not just the beautiful scenery…
Large moving bodies of water – such as the ocean – produce an abundance of negative ions; the crashing of the waves splits neutral air particles, which releases negative ions into the atmosphere.
When we breathe in negative ions, our bodies experience a range of health benefits – from allergy relief to sensory stimulation, from immune-boosting to greater oxygen absorption. Our bodies can actually be healed by the ocean!
Quick Family Holiday Ideas
One of the best things to do as a family is to go on a holiday together. Not only does this provide an opportunity for everyone to relax and unwind, but your kids can make lasting memories of their trip!
Here are some location ideas to get the ball rolling when deciding on where to take the family next vacation.

Tropical Holiday Ideas – Local Destinations
Head to tropical North Queensland for one of Australia's best holiday hot spots.
The Whitsundays are a group of islands scattered on the fringe of the Great Barrier Reef, with some of the most beautiful white-sand beaches in the world and warm weather all year round.
Begin your escapades on the mainland at Airlie Beach, and then head to one of the many family-friendly islands; we recommend Hamilton and Daydream.

Tropical Holiday Ideas – Nearby Destinations
Just a short plane ride from Australia's east coast are some of the world's most celebrated tropical destinations.
Bali offers a serious bang for your buck. The Indonesian island boasts luxurious resorts, culture and non-stop adventure – think white water rafting, parasailing, mountain biking and quad biking – while Fiji and Vanuatu are home to endless water-based fun.
We recommend booking a day trip out to the reef for an unforgettable family experience.

Tropical Holiday Ideas – International Destinations
Although a bit of a long haul, Mexico is worthwhile. With picturesque beaches, adventure theme parks and plenty of incredible coastlines to explore, this holiday is packed with a host of brand-new activities that you just can't get at home.
Venture a little further to the Greek Islands, and you'll find yourselves a summer activity mecca just perfect for the adventurous explorer.
Travel around the world-famous islands on the back of a quad bike, go sightseeing at some of the epic historical monuments, or jump aboard a sailing day trip through the azure waters of the Aegean Sea.

Alpine Holiday Ideas – Local Destinations
There're plenty of fantastic destinations on our doorstep: Perisher Blue in New South Wales is one of Australia's most popular, and it's the largest in the southern hemisphere.
Plus, it's designed for families – offering beginner skiing lessons, as well as childminding services that allow parents some much needed R&R.
New South Wales and Victoria offer many other ski fields, including well known Thredbo, Mount Hotham and Mount Buller.
Many people may be surprised to find that we're spoilt for choice here in Australia! There're also a staggering number of competitive holiday packages floating around when ski season comes.

Alpine Holiday Ideas – Nearby Destinations
Just a hop, skip and jump across the Tasman Sea, in New Zealand, we recommend the South Island for some of the world's most beautiful skiing experiences.
Use Queenstown as your picturesque base before hitting the road for some truly majestic locales and adrenaline-pumping activities.

Alpine Holiday Ideas – International Destinations
If you're looking to travel a little further afield, the world is truly your oyster when it comes to alpine holiday destinations. The US is peppered with beautiful ski towns and resort precincts, not to mention the array on offer just north of the border in Canada.
Hit the slopes in the Swiss Alps, France or Austria – if you're heading to Europe in winter – or be blown away by the first-class powder blanketing Japan's ski fields.
Sources
The Comfort of Cooking – www.thecomfortofcooking.com
Love & Lemons – www.loveandlemons.com
Sugar Spun Run – sugarspunrun.com
Australian Bureau of Statistics – www.abs.gov.au