Do you remember the novelty and thrill of bouncing around on a pogo stick when you were a child? Do you reminisce about the long days spent on the patio playing handball or flicking your favourite marbles in your collection into the chalk circle in the hopes of winning more? Most of us would think that the tech-driven childhoods of our kids are vastly different to what ours were, but a closer look will reveal that many of our favourite childhood pastimes have simply been re-invented for the new generation!
Technology doesn't have to be dangerous or scary; innovation is exciting! For adults, it can help us to improve our workouts, and for kids, it can help them to just have fun. If you're worried that the kids aren't getting enough old-fashioned play, these modern toys will surely ramp up their time outdoors and include the same sense of fun that filled your childhood!


Favourite childhood toys, reimagined – Frisbees to flying rings

The classic frisbee design seen a big shake-up recently! The original flat disc now appearing as a round, flexible ring. Easier to grip, easier to catch and with better aerodynamics, flying rings are great fun to play with a group in large open spaces. Bring them along to the beach, park or local sporting fields for some serious family fun.


Favourite childhood toys, reimagined – Skateboards to Vuly Deck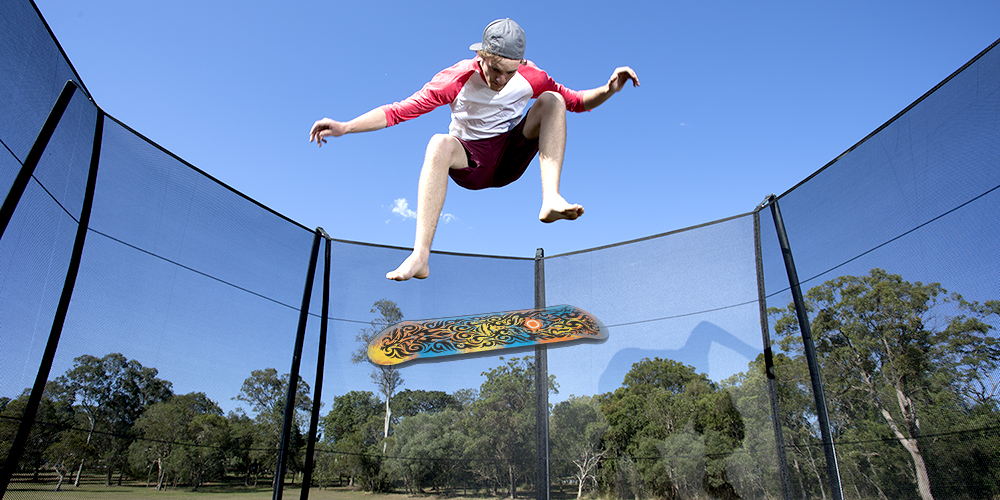 People often associate their skateboarding memories with a whole lot of scrapes, grazes and bruises. How times have changed… The Vuly Deck accessory minimises the chance of injury thanks to your Vuly trampoline's safety enclosure and flexible jump mat. Mastering classic skateboarding tricks has never felt so good!


Favourite childhood toys, reimagined – Slingshots to archery sets
The word 'safety' certainly doesn't spring to mind when thinking of the classic slingshot. However, the new, lightweight children's archery sets on the market should put safety concerns at ease. Most kids are attracted to archery like magnets! Set up targets around the yard for the kids to improve their skills; alternatively, use a timer to record personal bests for rapid shots!


Favourite childhood toys, reimagined – Twister to Vuly's HexVex™ Game Mat


Twister definitely takes the cake as one of the greatest party games of all time; we've all had laughs contorting to get a hand or foot on those red, yellow, green and blue spots! The Vuly HexVex™ Game Mat is the ultimate modern games mat version. Not only can you play classic Twister on it, but a huge variety of other fun solo and group games are at your disposal.



Which classic childhood past-time was your favourite? We'd love to hear some of your memories, and how your kids today enjoy similar fun!