Thinking of buying a swing set for your backyard? The kids may have been pestering you for one, or you might have just thought that it was time they had something more substantial to play on in the yard.
Whatever camp you're in, you've probably done some research online and found that swing sets have changed a little since you were a kid. While the traditional swing where – you go back and forth – still holds true as a popular option, you now have a whole range of other options available to you.
The last thing that you want to have is swing regret! We've brought together some of our top swing set choices for our modular 360 Pro, so that you can find the best swing set combination for your backyard.
Your perfect swing set – Think about quality
As a parent, you have a lot of expenses. Kids aren't cheap! That's why when you're going to buy something – anything – you want to know that it's going to last. When looking at a swing set for your kids in particular, you should make sure that you're buying a product with high quality components.
Consider whether the swing set:
Is galvanised to last in weather.
Is powder-coated to protect against rust.
Has been heat-treated for high performance.
Has extra-thick tubing for stability.
Has been tested for hours of use.
Comes with a lengthy warranty for the frame, swings and accessories.
How much these considerations will affect your purchase comes down to how your kids are going to be using your swing set. Are they fairly gentle and quite content to swing back and forth without too much flipping around? Are your kids going to want to play hard on your swing set – needing something quite durable?
Regardless of how your kids will play, you can rest assured that the swing set from Vuly is built to last no matter what kind of play your kids are into!
Your perfect swing set – Think about flexibility
When you spend good money on a swing set for your kids, you don't want them to grow out of it like they do a pair of school shoes; they should be able to enjoy their swing set for years to come! A big part of why kids stop wanting to play with something is because they get bored, but it's hard to get bored with something when it's always changing!
With the Vuly 360 Pro swing set, you have the option to swap out different types of swing attachments, which means that your kids will find it a whole lot easier to discover new ways to play on their swing set year after year.
On a budget? Start your kids out with a Nest Swing and a Classic Swing.
Coming up to a birthday? Upgrade to the Spin Swing for mid-air skateboarding tricks.
Are they becoming more creative? Kick things up a notch with the Yoga Swing to practice hanging and gymnastic tricks.
As your kids grow, their interests will change. The 360 Pro swing set allows them to keep things fresh. You even have the option of adding a Basketball Set or a Water Mister attachment for those hot summer days. Plus, with the FREE Shade Cover, they'll be in the sun less, even while they can playing outside and getting some much-needed fresh air.
Your perfect swing set – Think about family fun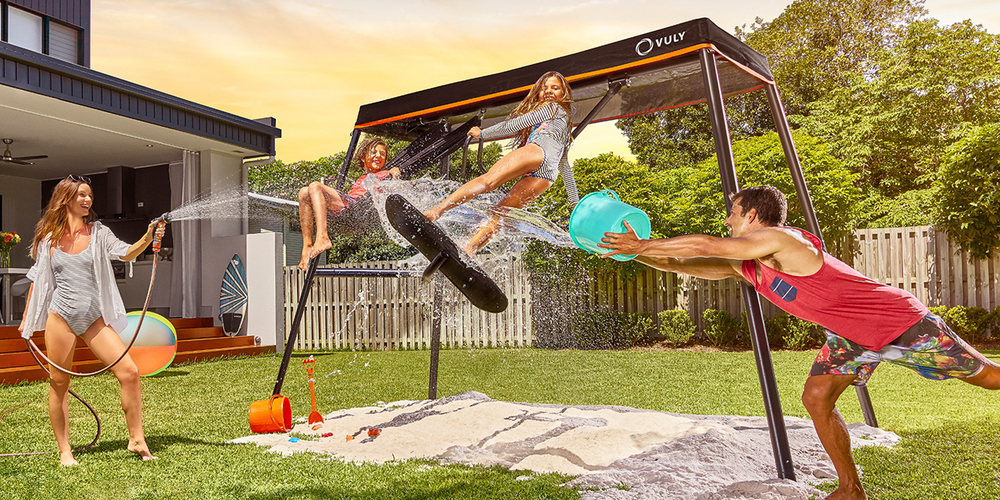 You want to be able to join in the fun with your kids while they're out on the swing set. Thanks to the combined user weight rating of 150 kg on the Vuly 360 Pro swing set, you can jump on too, shoot a few hoops or just lay back on the Yoga Swing and supervise while they carve it up on the Spin Swing!
Shop the Small, Medium or Large swing set for a choice of one, two or three swing slot options:
Pick your swing set based on your kids and what you need for them to have the best time.
Buy a swing set alongside your kids' trampoline and double down on the fun.
When you're ready for a swing set that's really going to stick it out with your family, make sure to shop Vuly. We have a full range of incredible swing sets for families of all shapes and sizes.
Shop online today or call us on 1300 667 514 with any questions. We want to help your family make the most our of outdoor play!