Because we're all so excited for the upcoming Olympic Games this year, we asked Vuly Athlete – Blake Gaudry – to share with us his experience of preparing for Rio and how he got here. Blake's been a great inspiration for all of us at Vuly, and we hope that he can take the time from his busy schedule to share more with us as he progresses.


Blake Gaudry:
I fell in love with trampolining, the sport, years before I even took up gymnastics. As a child, I grew up with a backyard trampoline. I would spend my mornings, afternoons and weekends out in the backyard jumping from balconies and trees onto the trampoline (which were terrible things to do, in hindsight). These trampolines were in no way as safe or well built as the Vuly trampolines I have now, and inevitably I broke three of them. I'm just glad it was the trampolines that broke and not me!
Looking back


[Source: Blake Gaudry]

I guess the thrill, adrenaline and enjoyment that I experienced back then is the same reason I continue to compete today. I began the sport in 2002; fast-forward ten years and I was representing my country at the London 2012 Olympic Games. The Olympics is the epitome of achievement and the highest level of competition for Gymnastics, and to get there and compete is still the most amazing moment of my sporting career. Walking into a packed stadium, with two trampolines in the middle and a world of noise is an atmosphere that's so surreal. It's one of the many reasons that competing at the Games is so special.
The London 2012 Games didn't go as planned, and after placing 13th, I came back home and set my sights ahead – to Rio 2016. I knew that it would be a hard four years, and it has gone so quickly. Looking back, London only seemed like yesterday, and now its less than a week to go until the last selection competition; it really is a hard thing to get your head around.

My experience

Blake with fellow competitors – including Vuly Athletes, Logan Dooley and Charlotte Drury – training in Brazil [Source: Blake Gaudry]
I wish I could say that its been an easy and always positive experience, but sport throws a lot of obstacles and situations forwards, which you can only tackle when they arrive. Having support from my family, the State and from people such as Joe (the CEO of Vuly), makes the dream possible. The last 12 months have been an incredibly busy time: with World Cups, World Championships, Olympic Test Events and Domestic Competitions sending me all around the world and back again to Australia. Its crazy to think that I've been to Portugal, Sweden, Denmark, Azerbaijan, back to Portugal, and then Rio in the space of six months, all to try and qualify both Australia and myself an Olympic spot.
To put it in perspective for you, there were over a hundred male competitors at the World Championships last year; only sixteen get to compete at the Olympic Games. Based on the way qualifications fell, there will only be one spot for an Australian.
Looking ahead
Now, with less then a week to go, I've done most of the hard work – the qualifying fir the country spot and the hours behind-the-scenes perfecting routines has all been done. The Nationals in Melbourne next week is the last of a long series of competitions that will be considered before an Olympian is finally announced.
Update! Blake has returned and reflects on his Olympic experience.
It has been just over a month now since I returned home to Adelaide. Looking back, it's crazy to think about how long the build-up to the Rio Olympics seemed from 2012 to now, and then when the time arrived it flew past so quickly.
Reflecting on the Olympic event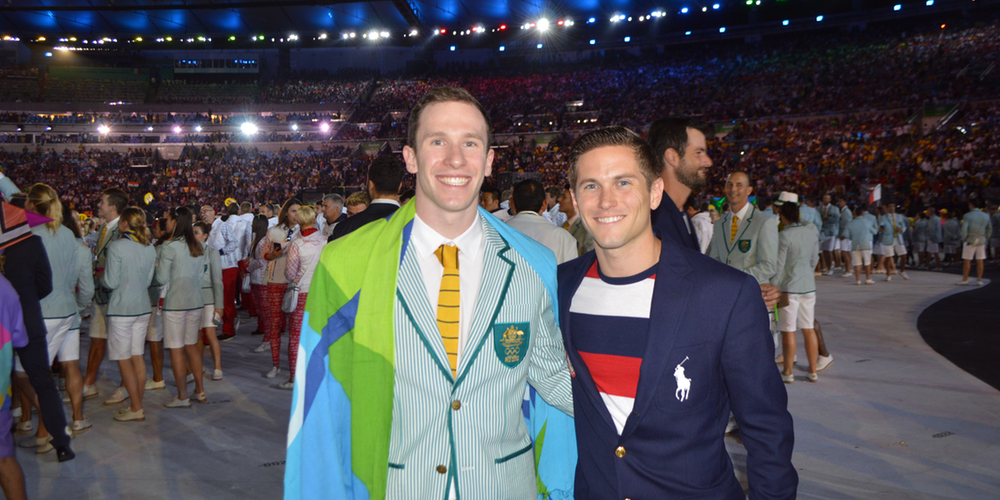 I'm currently having mixed emotions about the Olympic Games; I reflect and can appreciate the entire experience, I feel honoured that I have been able to represent Australia on the biggest sporting stage in the World for a second time, but, for me something was missing. I went into London 2012 and Rio 2016 with completely different approaches and with that, was looking for different outcomes. I often think about what the difference was between the two but I'm not sure I could correctly articulate what that is. It has taken four years to truly appreciate and reminisce on the intensity and excitement that was the London Olympics.
I think this is largely because as an athlete to go through such a huge whirlwind experience, reflecting on that two weeks isn't the entirety of the story. The Olympics is an experience that slowly culminates over years of training, competing and travel. Emotionally, physically and mentally, my personal journey for Rio, truly was a four year one that finished inside a two-week wonderland. For me specifically; a 2-hour event, involving about a minute's worth of routines in which I get to show the world and judges 14 years of hard work.
To reflect on this build-up in just a few minutes would be an injustice to the efforts of myself and those around. I can however, try and give you a small snapshot of the ridiculous nature that is the Olympics. Ridiculous not in a negative way… quite the opposite!
Reflecting on the Rio experience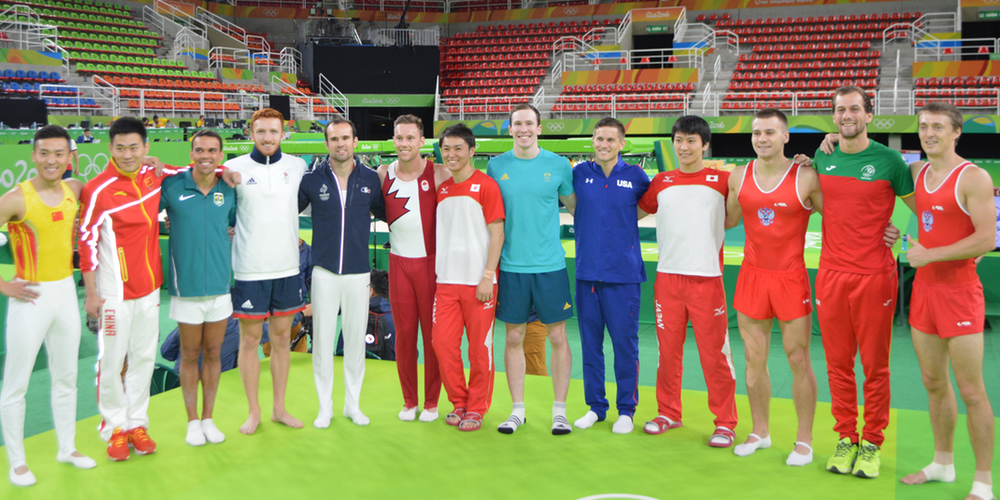 Arriving into the village was an exciting moment. Walking into my room and seeing the Olympic Bed Cover, with a bag sitting on top of it filled with goodies, and arguably the most exciting thing, a customised vegemite tube with my name on it was special. I felt instantly nostalgic as it felt like London all over again. I spent the next few days settling into the village by exploring, getting accustomed to the training gym and ensuring I settled into my new home for the next few weeks. The village was high rise, and as you walked around you saw buildings covered in multiple countries' flags and banners all proudly claiming their spots and patriot-ingly showing the world who was there. Australia was no different with large green and gold banners up and down the outside of the building.
Before the competition I didn't want to get too caught up in activities and distractions so I only made it to support my fellow team mates in one sport, and overall kept pretty quiet. Except when an opportunity arose a few days before the Opening Ceremony to go on a helicopter ride around Rio. I couldn't say no, and so I found myself with a few other athletes, hundreds of metres in the air, sitting in a 4 seater chopper flying through the sunny sky looking down on the amazing landscape of Rio de Janeiro. It allowed me to get my bearings and was incredible to be able to see the city from above. If you ever visit Rio I recommend doing a helicopter ride!
The next big moment for me was the Opening ceremony. Whilst it wasn't as intense or exciting as London, it was still an unforgettable moment. Rio had its own unique culture and atmosphere and you couldn't help but feel excited and happy when you entered the stadium. The Opening Ceremony signifies the beginning of the games and to march in with the Australian team chanting 'Aussie Aussie Aussie Oi Oi Oi' at a deafening level, sends a chill down my spine even thinking about it now, I can picture it so vividly. I proudly wore the Medicare styled jacket, alongside my teammates. I knew that while I compete in an individual sport and I was the sole athlete in that sport, I was apart of something much larger. What exactly that is, I still feel like I'm learning.
Reflecting on my performance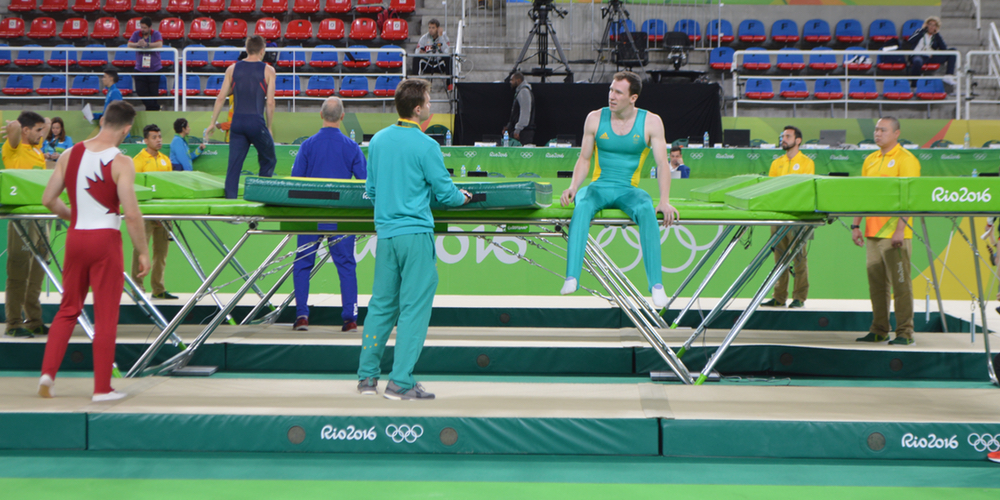 As an athlete you continually grow and learn through competition and involvement in the sport. This competition was no different. When the competition day rolled around on the 13th August, I was mentally ready and excited to get in and get it done. My whole family, along with some friends old and new journeyed, from Australia to support me. Without trying to ramble on, I came 13th the same as London. I guess from an outside perspective it seems like I did the same which isn't the case.
My competition in Rio went pretty well, I nailed my first routine and performed an arguably solid second one. I got in a tough situation and drew on my experience from London to compose myself and finish off the routine. Something I wasn't able to do four years ago. The level and competition in Rio was extremely high and to make a final I needed to nail the second one. I guess for me the competition itself was something that didn't go to plan.
My Olympic experience didn't conclude with the competition, I stayed inside the village until the Closing Ceremony and so had the opportunity to relax, support other Australians, spend time with family and friends in Rio and just enjoy what the city and the Games had to offer. I could now pig out, be lazy and just enjoy the much needed down time I haven't had in four years.
Since getting home, I had the honour of attending a couple of Welcome Home Parades in Sydney and Adelaide, and have been resting up, attending rehab to overcome some injuries I had from earlier in the year. Without any immediate competitions coming up I have time to get my body right and rested before I step into my next challenge!