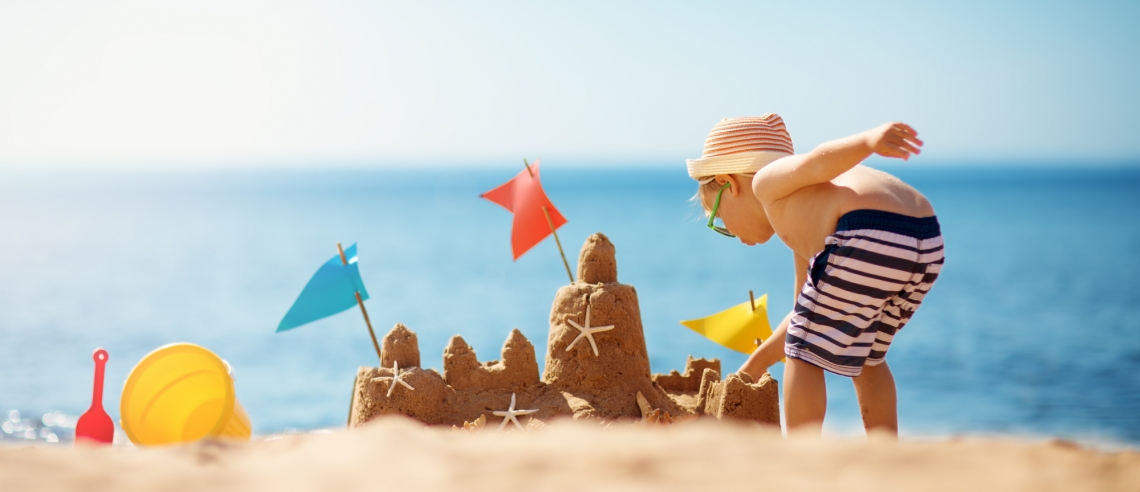 If you live in Australia, you know we're home to some of the World's greatest beaches. And we're not just talking about one particular coast, whether you're on the East Coast or the West Coast, the white sandy beaches are just a stone's throw away. With cold weather slowly being taken over by the increasing mercury in your thermometer, beach weather is just around the corner!
You might already be a professional beachgoer with your beach towel in one hand and a surfboard in the other, but this post is for the ones that need to carry a beach towel in one hand and a screaming toddler in the other. Going to the beach as a family sounds like a perfect day out until you forget to pack the sunscreen, snacks or swimmers! Being an Aussie company, Vuly loves the beach as much as you and we've put together some beach essentials and tips to get you prepared for your next family day out.
Essential Beach Equipment
These are a must and you should be second nature when thinking about what to pack for a family beach trip
Sunscreen

: Although we are home to some of the world's greatest beaches, we also have one of the highest rates of skin cancer in the world. This means the fun in the sun should be also be met with adequate skin protection. Although there is such thing as a healthy amount of Vitamin D, make sure you are applying sunscreen with at least SPF 30.

Swimmers

: What's a beach day out if you're not enjoying the waves. Make sure to pack some swimmers for you and your family so they're able to have a set of clothes you don't mind getting wet. Remember to bring along proper swimming gear as they're generally made UV resistant and great for the sun.

Spare Clothes

: This goes without saying unless you want your car seats soaking wet, a spare change of clothes is always essential.

Beach Towel

: Bring a couple of beach towels enough to fit your whole family. Beach towels are great as they separate your body from the hot sand and can also prevent sand from sticking to ya!

Hat

: Another essential to combat the harsh Aussie sun. Make sure you and your kids are wearing a hat when you can. This can protect their precious faces from sunburns!

First Aid Kit

: You never know what unpleasant surprises may arise. The beach can be full of surprises so it's important to be armed with the basics to treat any accidents. If the injury is more serious than expected, look for the nearest lifeguard or call 000.

Beach Chairs

: Bring comfort with you with a portable beach chair. A great alternative from lying on the beach towel, a beach chair allows you to sit back and relax so you can sip on a cool drink or get some reading in while the kids tire themselves out on the beach

Beach Bag

: These can generally be any large bag and are normally made from canvas. A beach bag is designed for convenience and can hold all your smaller personal items such as your sunscreen, bathing suit sunnies etc.

Cooler or Esky

: If you're considering packing some cold drinks and snacks (which I highly recommend), bringing along a cooler is a must!

Food and Snacks

: A beach day can get you drained and you're probably too comfortable to pack everything up just to go out for lunch or snacks. Pre-packing some food and snacks can help fix this problem! Prepare some easy to make snacks like sandwiches or fruit salad

Cold Drinks

: Keep you and your family hydrated with some cold drinks. Remember to bring some water and other cold beverages to help your kids get through your fun-filled day.

Beach Trolley

: Don't underestimate how much a beach wagon can help you bring along all of the things mentioned above! A beach trolley acts as another set of hands, unload all your beach essentials into your wagon and pull it along easily to your favourite spot!
Hopefully, this list gets you well prepared for your next beach day out! If you happen to bring along one of Vuly's beach wagons, be sure to tag us @vulyplay!