Although kids don't need our help imagining new worlds and adventures, some playgrounds can spark their imaginations better than others!
When it comes to swings that can make their imaginations run wild, no swing set does it better than the 360 Pro swing set. This versatile swing system is a playground powerhouse, with a variety of swings available and different add-ons to make their set experience even better.
However, the best thing about the 360 Pro is that it's more than just a traditional swing set. In fact, it's also a launchpad for imaginative play and role-playing. With the 360 Pro, your kids can set off to different worlds – all without leaving the comfort and safety of your home.
Here are some of the characters that your kids can play pretend as with the 360 Pro swing set:
Pro Boarder – with the Spin Swing
Whether it's skateboarding, snowboarding, or surfing, 360 Pro's unique Spin Swing attachment will keep your child's board dreams alive and kicking. This swing suspends them on air with a sturdy flat board that provides complete 360 manoeuvrability for realistic boarding action – with handles for safety and stability.
You kids can carve, spin, and swing on a board just like a professional boarder, weaving in and out of place however they like. It's the perfect substitute for actual boarding, especially if the weather or circumstances aren't in your favour. With the 360 Pro, your kids can practice snowboarding even when it's summer or practice surfing even when it's too cold to swim.
Acrobat – with the Yoga Swing
Kids are so nimble that it takes no effort at all to twist their bodies in all sorts ways, much like an acrobat. With the 360 Pro's Yoga Swing attachment, they can become an acrobat for real in safety. The Yoga Swing features a strong, durable fabric that can hold your child safely in air, so they can practice their moves just above ground level.
It's a safe, fun, and exciting way for you to make your kids' acrobat dreams come true.
Basketball Star – with the Basketball Hoop accessory
Let your kids shoot as many hoops as they want with the Vuly basketball hoop accessory for the 360 Pro swing set. This add-on attaches a high-quality basketball ring on top of your 360 Pro, giving you the ability to create a makeshift basketball court in your backyard.
Whether they want to practice their free throws or simply shoot some hoops to pass the time, the 360 Pro's basketball add-on will make your child feel like a basketball superstar in no time.
Astronaut – with the Nest Swing
"Mission Control. This is Eagle One ready for landing." Don't be surprised to hear words like these when your kids step on the 360 Pro's Nest Swing and imagine adventures deep in space. Featuring a circular, webbed seat, the Nest swing provides a dynamic platform that can serve as a spaceship, lander, or any other spacecraft that your kids can imagine.
Its webbed design also gives it a different experience than other swings, providing a seat that swings and shifts in different directions for more active play. Set it up to the height you want and watch your kids as they blaze through space avoiding asteroids and meteors along the way.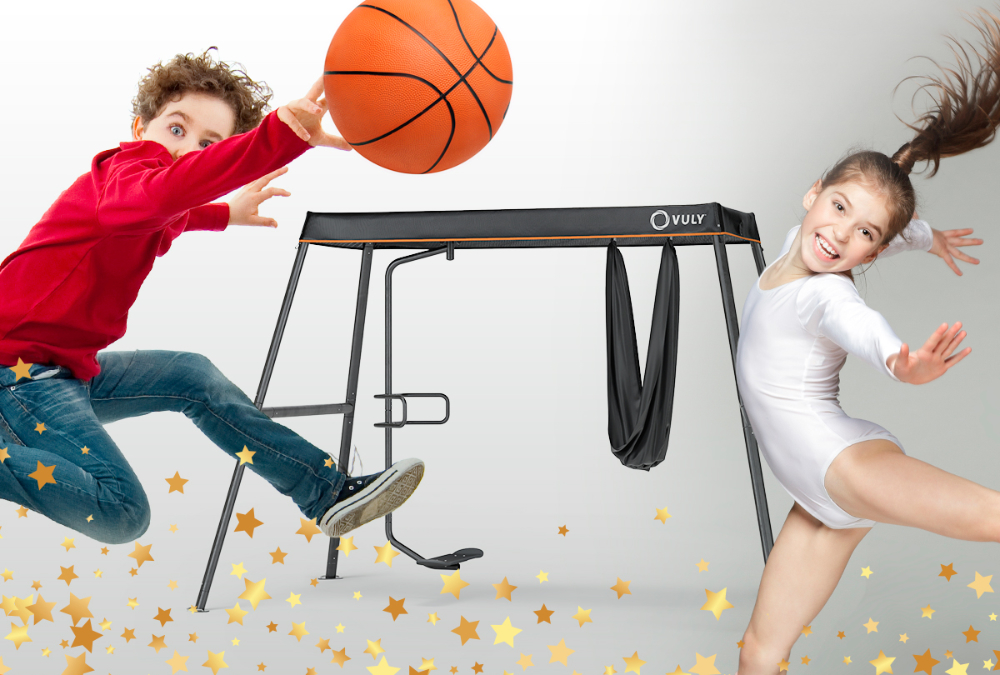 Ninja or Treasure Hunter – with the entire swing set
One of the best things about the 360 Pro Swing Set is that it also makes a challenging yet fun obstacle course. The large frame of the 360 Pro provides excellent start and end points for the course, with the swing/s in the middle serving as obstacles that your kids need to clear.
These obstacles provide the perfect setting for your kids' ninja or treasure hunter dreams, turning into everything from tree branches to statues that they need to climb over. Watch as they climb, hang, and jump between one swing to the next, all while avoiding the ground which could be filled with lava, spikes, or whatever else your child imagines it to be.
More adventures to come
If there's one thing obvious about the 360 Pro swing set, it's that this set is more than just any regular playground. It's also a platform that can launch your children's imaginations, giving them a place to set off to whatever adventure they choose for the day.
Best of all, there are even more types of speciality swings and add-ons on the way with which you'll be able to further customise your 360 Pro swing set. This, of course, means more adventures and dreams-coming-to-life for your kids!
Want to find out more about the 360 Pro swing set, contact us or visit our showroom to learn more.
See our new basketball hoop.