settings_overscan Try our backyard positioning tool.
Read and follow all instructions in your Assembly Manual before using your Vuly, and do not use it in any way that is not described in the manual.
Responsibility rests with the owner and supervisors of the product to make sure that all users are aware of the practices specified in the manual.
Keep your Assembly Manual for future reference.
Choosing the right location - Trampoline
Place the trampoline on a flat, level surface with impact-attenuating properties – such as grass or rubber. Ensure that it is sufficiently stable to prevent it from tipping over or blowing away. Sandbags or pegs may be suitable anchorage devices.

Keep a minimum of 8m clearance overhead, when measured from the mat height, to prevent users from inadvertently contacting overhead hazards – such as electric wires, tree branches and laundry lines.

Maintain a minimum of 2m clearance on all sides of the trampoline. This area should not include concrete, bitumen, brick, walls, structures, fences and other play areas or hard surfaces. These can cause serious injuries if users fall off the trampoline. Keep the space around the trampoline clear.

Assemble in a well-lit area, and not on top of other objects. Do not store anything on or underneath the trampoline mat.

For care and maintenance, use and behaviour and assembly instructions, find your relevant Vuly Assembly Manual here.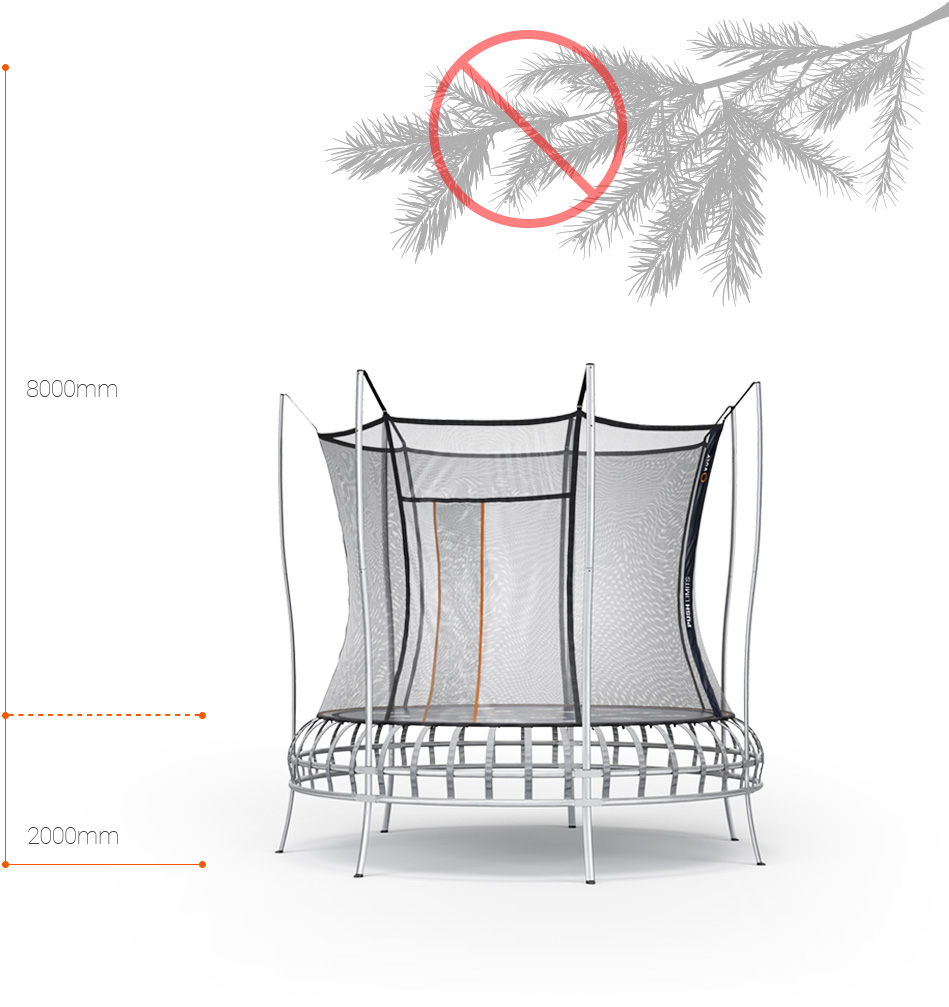 Safety Checks
Perform every checking procedure before using the trampoline:
Inspect the trampoline before and after each use for component deterioration, which can happen over time from use and from environmental and weather conditions.
Inspect the safety net structure for missing, improperly positioned, bent, broken or insecurely attached net poles, pole caps and sharp protrusions.
Inspect the safety net textiles for deteriorated stitching, punctures, fraying, sagging, tears or holes.
Replace any worn, defective, or missing parts immediately, and through Vuly Trampolines only.
Check the surface of the mat for foreign objects, and remove them.
Ensure that the trampoline safety net (and frame padding, if applicable) is correctly fitted.
Disallow any activity underneath the trampoline.
Avoid using the trampoline in heavy rain or when it is very wet. If you are using Vuly's official Mister accessory, be extra cautious about your bouncing.
Secure the trampoline properly when not in use to protect against unauthorised use.
Remove any ladder from the trampoline when not in use to prevent children from falling.
Lubricate where metal components connect, and on the springs.
Use only Vuly-made accessories with, or on, our trampolines.
Avoid bouncing while tired, or bouncing for so long that you become tired.
Refrain from eating or drinking on the trampoline.
Avoid bouncing immediately after a meal.
Do not use a trampoline while under the influence of alcohol or drugs.
Ensure that the user's weight is less than 150 kg (330 lbs).
Wear clothing that is tight fitting, and that allows you to move freely.
Wear sun-protective clothing, sunscreen and a soft hat.
Wear clothing that is free of drawstrings, hooks, loops, buckles, jewellery or anything that could get caught in the trampoline net.
Do not wear shoes while bouncing, unless they are designed for use on a trampoline and are well-fitted.
Do not allow more than one person onto the trampoline at a time.
Do not allow any solid or sharp extraneous items onto the trampoline.
Do not allow pets on the trampoline.
Do not jump onto or off of the trampoline.
Do not use trampoline without mature and knowledgeable supervision.
Do not sit on the edge of the trampoline; additional weight puts pressure on the entire system.
Do not walk closely in front of, behind or between the trampoline's moving parts.
Do not stop any moving parts suddenly while they are in motion.
Do not use the trampoline in any way that is not described in this manual.
Ensure that you do not misuse or abuse the trampoline; it could cause serious injuries.