Trampolines provide endless fun for kids as they grow, and they help with the development of coordination, balance, joint strength and mental health. With so many options available, however, it is difficult to find the right one. Below is a summary of the best trampoline options in Australia.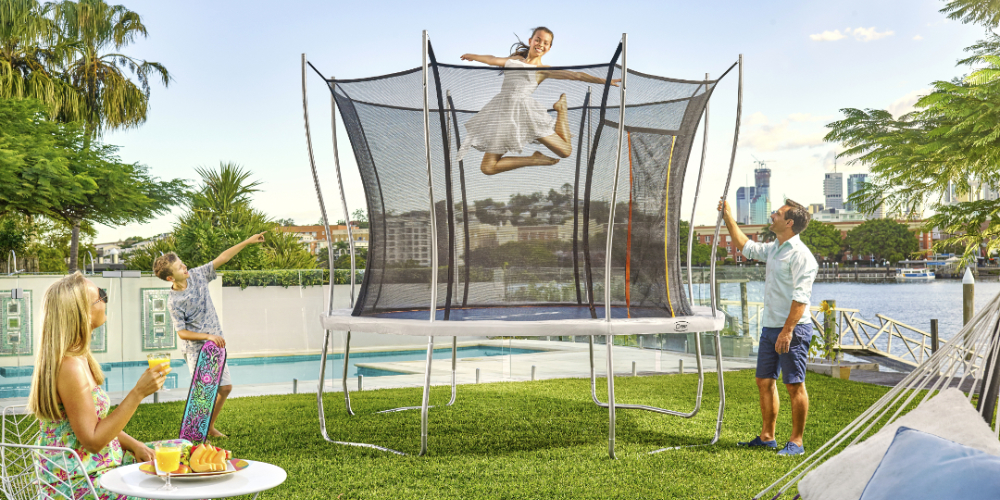 Vuly Play Trampoline
Vuly Play offers a range of trampolines for older children and/or adults in different styles, sizes, and prices. They offer both trampolines with springs and without, so parents can choose which they prefer. Vuly Play trampolines are certified and tested for a maximum weight of 100-150kg depending on the model and size.
Trampolines can be a dangerous addition to the backyard, so the safety provided by netting and pads are important factors. Vuly Play has designed their nets as self-closing, with the smallest weave of 3mm to avoid fingers from getting caught and to prevent damage from occurring. The nets are designed with a no-contact zone in mind which incorporates curved poles that sit away from the net to prevent injury. The net sits inside the springs to exclude them from the play zone and prevent injury.
The springs on these trampolines are protected by thick matting, leaving no gaps. The springs are coated to prevent rust from wearing them away and attached to the frame through tapered hooks to inhibit them from becoming unattached. The double galvanised frame of the trampoline is easy to set up with no nuts, velcro or plastic, instead, they use t-joints made from thicker steel to reinforce the frame.
All Vuly trampolines trampolines can also be fitted with a sunshade for protection against the harsh Australian sun and parents can purchase tent walls to convert the trampoline into an outdoor camping adventure. Vuly Play is an online store, and they are currently offering free delivery along with a free shade cover and tent walls when a trampoline is purchased.
Bunnings Trampoline
Bunnings offer a range of trampolines from third-party providers including Lifespan, Bounce Pro and Tuff Bounce. The options include various sizes from 8ft to 14ft, as well as a square trampoline. The smaller trampolines have a max weight of 50kg, and the bigger ones have a max weight of up to 150kg.
All the trampolines that Bunnings offer come with nets and padding for the springs. The nets are separated from the bars and are inside the springs for safety. The Lifespan nets are self-closing, whereas Bounce Pro and Tuff Bounce nets use zips. These trampolines are mostly designed for older kids.
Bunnings trampolines are accessible through delivery, and some are available in-store depending on the location and product. If delivered there may or may not be a delivery fee based on the product.
Big W Trampoline

Big W offers the largest range of trampolines from different suppliers. They sell several trampolines from Lifespan, Plum Play, and Action Sports, as well as trampolines aimed at younger kids that are branded with TV characters such as Bluey, Elmo and a very small Wiggles trampoline. Most of the Big W trampolines are for outdoor use however they do sell some small ones for indoor use, ideal for young children. All Big W trampolines are equipped with nets and pads to avoid injury from the springs.
Big W offer products for different price ranges and ages with the max weight ranging up to 150kg for the larger trampolines. Some of the smaller ones are available in stores. Whereas the larger trampolines are only available online and for delivery with the cost excluded in the price.
Target Trampoline

The trampolines that Target offer are on the cheaper side. They provide two size options for the Cyclops; the smaller one is 10ft and the larger one is 14ft. Both of these trampolines are great for older kids; with the smaller one having a max weight of 120kg and the larger one having a max weight of 150kg.
They have padding over the springs and are equipped with zipper nets that are separated from the bars and exclude the springs. The UV-resistant frame is made from galvanised steel, with powder-coated legs and a metal ring around the top of the net for durability. The Target trampolines are only available online and for delivery which is not included in the price.
Kmart Trampoline
Kmart also offers cheaper trampolines with their own branded Anko products. They offer a 10ft, 12ft and 14ft round trampolines, as well as 12ft rectangular and springless trampolines. All the trampolines come with pads and nets with zippers for entry. The UV-resistant nets are separated from the bars and exclude the springs. The frame is made from galvanised steel and is wrapped in extra thick padding to prevent injury.
Kmart trampolines have a max weight of 100kg on all their products and are suited for older kids. Kmart also sells a sunshade for the round 10-14ft trampolines, offering protection from the sun. They are easy to assemble and available in some stores or can be delivered, but the delivery fee is not included in the price.
Plum Play Trampoline
Plum Play offers a range of trampolines for different ages. All the Plum Play trampolines are equipped with zipper nets and pads, the bigger trampolines have their nets inside the springs whereas the smaller options have them outside the springs.
The options for younger kids range from 4.5ft to 7ft trampolines with a max weight of 50kg. Whereas the options for older kids range in size from 8ft-14ft with a max weight of 125kg. These frames are made from twice galvanised steel, with a UV coating and Plum Play's unique Tramp Klamp to attach the leg to the frame joint, creating additional stability.
Plum Play also offers a spring-free, curved bowl trampoline to create safer and more creative ways to play. This trampoline has a max weight of 120kg and will take 3 people 3 hours to set up. Plum Play trampolines are available for delivery, but the shipping cost is not included in the price.
When choosing a trampoline there, these companies provide lots of options. If parents are looking for trampolines without springs, then Vuly Play offers a few options as well as, Kmart and Plum play. Vuly play and Kmart also offer sunshades for their trampolines to protect them from the weather. If parents are looking for options for younger kids, then Big W and Plum Play have more options.