Monkey bars are a great addition to backyards that provide entertainment for children of all ages. They allow kids to develop their upper body strength and coordination in a fun and enjoyable environment. There are many monkey bar products on the market to choose from, so it is important to know what is available and the pros and cons of each product.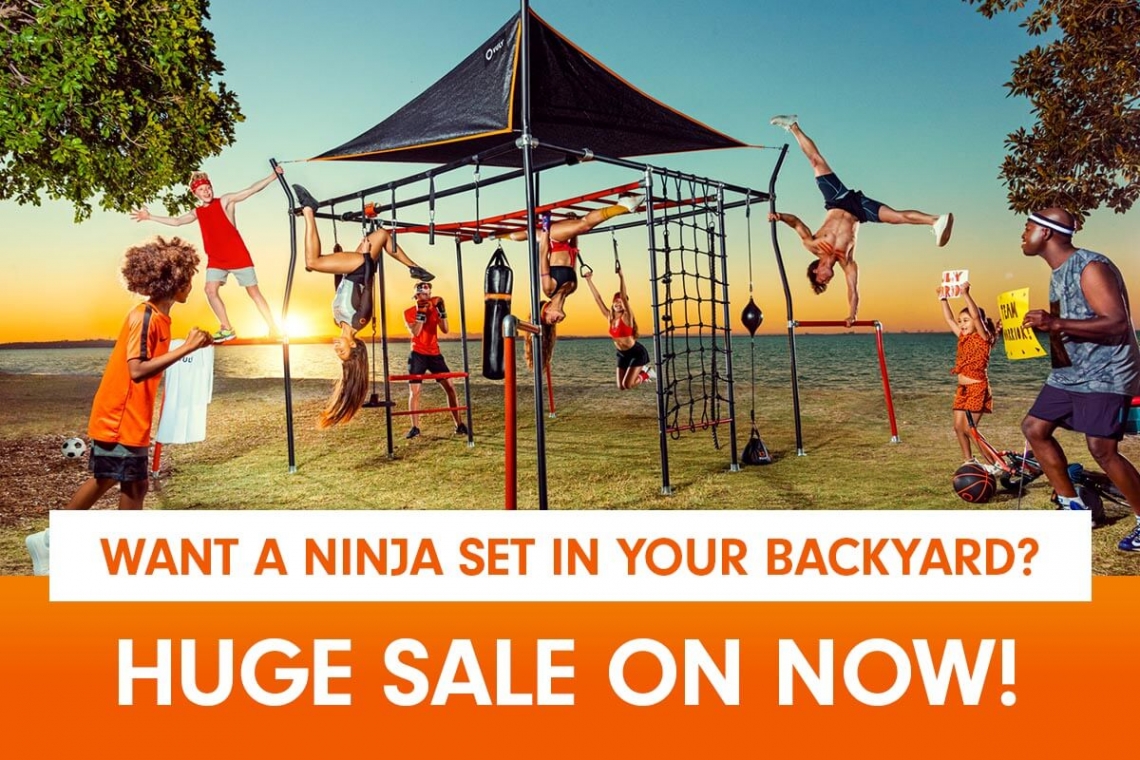 Vuly Monkey Bars
Vuly Play offers a wide range of monkey bars and climbing frames - from basic starter sets to the larger and more premium Ninja Quest. This variety of products and the ability to customise them online allows parents to cater to different price ranges and ages. The frames are made from high-quality metal with adjustable heights and attachable shade structures, allowing parents to adapt the equipment as their children grow.
Vuly Play specialises in outdoor equipment, which means they have dedicated a lot of research to guarantee their products are safe and reliable for children in outdoor settings. Vuly's monkey bars have the highest weight capacity per section with a maximum weight of 80kg, allowing older kids and even some adults to play on the equipment.
Vuly monkey bars cater to parents with older children or those who are looking to purchase play equipment that offers better play opportunities than more contemporary styles.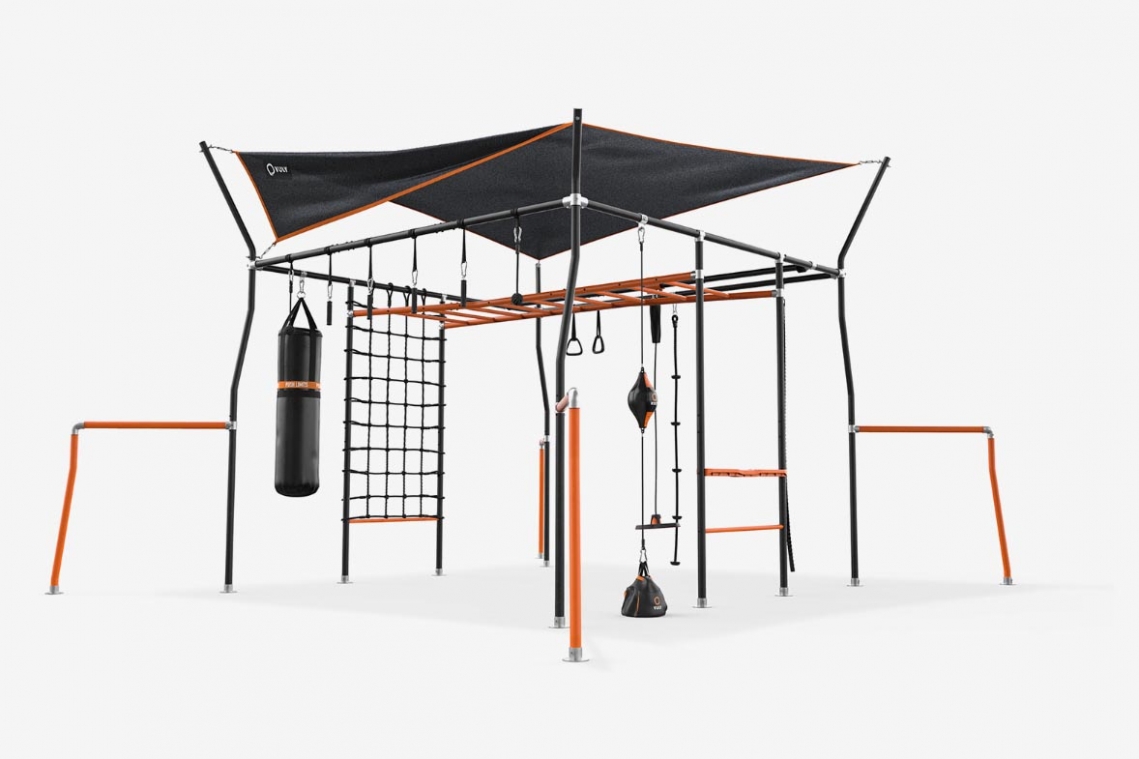 Bunnings Monkey Bars
Bunnings offer monkey bar options from a few different third-party providers such as Lifespan and Swing Slide Climb. Bunnings offers in-store purchases, click and collect, and delivery options, which may or may not be included in the price depending on the product.
The products by Lifespan offer two sizes and are more basic in their design with just one set of monkey bars and one sidebar, due to this they are cheaper than some of the other options. They have a mixture of wood and metal monkey bars and offer a maximum weight limit of 50kg for the smaller 2.5m product, and 80kg max for the 3m product. They are straightforward to set up and anchor into the ground for stability. These monkey bars are available for delivery, but the fee is not included in the price.
The monkey bars playset offered by Swing Slide Climb is made out of metal, plastic and wood. It would be better suited for younger children and includes monkey bars, a cubby house, a slide and a swing set. The max individual weight it can take is 50kg and has a maximum combined weight limit of 150kg. The bars are powder-coated steel and UV stabilised to prevent deterioration. The setting up process will take two people around 1.5 hours. Delivery is included in the price.
Bunning's monkey bars offer a bit of variety at a cheaper price; however, they are geared towards younger children.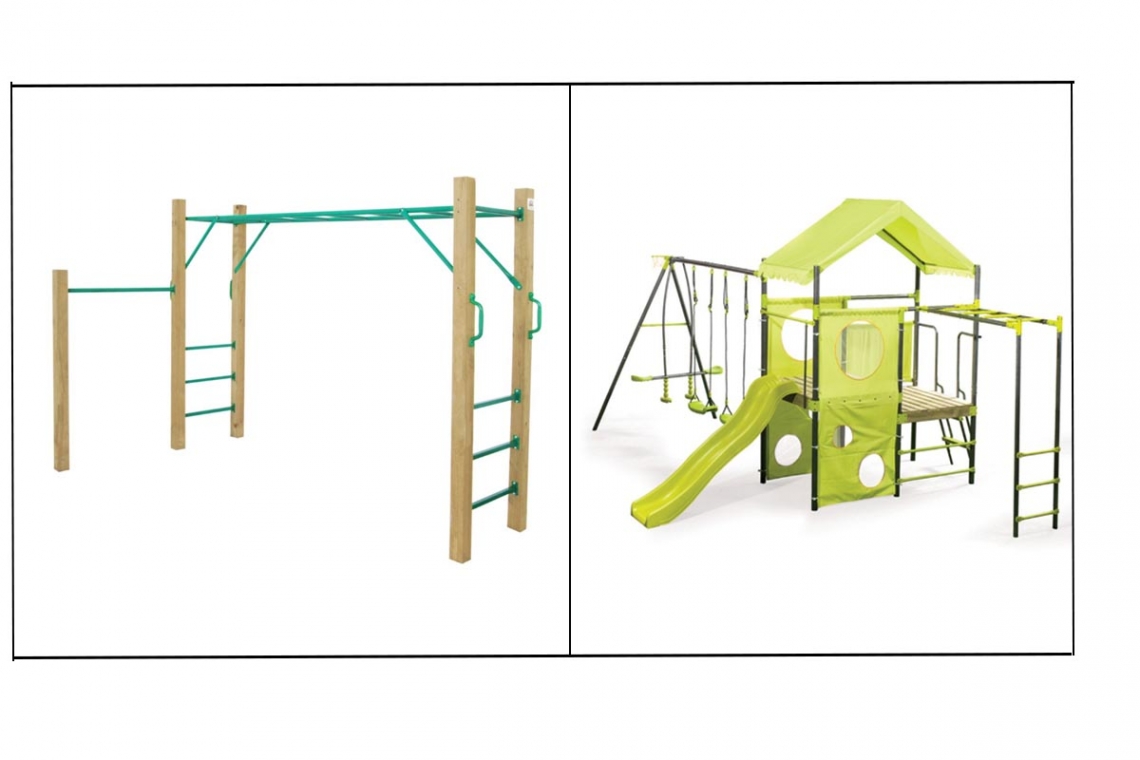 Big W Monkey Bars
Big W offers the widest range of third-party providers for monkey bars, such as Plum Play, Lifespan and Action. They have an array of options for different budgets, ages and styles. The Big W monkey bars range includes sets made from both wood and metal. They offer options that include cubbies, flying foxes, climbing ropes and more.
The Action monkey bars offer a cheap and simple option for younger, lighter kids, whereas the Lifespan Kids Junior Jungle Madagascar offers a vast array of options for older kids. The options vary in weight capacity with the largest being a max weight of 80kg per section. All the play sets, aside from the smaller Action one, are available online only. The delivery fee is not included in the price, but Big W offers a variety of delivery speeds.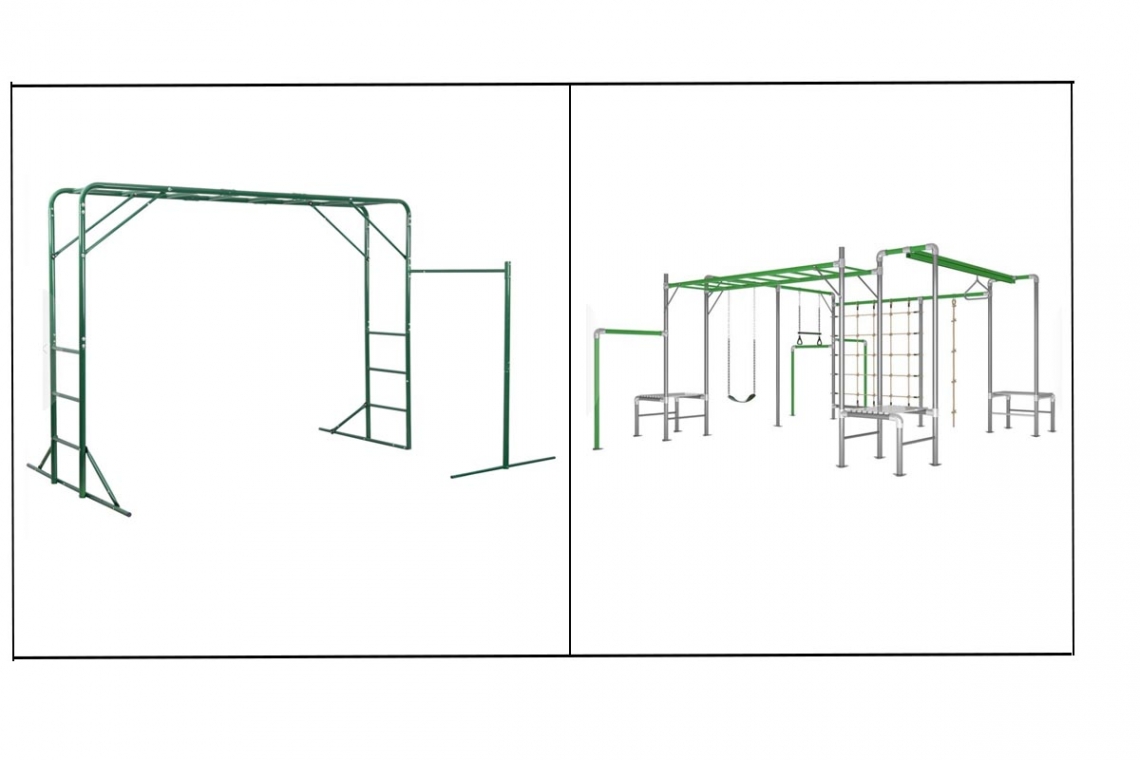 Target Monkey Bars
Although target sells swings, trampolines and other outdoor play equipment, they do not sell monkey bars in Australia.

Kmart Monkey Bars
Kmart sells their own set of monkey bars under their brand, Anko. These monkey bars are the cheapest option, offering three different simplistic sections including monkey bars, a cargo net, and a disk swing. This product would be great for younger kids with a max weight of 45kg on each section.
The bars are made from powder-coated steel and are UV resistant. The building process is straightforward and can be managed with two people, and the structure has anchors for stability. The Kmart monkey bars are only available online through click and collect or through delivery, however, the delivery fee is not included in the price.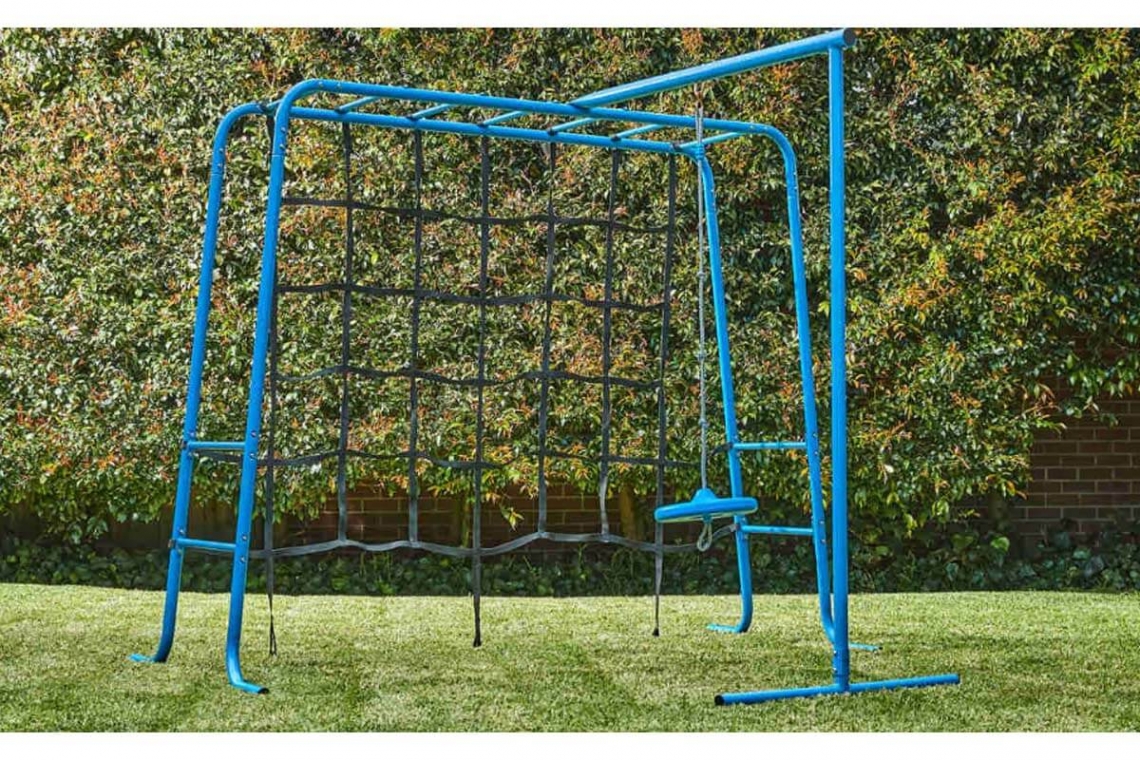 Plum Play Monkey Bars
Plum Play offers a variety of 4 different monkey bar options accommodating different needs and price ranges. The products are a mix of metal and wooden frames. These sets are comprised of monkey bars, a climbing box, swing sets and a lookout tower. The Plum Play monkey bars attached to the lookout are typically targeted towards younger children, with the climbing cube appealing to slightly older kids.
The timber used to make the structures has been pressure tested and the playsets have anchors to stabilise them. The max weight capacity for each section is 50kg, so the larger playsets can hold more weight in total. The smaller stand-alone monkey bar set takes about 2 hours to assemble with two people and the larger ones take roughly 5/6 hours with two people. Plum Play is an online store but does have retailers across Australia. Shipping is not included in the price and can be rather significant depending on location.
Each company has great products, but many brands focus on younger children. If you are looking for customisable monkey bars with a variety of options for different ages and budgets, then Vuly Play or Big W offers the biggest selection. Bunnings, Kmart and Plum offer products that are catered towards younger children and generally have smaller weight capacities.
Funky Monkey & Growplay Monkey bars also make monkey bars in Australia.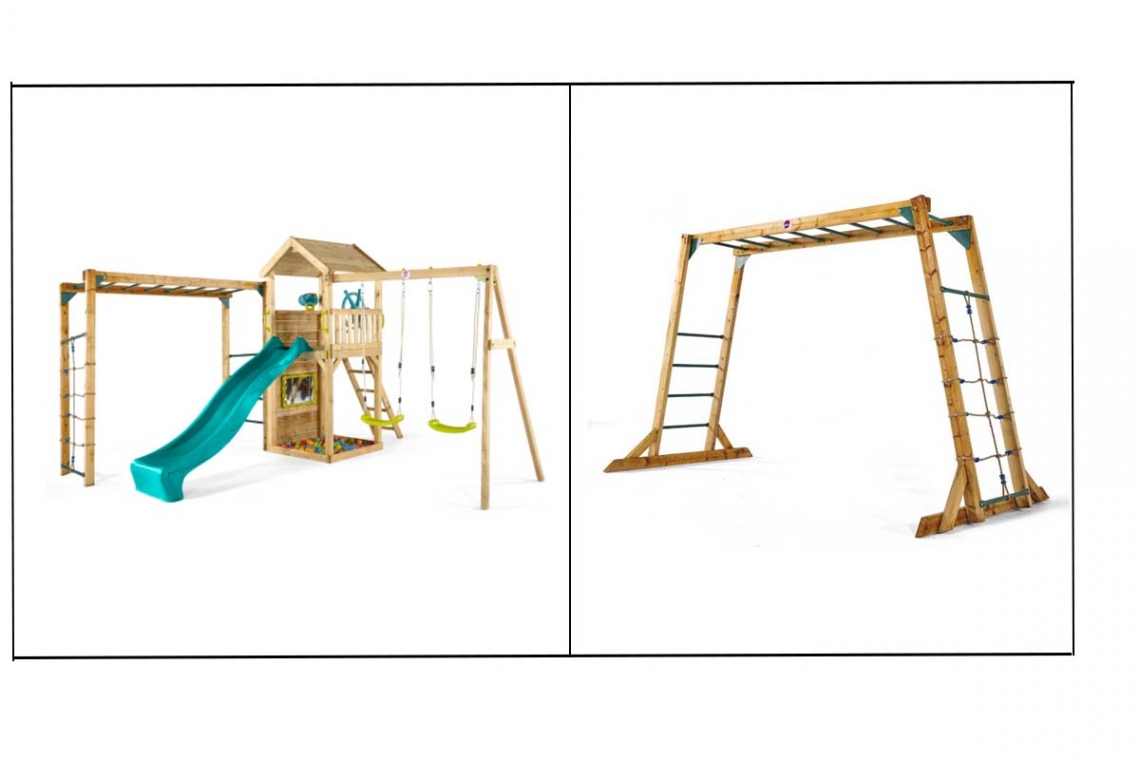 In the next article, we compare trampolines from Bunnings, Big W, Target, Kmart, Plum Play and Vuly Play