When you're juggling work, children and everything that comes with a busy household, it can be challenging to prepare your family's favourite, wholesome dinner each night. Our usual approach to cooking dinner on or after a busy day is to make it quickly. What if most of are going about this the wrong way? Maybe a meal that takes all day to cook is the right one!
Slow cooking is a fantastic to time-pressed parents—especially those who are looking after young children. A slow cooker does all the hard work for you! Simply add your ingredients, get on with your day, and then return to the pot later to find a tasty and nutritious meal ready to serve to the family!
Vuly Trampolines' slow-cooked dinners – Sweet potato soup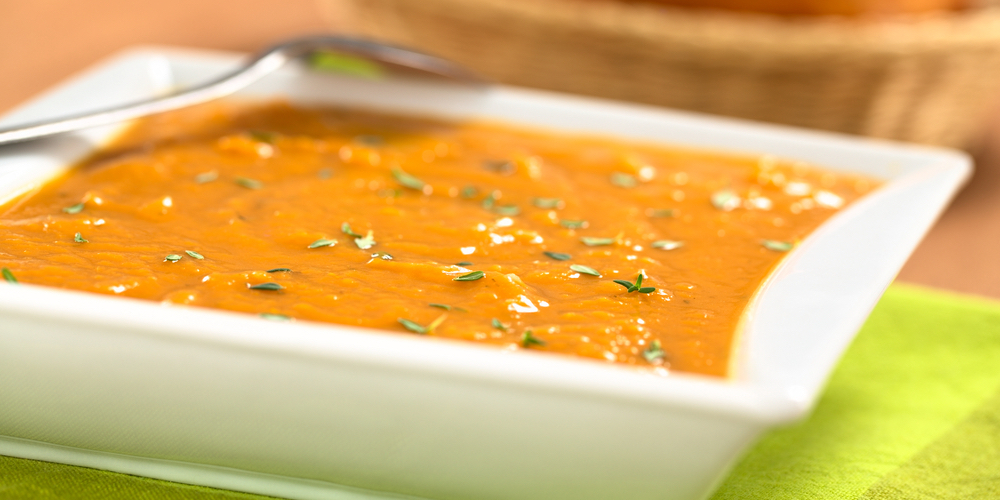 Don't let the word 'soup' fool you. This recipe is loaded with comforting and nutrient-loaded sweet potato. It's smooth and creamy, and is a great vegan option that satisfies tummies more than most soups. Note: this recipe requires a handheld or counter-top blender.
What you'll need:



5 cups vegetable stock,



3 large sweet potatoes (peeled and chopped),



1 brown onion (chopped),



2 stalks celery (chopped),



2 cloves garlic (finely minced),



1 cup rice milk,



1 teaspoon dried thyme, or 1 tablespoon freshly picked thyme leaves,



1 teaspoon vegetable salt,



2 cups baby spinach,



Pepper.



Method:



Place the sweet potatoes, onion, celery, garlic and vegetable stock into your slow cooker, cooking on low for about eight hours. Make sure that the potatoes are soft!



Turn off the slow cooker, and then add the rice milk, thyme, vegetable salt and pepper to taste. Blend with a stick blender for 1-2 minutes, until the soup is smooth. If you don't have a handheld blender, carefully blend the soup in thirds in a regular blender.



Stir in the baby spinach, and then cover for 20 minutes until the spinach has softened. Serve with a touch of cracked pepper.



Vuly Trampolines' slow-cooked dinners – Pulled pork burger
Pulled pork is definitely having a moment on the foodie scene; it's everywhere in the best restaurants and cafés! Teamed with fresh buns and crispy, crunchy coleslaw, we guarantee that it will be a winner with even the fussiest eaters.
What you'll need:



1 boneless pork shoulder (approx. 1.3 kg),



1 brown onion,



1/2 cup chicken stock,



2 teaspoons fennel seeds,



2 cups BBQ sauce,



2 tablespoons mustard,



2 tablespoons honey,



1 tablespoon soy sauce,



Salt and pepper,



Burger buns,



Fresh coleslaw mix.



Method:



Chop the onion and scatter the chunks on the bottom of your slow cooker.



Trim any skin and excess fat off pork, and then place them on top of the onion.



Add chicken stock and fennel seeds. Cover and cook on low for approximately eight hours.



Remove the pork from your slow cooker and allow it to cool slightly. Using two forks, shred the meat while removing any fat or gristle. Spoon out any excess fat from the slow cooker liquid.



Return the shredded pork to your slow cooker, and add the BBQ sauce, mustard, honey, soy, salt and pepper. Stir to combine.



Cook for a further hour on low. Once the cooking is complete, serve with fresh coleslaw mix on soft, fluffy buns.



Vuly Trampolines' slow-cooked dinners – Beef ragu with pappardelle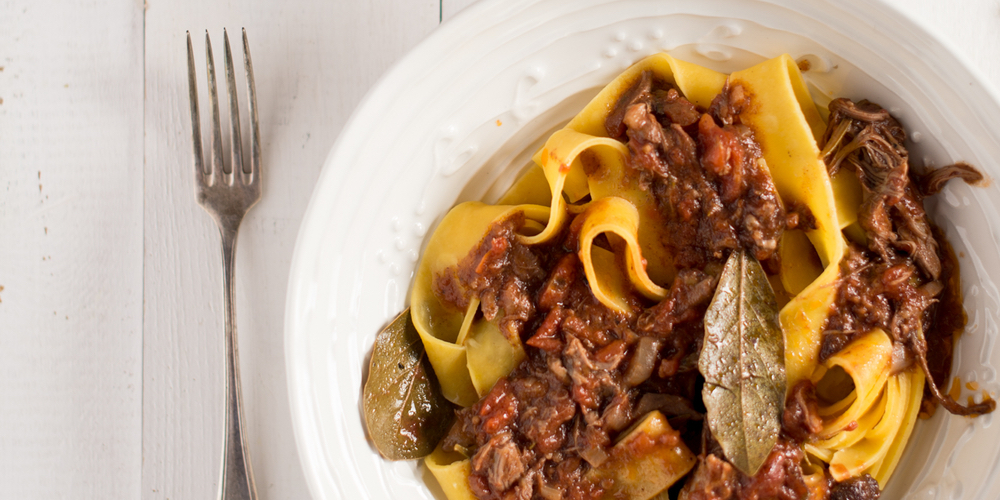 Characterised by its soft, tender meat and rich developed flavour, beef ragu is an absolute star when served over thick ribbons of pappardelle pasta. Use polenta instead of pasta for an equally delicious gluten-free option.
What you'll need:



1 beef chuck roast (approximately 1.8kg, halved),



1 brown onion (finely chopped),



3 garlic cloves (finely minced),



6 tablespoons tomato paste,



3 tablespoons fresh oregano leaves (chopped),



2 tablespoons red wine vinegar,



Salt and pepper,



Pre-packaged pappardelle.



Method:



Place the onion, garlic, tomato paste and oregano into your slow cooker—seasoning with salt and pepper.



Pour in 2 cups of water, and stir to combine. Place the beef chuck roast halves into the mix.



Cover and cook on low heat for nine hours, and then switch it off and allow to sit and slightly cool.



Cook the pappardelle for approximately 12 minutes in simmering salted water.



Once the meat mixture has cooled, shred it using forks, taking care to remove any gristle or sinew.



Stir the vinegar into the meat mixture to taste, and then strain pasta to serve.



How do you use a slow cooker in your household? Do you have any surprising creations that are renowned in your family? We'd love to hear your recipes and experiences.