Get ready for Vuly's brand new Thunder trampoline, which encourages you and the family to discover your freedom through its refined design and world-class safety.
Starting at just $999.99, Thunder provides cutting-edge Leaf Spring bouncing at a price that can't be matched.
Vuly Thunder trampoline – New and improved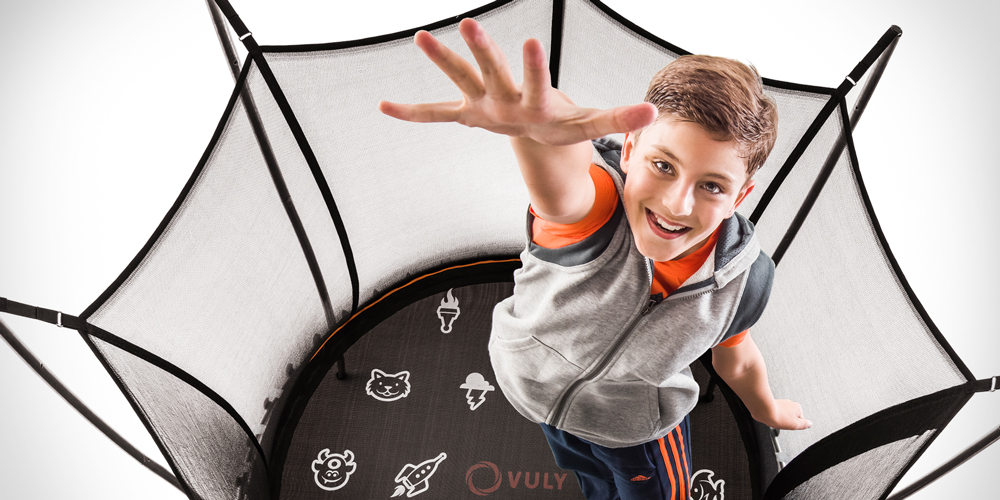 Featuring second-to-none netting – which has endured 500 hours of harsh UV testing, reflecting real Australian weather – you can be confident that your Thunder trampoline is built to last. The superfine mesh protects little fingers and toes from catching, while the super-flexible opening seals shut all on its own as you bounce.
Safety is paramount in the Thunder trampoline design. The safety net attaches directly to the mat, meaning that you can bounce right to the edge without worry. Your bouncing will be taken to new heights with our gentle-edge Compact Leaf Springs. The pre-cured and rivet-less design makes for a truly vertical, higher bounce – not to mention even easier installation! Plus, the lack of coils and rods also means greater protection for knees.
With not a single nut or bolt in sight, you assemble Thunder using a series of easy push-buttons. On a 150 kg weight rating – reflected across Vuly's entire range of trampolines – mum and dad can even get in on the action.
Vuly Thunder trampoline – compared to Thunder Pro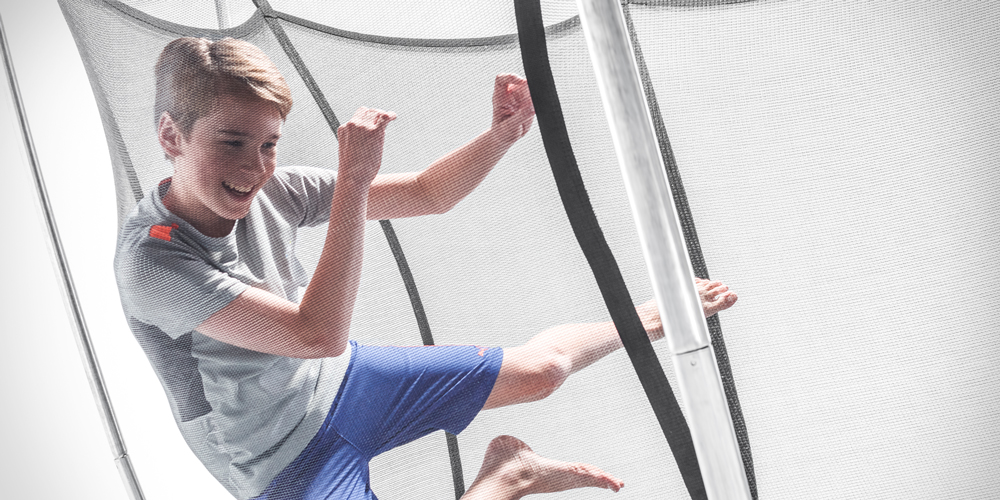 Still unsure whether Vuly's Thunder model is right for you? We've compared some major features with the Thunder Pro to take out the guesswork.
The netting
Do you want an enclosure that'll last longer than any other. Does your backyard get more direct sunlight than most others? Choose Thunder for UV-resistant, polyethylene netting.
Do you want the softest, most supportive enclosure possible, to completely avoid grazing? Choose Thunder for gentle, Terylene netting.
The Leaf Springs
Do you want a system that's lighter and easier to move, but still has an excellent bounce? Choose Thunder for the Compact Leaf Spring system.
Do you want a deeper bounce that can't be matched by any other trampoline system? Choose Thunder Pro for the premium full-sized Leaf Spring experience.
The frame
Do you want a durable, silver frame that's affordable and long-lasting? Choose Thunder for its twice-galvanised foundation.
Do you want a super-strong base – and reinforced, rectangular tubing – with a beautiful, matte black finish that further defends against the elements? Choose Thunder Pro for it's powder-coated, exclusive frame.