There's no time of year that challenges a healthy lifestyle routine more than the Summer holidays! Parties and get-togethers with champagne and nibbles (which are usually loaded with sneaky calories) are responsible for those unwanted Christmas kilos that we know so well.
Yesterday we talked about
easy gift ideas
; today we want to show you some of our delicious, healthy food alternatives for that next Christmas party. They're all based on wonderful, international flavours, and the recipes are easily adaptable depending on how many people you're entertaining. We guarantee that everyone'll love them just as much as their naughty counterparts!
Healthy and festive canapés – Char-grilled Mexican prawns on mini tortillas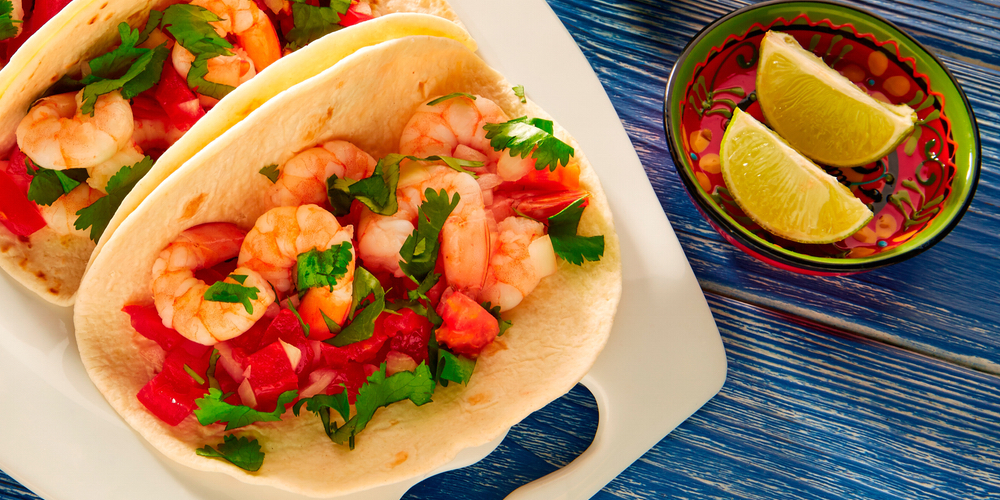 This is a fresh and good-for-you take on classic Mexican flavours. For the best results, grill the prawns on the BBQ or a cast iron pan.
You'll need:



500 g fresh, peeled prawns,



1 small brown onion,



1 roma tomato,



3 cloves of garlic,



1 jalapeño chilli,



1 juiced lime and 1 lime to serve,



Vegetable oil spray,



Tortillas.



Method:



Cut the mini tortillas out of the larger wraps using a small cookie cutter. Set them aside.



Chop the onion, cloves of garlic and jalapeño chilli finely, and dice the tomato.



Spray some oil onto your BBQ or frying pan.



Add the prawns over high heat, and sprinkle with salt. Cook for one minute.



Lower the heat to medium, and add the onion and garlic. Cook for a couple of minutes to soften.



Add the tomato and chilli. Cooking for another minute, and then drizzle with lime juice.



Spoon the mixture onto your mini tortillas, and serve with lime wedges.



Healthy and festive canapés – Mini-mushroom and goat cheese bruschetta
Based on the classic crusty bread bruschetta recipe, this version highlights the nutty flavour of mushroom, with a hint of rich and creamy goats cheese.
You'll need:



1 bag of mushrooms,



1 bunch of fresh thyme,



3 cloves of garlic,



Rye bread,



Goats cheese,



Olive oil,



Biscuit cutter.



Method:



Pre-heat your oven to 175º Celsius.



Cut mini-circles out of your rye bread pieces using a small biscuit cutter.



Place the bread circles onto an oven tray and into oven for 5-10 minutes. Check regularly until the bread is toasted and crispy. Set aside.



Dice the mushrooms into small pieces. Finely chop the garlic, and wash and strip 4 sprigs of thyme.



Add olive oil to a pan over medium heat, and cook the mushrooms for a 1 minute.



Add the thyme and garlic. Cook for another few of minutes.



Spread the goats cheese onto your mini toasted bread, and top with the mushroom mix. Sprinkle with salt and extra thyme sprigs to serve.



Healthy and festive canapés – Vietnamese beef rolls with sweet chilli sauce
Combining zesty flavours with fresh, crunchy ingredients, this Vietnamese favourite is perfect for our warm Australian climate.
You'll need:



1 cooked rib fillet steak, thinly sliced,



1 carrot,



1 capsicum,



Bean sprouts,



Juice of 2 limes,



Fresh coriander,



Chopped raw peanuts,



Sweet chilli sauce,



Toothpicks.



Method:



Cut the carrot and capsicum into thin strips.



Add them to a bowl with the bean sprouts, and the washed and chopped coriander. Combine the ingredients with lime juice.



Using a thin slice of beef as a 'wrap', scoop a small amount of your vegetable mix into the centre and sprinkle with raw peanuts.



Roll up your beef wrap, and secure it with a toothpick. Serve with sweet chilli dipping sauce.



Healthy and festive canapés – Caprese bites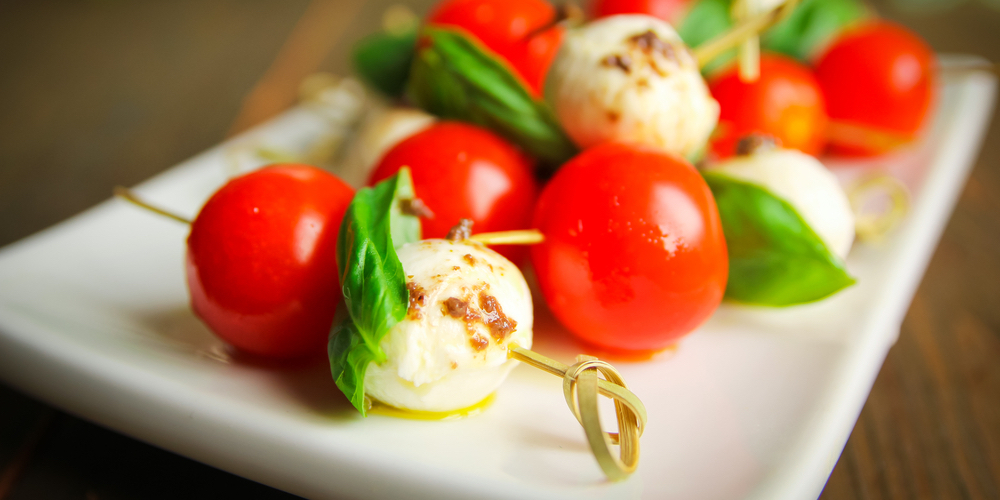 Add a burst of Christmas colour (and Italy) to your canapés with these super simple red, white and green caprese bites. This dish shines with good quality ingredients; it's worth spending that little bit extra on quality olive oil, heirloom tomatoes and mozzarella.
You'll need:



Mini heirloom tomatoes (or cherry tomatoes),



Mozzarella,



Fresh basil,



Olive oil,



Toothpicks.



Method:



Chop the tomatoes, mozzarella and basil into small slices.



Arrange one of each into a row on a toothpick.



Sprinkle with salt, and drizzle with olive oil.



How do you stay healthy during these tempting months, while also keeping your guests satisfied? We'd love to hear your delicious ideas!