Steps 2 Stardom is a performing arts academy with two locations in Narellan and Ambarvale, NSW. The studio has been located in the Macarthur area since 1994 and in that time has built an enviable reputation for producing students with exceptional ability in all facets of the performing arts.
The dream of Steps 2 Stardom all began many years ago when sisters Cathryn and Annette Hill were as young as five and seven years of age. When they grew up, all they wanted to do was teach dancing and have a studio of their own.
In 1994, Steps 2 Stardom Dance Academy opened its doors at Ambarvale Recreation Centre. Within five years, the studio had taken over four rooms at Ambarvale recreation centre and plans for a new custom designed building were in the works.
2008 saw the beginning of a new era for Steps 2 Stardom with the opening of their second premises in Narellan. The popularity of acro/tumbling, trampolining and cheerleading over the years had grown immensely and the need for specialised premises became a necessity. The Academy now boasts 15 dance teachers, 5 acro/tumbling, cheer &
trampoline
teachers, 2 music teachers and 5 office staff, all of whom have an infectious passion for the performing arts.
Steps 2 Stardom has recently purchased Eurotramp olympic trampolining equipment through Vuly
Trampolines
. These products hope to boost Steps 2 Stardom's division of 
trampoline
sports in the face of increasing popularity for acro/tumbling and trampolining.
To get in touch with Steps 2 Stardom and inquire about their growing
trampoline
sports division, call 0414 619 125 between the hours of 9am - 9pm Mon - Sat.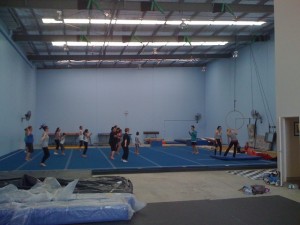 Steps 2 Stardom