Do you have a cup of delicious and natural herbal tea before you
bounce on your trampoline
? We humans have consumed herbal tea for thousands of years, starting from ancient times in various continents around the world. By infusing hot water with the leaves, roots, fruits and flowers of certain plants, we can extract powerful nutrients into a form that our bodies can easily absorb. The belief that a cup of tea every day will make you feel better may have more truth to it than we previously thought!
Because of their range of health benefits, herbal teas have recently come back into the spotlight as fantastic natural alternatives that can ease life's small ailments—from insomnia to nausea—and help you get the most out of your trampoline bounce. Today, we explore some of the most popular herbal teas and just how they can help support a healthy daily routine for you and your family.
Remember: If you or a family member are pregnant, currently taking medication or suffering from serious health issues, speak to your doctor before consuming herbal teas. Tea may help make you feel better, but it's no substitute for medicine when you're seriously ill.
Natural tea to boost your bounce – Types of tea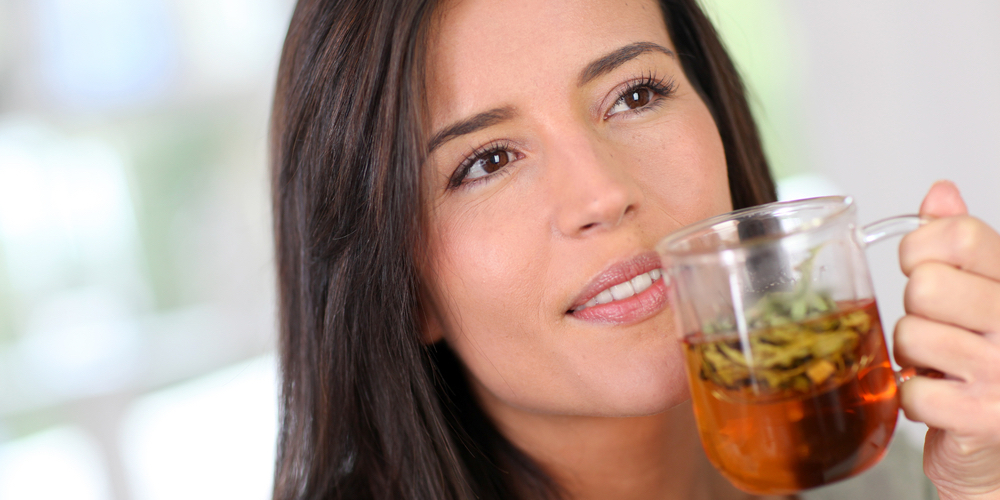 Chamomile:
A herb originating from a flower closely related to the daisy, chamomile tea has a calming, anti-inflammatory effect, which can be ideal before bouncing if you've got a few little aches. Sip on a cup of chamomile tea if you're experiencing any kind of mild pain—from headaches, to stomach cramps—or if you need to wind down before bed.
Echinacea: 
Echinacea is a herb that grows in parts of the United States, Canada and Europe, and it's a natural all-rounder. Change of season giving you a cold or the flu and preventing your from getting on that trampoline? Drink echinacea to ease these symptoms, respiratory issues or the effects of most other infections in the body; chinacea supports the immune system and reduces inflammation. It's also loaded with antioxidants, which known to play a part in cancer prevention.
Peppermint:
Known to be particularly effective at easing stomach cramps and upsets, caffeine-free peppermint tea also assists with the treatment of all kinds of digestive issues, including heart burn, bloating and nausea. Plus, you can add peppermint tea to your bath to help soothe skin irritations and rashes.
Rooibos:
Also known as 'red bush tea', rooibos originated from South Africa and is rich in antioxidants and minerals—such as magnesium, zinc, iron and calcium. Its caffeine-free quality and nutrient-dense formula has a soothing effect on the central nervous system, which is perfect for trampoline sessions. Plus, all people of all ages (including pregnant women) can consume it!
Hibiscus:
Flavoured similarly to cranberry, hibiscus tea can slightly lower your blood pressure and cholesterol levels. It's also rich in Vitamin C, which bolsters the immune system and reduces the length and severity of viruses. Hibiscus is also a natural laxative, and it can relieve mild stomach pains and inflammation.
Tip: Still a little too warm for a hot cuppa? Why not add fresh fruit and ice to your herbal tea for a refreshing, hydrating drink that's perfect for warmer, Aussie weather.
Do you use herbal teas to ease the symptoms of mild illness, or to get you 100% before a bounce on your trampoline? We'd love to hear which varieties work for you!