Every time you take yourself outdoors and onto the backyard trampoline, you're losing weight. The trampoline isn't just a toy for kids, it's a fat-burning workout machine!
When they're all tucked up in bed – whether it be at night or early in the morning before school and work – you're going to put on your sports shorts and shirt and sneak out to their Vuly trampoline to get the boost of activity that your body needs.
Armed with your water bottle, ear phones and a head band (if that's your thing), you're ready to open up that self-closing door and climb aboard. You can do it!
Lose weight on your trampoline – Getting started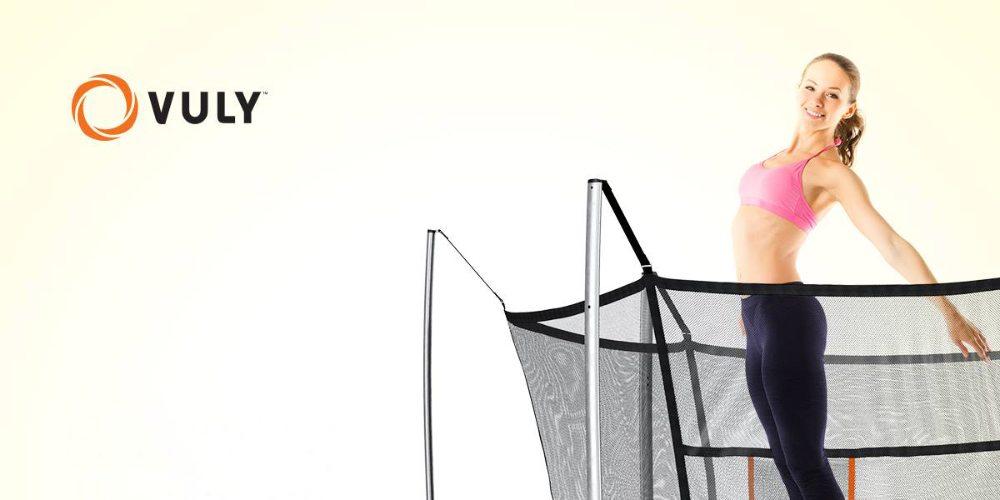 Take it easy at first; you won't be doing triple backflips pikes! Instead, start with 10 minutes of simple jumping. Try to increase the frequency of your bounces to get your heart-rate up, because robust bouncing for 10 minutes should have the same effect on your body as running or jogging for 30 minutes.
Power pop bounce
With the ear phones and music player that you brought onboard, play your favourite 80s and 90s pop or dance, pump up the volume and run on the spot – lifting those knees as high as you can. After a few days or nights of this musical workout on your kids' trampoline, switch to a song with an even faster tempo and bounce-run even faster.
Twist bounce
Hold your arms out horizontally, so that they're parallel to the jump mat, and twist your hips to the right and then left as you jump. We call these moves Twisties – but they're not the ones that you eat! Complete two to three 60-second sets of each exercise.
Throw in some Jumping Jacks as well, and go for six sets at 60 seconds each set. We guarantee that this'll get your heart-rate up, and it's a fun way to get rid of that spare tyre around your waist.
Lose weight on your trampoline – How it works
Jumping on a trampoline is very efficient at toning your legs and your entire abdominal muscle group. Regular jumping places them under gentle strain, as your body has to flex and release with every bounce. However, this strain isn't as hard on your joints as jogging or other exercises that you undertake on a hard surface. The springy surface provides support while it helps you to burn calories!
Lose weight on your trampoline – Focus areas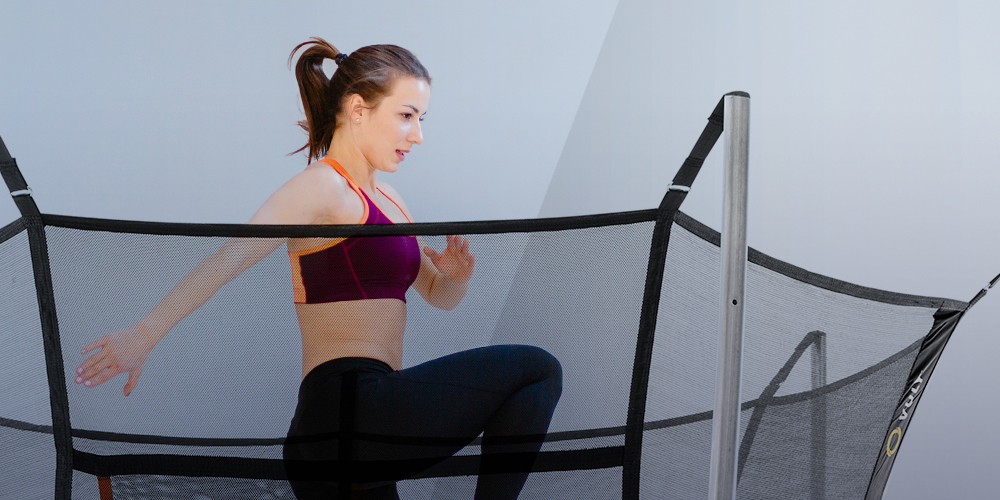 While the main part of your body that you're exercising on the trampoline is your core, legs and thighs – and these muscles will tone up faster using the trampoline than doing the standard sit ups or crunches – your back muscles will also start looking a lot more defined, as they contract each time you land on the jump mat.
Don't forget to give those arms a workout by swinging them with every jump, and – after a while – increase the intensity by using some wrist weights and/or ankle weights to really make your bounces and exercises work your body.
You can then move on and incorporate it all into simple interval training!
Lose weight on your trampoline – Other benefits
Unlike high-impact activities – like running, skipping or jumping rope – training on a trampoline is unlikely to damage joints. Because of the gentle support on your body, it's much more comparable exercises like swimming. There are other benefits to this kind of low-impact exercise that you may not even know about – including improvements to your balance, coordination and blood circulation.
You'll likely notice that you start feeling much healthier after you've kept up your bouncing routine for some time, but you won't just feel better because your body is more toned! With repeated jumping, you'll stimulate the flow in your lymphatic system. This means that bouncing can help to clears waste from your muscles and can spark up your immune system – making you feel healthier.
Don't forget, though, that losing weight – specifically how much you will lose – also depends on how many calories that you're eating and how regularly you exercise on the trampoline.
Lose weight on your trampoline – Vuly
Provided that you stick to your trampoline fitness regime and eat healthily, you'll start to see some improvements to your waistline in no time! Trampolining is great fun for the entire family, and on a Vuly, that includes you. Every Vuly trampoline is certified for 150 kg; you can use it as your prime piece of fitness equipment for years to come. No excuses! It's time to do a commando roll off that lounge and give your kids' Vuly trampoline a go!
If you haven't yet invested in a Vuly trampoline, now's the time to get your magnifying glass and notepad out and do your due diligence. Visit some of the stores that stock trampolines and call around to get an idea of what's available on the market. Visit the Vuly Showroom or read up on our superior products. You won't go past our Australian-designed, safe and robust range of backyard trampolines – once you discover Vuly.
There's a whole lifestyle awaiting you in your backyard. Not only will the entire family enjoy outside-time playing and exercising on their trampoline, but Vuly also offers a range of accessories that you can add to the trampoline as your kids grow or as you grow to use it even more! As you become even more fit, you'll enjoy sharing in the trampoline games – with our Basketball Hoop, skateboard Deck and the pulse speaker for – some out-loud party tunes.
Don't leave your trampoline just for the kids. Get out there and enter a more active lifestyle today!