Trampolines, swing sets and basketball hoops, oh my! You could turn this weekend into a creative session play on your Vuly trampoline or 360 Pro swing set by doing more than the basics. If you've got a Vuly Basketball Hoop attachment, there are countless ways that you can incorporate it into an afternoon of fun on your larger piece of Vuly equipment.
Think beyond a standard slam dunk or bounce-shot – your Basketball Hoop opens up huge possibilities for friendly competition in your backyard. Paired with a Vuly trampoline, you have printed jump mat games and a tall net to play with. Attached to a 360 Pro, your Basketball Hoop becomes a full, open court for the whole family to join in on. Read on for our ideas on how to make the very most of your Basketball Hoop, taking advantage of whichever Vuly product you have...
Basketball Hoop games – HexVexBall
While bouncing and shooting hoops on a trampoline is plenty of fun in itself, don't let the kids neglect the advantage of the printed icons that are right under their feet! Create a game where they need to bounce-shoot (or not bounce, to add some difficulty) from a specific icon into their Basketball Hoop.
Vary the challenge by calling icons that are closer and further from the Basketball Hoop. Eventually, shout out icons more quickly than the bouncer can get to; that'll really get the laughs going. Count out how many goals they can score in 2 minutes, and then swap to another player!
Basketball Hoop games – Rapid Shots
See who's the quickest shot, most accurate and strongest bouncer – all at once. One of the best things about pairing a Basketball Hoop with your Vuly trampoline is that you can score those hoops without having to go and chase the ball afterwards. Bounce on the jump mat enough, and the ball will always come right back to your feet.
One at a time, send the kids onto the trampoline and point them to the very edge of the jump mat opposite the Basketball Hoop. Give them 5 minutes to score as many goals as they can, without leaving that spot. They'll need to bounce hard – being at the edge of the mat – to bring the ball back to where they are on the mat. It's a not an easy challenge!
Basketball Hoop games – Backyard Championship
With a Vuly swing set and Basketball Hoop, instead of a trampoline, you'll have your whole backyard in which to run all sorts of basketball games. The Basketball Hoop accessory attaches to the side of your 360 Pro – away from any swings – and functions as a standing basketball goal for you to score all those slam dunks and three-pointers.
While there's a limit of one player at a time on a trampoline, you can take advantage of the extra space to go head-to-head with the kids. Make a line in your backyard and see who can score the most hoops from it. Alternatively, if you have a bigger family, divide into teams and play a mini game of basketball – with the smaller ball that comes with each Basketball Hoop perfect for smaller hands to handle.
Basketball Hoop games – Volleyball with a Twist
While we strongly recommend one user on a trampoline at a time, try incorporating those who aren't bouncing into unique games in which they can also participate. For example, your trampoline has a built-in safety net that could easily double as a volleyball net – with one person playing from the inside and the other(s) outside!
Set the trampoline player up inside the enclosure, with the ball, and stand the other players around the trampoline. Then, draw a circle around the trampoline a two metre distance. Those outside the trampoline need to work together to score the ball into the enclosure, without the trampoline bouncer being able to return it. The inside player needs to do the same to them, without hitting the ball outside the two metre boundary. The team with the most scores after 10 minutes wins, and the trampoline player rotates out for the next round.
Want a standalone basketball hoop?
Try the Vuly Slam Pro™ - the world's most sophisticated portable basketball hoop system. With unmatched build quality and the signature Vuly flair for innovation, it's basketball - made for champions.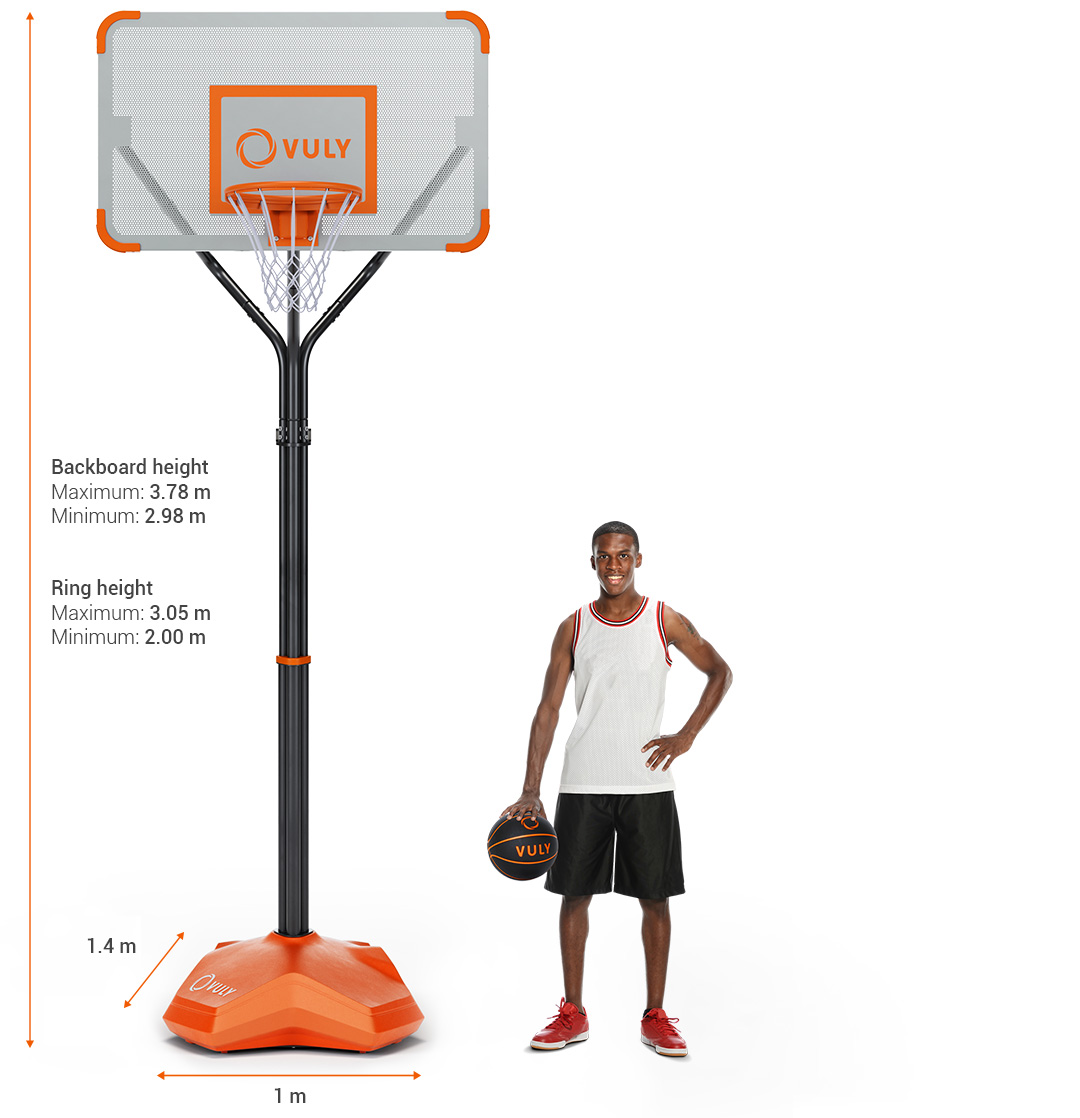 What creative games do you love (or would love) to play with a trampoline / swing set and basketball hoop combo? See more about the Vuly Basketball Hoop, browse the full range of trampolines or build your own unique swing set.
See our new basketball hoop.