After expanding to the US
earlier this year
, Vuly USA is on the move. A recent sea-change to Laguna Beach in Orange County now provides the perfect coastal backdrop for the best in outdoor toys: trampolines!
Vuly North USA President Daniel Cunneen is set on continuing the Vuly vision, and hopes to sell to more than 500 US retailers within the next five years. His day-to-day involves managing all of Vuly's operations in the US, and further securing revenue across the county.
But his immediate focus? Getting a Vuly trampoline into as many American backyard's as possible by early 2015.
The Perfect Place
"I've been over here for about seven weeks now," he says. "We've been forecasting according to the potential we expect out of the US market."
The American market is 10 times the size of the Australian market, which means the potential for Vuly is huge. Of course, it's an exciting move for Dan, who now finds himself living and working just minutes from the beach.
The reasons for the move from El Segundo were largely logistical, though the vibe – and rows of glitzy belt of beachfront mansions, where Hollywood celebrities work, rest and play – at Laguna Beach is certainly in keeping with the Vuly way.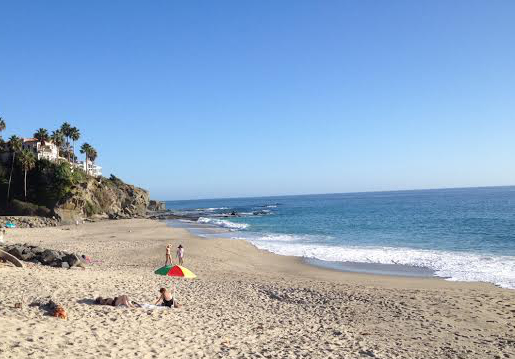 "It's a very wealthy area with lots sun and surf," Dan says. "So it's a great place for us in the long term with plenty of good warehouse space and huge backyards that will be great for the retail side of things."
Moving over to the US almost two months before his family has been a challenge for Dan, though he's excited to have them join him very soon.
"There have been a few hiccups getting things organised because the visa system in the US is very complex," he says. "My family are about to join me and we will finally have a place to settle in to. It will be a relief after living in a hotel."
Instant Appeal
Despite the distance from Vuly HQ, Dan loves talking to the American people about our trampolines, and interacting with a different client base.
"I find people here are incredibly genuine and nice," he says. "I don't know what I was expecting but everyone wants to know you and it's a cool place to be!"
So far Dan's been on the road a quite frequently, and recently went to New York to check out the Toys R Us Headquarters and experience some of the Big Apple.
"Toys R Us will be stocking
Vuly2
for Christmas," he explains. "This is our opportunity to impress the US market by getting customers into the store and increase our brand leverage."
Contact Dan about opportunities in the US via our
About Us
page. For more information about Vuly2 and Thunder, head to
www.vulytrampolines.com/trampolines
, or speak to one of our friendly crew members at sales@vulytrampolines.com or 1300 667 514.