Vuly Runners raise money for Montrose Therapy in Bridge to Brisbane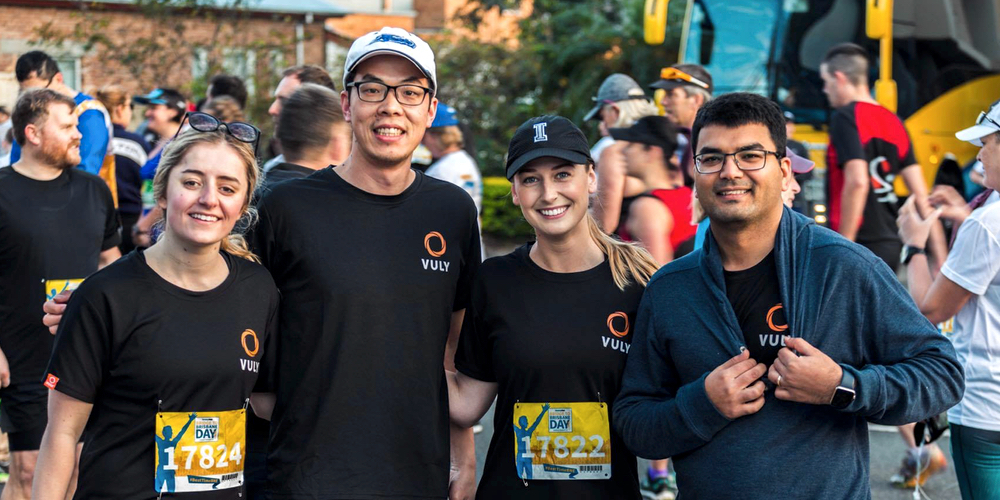 Several Vuly team members recently participated in the yearly Bridge to Brisbane to raise money for our selected charity and friends, Montrose Therapy and Respite Services. Staff from across Vuly departments – from sales to warehousing – took part in the 10km run. Paul, Kelsey, Davi and Caitlin laced up their joggers and did their best to secure as many donations as they could to assist Montrose in their mission to support people with disabilities. While they didn't break records, each of the 'Vuly Runners' ran (and sometimes power-walked) as best they could in the early morning Queensland sun.
Not only does money raised for Montrose help those who need physiotherapy and occupational therapy – two areas that make extensive use of trampolines – but it also allows Montrose to give daily support and specialised living arrangements to those who need it most.
Vuly trampoline prize winner at Mayfield State School
This Saturday, one lucky Brisbane mum (and her son) went home from an outdoor cinema night at their primary school with one of the biggest, coolest trampolines in world for their backyard! Vuly donated a Thunder Summer XL to Mayfield State School as the main prize in their raffle on their community and fundraising evening. Not only did the kids and their parents sit down to a special screening of Moana on a beautiful night, there were also plenty of food and drink stalls to keep everyone happy before the big trampoline draw.
The federal Member of Chatsworth, Steve Minnikin, presented the Thunder Summer prize to the lucky winner. We're proud to continue supporting local schools in their mission to improve their facilities and outcomes for kids – as well as getting more children bouncing and achieving healthy lifestyles at the same time!