Hi readers!
We have already discussed the Doodle Jump trampoline application for iPhone, but we have not yet discussed Tramp Stamp! The basic premise of Tramp Stamp is this: boxes need to be stamped before leaving a giant warehouse. Your job, as a player, is to use a
trampoline
to launch yourself to great heights so you can stamp the departing boxes as they move towards the loading dock.  You can control the bouncing ball by tilting the iPhone. Tap the screen to stamp the box. With each trampoline launch comes a successful stamp to increase your power. If you jump on the
trampoline
but miss the box, you lose power. Each departing box must be stamped at least one time before it leaves the warehouse. If it is not stamped, you will be penalised.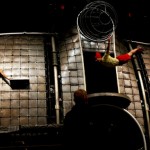 Behind The Scenes With Cirque Du Soleil's 'Dralion' In Auckland
Users rate the game's sound effects, quirky graphics, and addictive nature. It has been described as very challenging, but suitable for the whole family.
[caption id="attachment_704" align="alignnone" aria-busy="150"]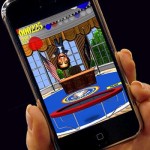 White House Trampoline Game with Obama
Okay, readers, it is your time to speak!  What do you think about these trampoline-inspired iPhone games?  Have you ever played either Doodle Jump or Tramp Stamp?