This unique and delicious recipe is made from simple ingredients that you can find around the house. It might be simple, but mixed together in the right way, they produce something extraordinary.

Preparation Time: Three months
Cooking Time: Five years minimum
Ingredients:
18 year old entrepreneur (preferably called Joe)
Dollop of website development skills
Kombi van (can be a bit old and battered)
A dedication to doing things differently
Many of the best designers, engineers, IT and multimedia in the world

Instructions:
Take the 18 year old entrepreneur (these generally come with bedrooms) and furnish with internet connection and a large pinch of passion.

Mix well with website development skills and let sit for three months.

After this time, you should see a website appear which can then be used to sell pre-orders of trampolines.

Scoop up the pre-orders and mash them together to order your first container of trampolines.

Using your old Kombi van, open the first container with the help of friends (you can find these around your local neighbourhood) and then pour out the trampolines to your customers.

Use income from the sales to purchase your next container.

Repeat steps 5 and 6 for 1-2 years or until your company has grown around 2-4 times its original size.

Add the dedication to doing things differently.

For the next 3 years, slowly mix in the best designers, engineers, IT and multimedia in the world. You may need to go shopping for this ingredient.

Listen carefully for any feedback from your customers and add another pinch of doing things differently to respond to their needs in the best way possible.

From this mix, you will be able to create many new and delicious additions. Why not experiment and introduce new ingredients? You might be able to invent the Trampoline Tent, greatly improve the safety features of backyard trampolines or create a whole range of accessories for your trampoline.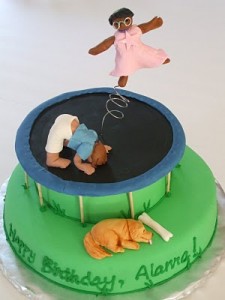 Cooking up a storm at Vuly!
Image: Cakes by Erin